Google Wallet No Longer Supports Rooted Phones
Following a number of security flaws in Google Wallet, Google has decided to take support away from some phones. Google Wallet will no longer work on rooted smartphones, so users who want to use Google Wallet have to stick to the official Android build on their phones.
Now, if you try to use the service on a rooted Android device, a yellow bar shows up at the top of the screen saying that the device is not supported. That message is accompanied by a link to learn more. Clicking the "Learn more" link brings up a webpage that states that users who root their phone "may disable important security mechanisms."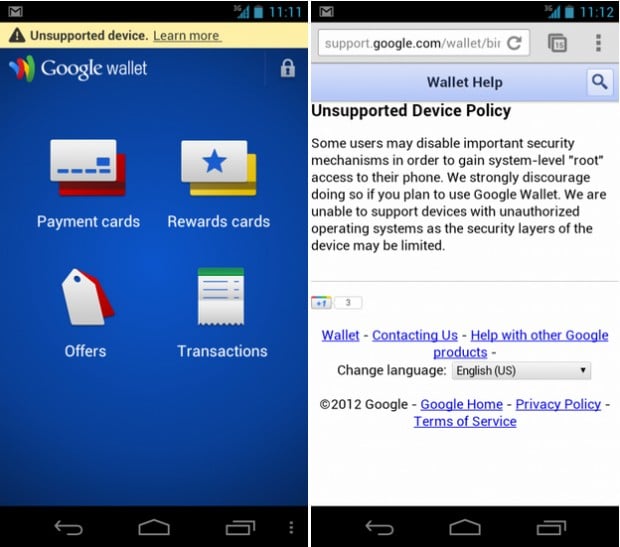 Google "strongly discourage[s]" using Google Wallet on a rooted device because of those possibly disabled security mechanisms. Because of that, Google has decided to not support such devices.
What's unclear, however, is what not supporting the devices actually means. It's possible that users will still be able to log into their Google Wallet account and see the money on their prepaid cards while on a rooted device. It's not known if those users can still use Google Wallet at their own risk.
The move to not support rooted devices makes sense since one of the recent flaws in Google Wallet did involve rooting the phone. This could be a way to make sure the company doesn't have to go through the same trouble again. Making mobile payments secure is difficult enough without having to worry about the myriad ROMs and apps for rooted Android phones.
Via: Droid Life

This article may contain affiliate links. Click here for more details.