Google Working On AirPlay-like Feature for Android
Google is working on its own open alternative to Apple's AirPlay according to a GigaOm report.
Google's latest YouTube app for Android includes a wireless streaming feature that lets users stream videos directly to Google TV devices automatically. Google hopes to bring a similar feature to the whole of Android by working with manufacturers and developers.
The new feature will likely work just like Apple's AirPlay. That is the feature will recognize compatible devices on the same Wi-Fi network automatically with no setup whatsoever. Google tried something similar with the Nexus Q which it canceled earlier this year, but it hasn't enabled such functionality into Google TV devices until now.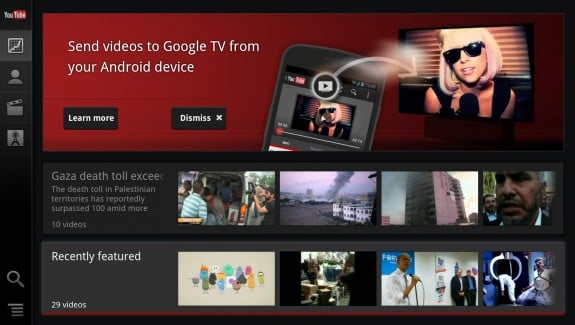 Apple's AirPlay lets users wirelessly stream almost any content from and iOS device or Mac to an Apple TV or AirPlay speaker. That includes music and movies bought from the iTunes Store as well as third-party apps. With the feature apps like Spotify can stream music to any speaker attached to the Wi-Fi network and apps like Aereo and WatchESPN can stream live TV to any Apple TV on the network.
Google's new protocol could also extend to laptops for sharing screens on HDTVs, though it seems Android is first on the list to gain the feature.
Other companies have tried similar features, though none are as successful as Apple's AirPlay. The most popular alternative is DLNA which is a part of many devices from smartphones to HDTVs, but is rarely used by end users. Setting up DLNA is much more complicated than AirPlay, which is likely why the feature is so underutilized.
Samsung also has its own similar feature called AllShare which is includes in its most recent smartphones like the Galaxy S III as well as HDTVs and devices that connect to TVs. The problem with AllShare is that is leaves out Android users with devices no made by Samsung.

As an Amazon Associate I earn from qualifying purchases.