Google's Eric Schmidt Offers Guide to Switch from iPhone to Android
Lots of smartphones are sold during the holiday period. Of course lots of smartphones are sold during the rest of the year as well. I don't know what the statistics are, but I would guess that during the holiday buying season some would switch from one platform to another. Google's Eric Schmidt, unsurprisingly, thinks this holiday season that iOS users should switch to Android and he's penned a small guide on Google+ to help you do that if you're interested.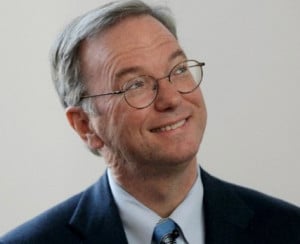 It's a rudimentary guide to switching that covers the basics of how to set up your accounts and make sure you email, contacts, music and photos on a new Android phone. Interestingly enough it leaves out anything about calendars, but Mr. Schmidt must be assuming you've been using Google Calendar before you switched.
It also side steps the fact that while the outlined steps will work to set up your Google accounts on any Android smartphone, there are 3rd party Android Smartphones out there (Samsung, HTC) that have their own ecosystem to navigate upon setup that in some cases make things a little more complicated. But I'm guessing Mr. Schmidt doesn't want you to have that on your mind while you're doing your smartphone holiday shopping.
I also love the point about switching SIM cards. I'm sure if you walk into your local carrier store and say you want to switch from iOS to Android, they will be delighted to hear you ask for a nano-SIM to micro-SIM adapter.
I don't think Mr. Schmidt's intention is to start a second career in the "How-To" blogging market. Instead I think he's having a little fun under the guise of being helpful. To be honest, moving back and forth from an iPhone to an Android phone is a little less tedious than Schmidt makes it out to be.
The humorous part of this in my view, is that it is so much easier to move your Google content from Android to iOS.

This article may contain affiliate links. Click here for more details.