GottaBeFunded: Beautiful Picture Frame For Your Old iPad
Now that you've preordered the new iPad, you need to do something with your old iPad. If you're not planning on selling it, you might want to invest in the iFrame on Kickstarter.
iFrame is a beautiful looking wooden frame that turns your old iPad into an elegant looking photo frame.  The iFrame works with the iPad 1, iPad 2 and the new iPad.
iFrame will be available in walnut and black when the frames launch in May. Each frame comes with a 6 foot cord to charge your iPad while in the frame.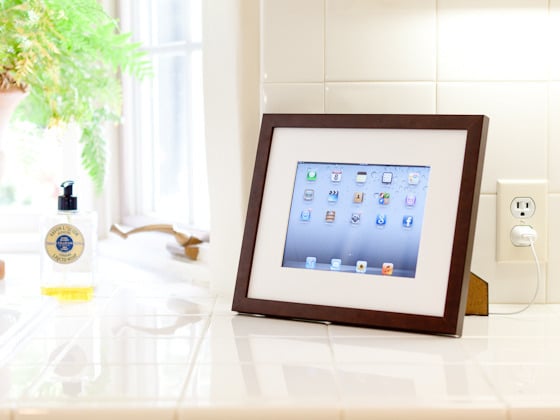 The iFrame can be used on a stand, table or hung on the wall. Thanks to the iPad's 10 hour battery, you can hang it anywhere in your house without snaking wires along the baseboard.
The iPad has a built-in rotating slideshow of your photos, and there are numerous other photography apps that pull in photos from the web. If there is significant demand, iFrame may make an app as well.
Unlike the digital picture frames you'll find in Walmart for $50, your iPad in the iFrame can do much more. Use all your favorite apps to turn this into a calendar, alarm clock, recipe book stand or turn down the volume and queue up a bunch of home movies for your daughter's 1st birthday.
When your old iPad is in the frame you can access the home screen with a finger swipe gesture, but you cannot access the home button or headphone jack. Power and volume buttons are accessible while in the frame. You can remove the iPad if you need to take it with you, by pulling it out of the clips.
GottaBeFunded is a new series on GottaBeMobile highlighting innovative, exciting and cool gadgets and accessories on KickStarter and other crowdfunding websites. To have your product considered for a future GottaBeFunded article, email [email protected] with GottaBeFunded in the subject line.