GottaBeFunded: Pebble Smart Watch for iPhone & Android
The Pebble Smart Watch has apps, iPhone connectivity and an affordable price, all it needs is a bit of funding to make it to the market.
Pebble is an E-Paper smart watch with apps that connects over Bluetooth to iPhone and Android smartphones with a host of different features.
I was drawn to the Pebble smart watch when I saw the beautiful watchface shown in the video below. A smart watch is more than a watch, but that doesn't mean owners should suffer with a watch that looks cheap.
The Pebble smart watch is, to my knowledge, the only smart watch with the ability to receive push call and text alerts from the iPhone. Most smart watches, like the WIMM One can only push alerts from Android phones.
Update – The iPhone cannot push text alerts.
With the Pebble, users will see the caller or the text message on the watch with a silent vibrating alert. The watch also delivers increased functionality through apps and support for if-this-then-that (ifttt.com).
In addition to the standard caller ID and text message alerts, the Pebble supports;
Email (Gmail or any IMAP email account)
Calendar Alerts
Facebook Messages
Twitter
Weather Alerts
The team is working with app developers to bring a number of apps to the Pebble, and it will ship with the following apps available.
Cycling – Display speed, distance and pace on the watch while biking with a smartphone.
Running – Check time and distance while running with the Pebble and a smartphone.
Music Control – Play, pause and skip tracks in many music apps with Pebble.
Golf Range Finder – The Pebble will connect with Freecaddie to deliver range finding on 25,000 courses.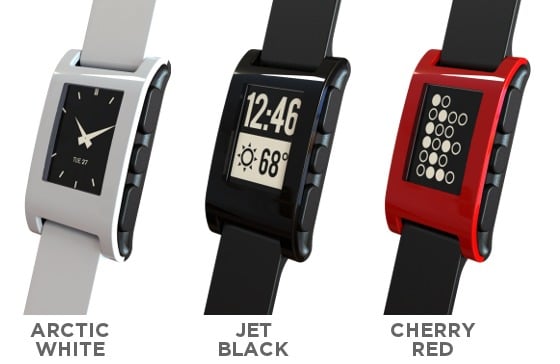 The Pebble Smart watch will work with the iPhone 3GS, iPhone 4 and iPhone 4S as well as the iPod Touch using iOS 5. Android phones with Android 2.3 and up (including 4.0) also work.
The Pebble Watch is open for funding on Kickstarter for 37 more days, and is nearly completely funded.
Interested users can pre-order a Pebble Smart Watch by funding the project on Kickstarter at $115. There are more funding options for alternate colors and early access for developers. The Pebble smart watch will retail for $150.
GottaBeFunded is a new series on GottaBeMobile highlighting innovative, exciting and cool gadgets and accessories on KickStarter and other crowdfunding websites. To have your product considered for a future GottaBeFunded article, email [email protected] with GottaBeFunded in the subject line.