GottaBeFunded: SolMate Solar Power Inductive Charging iPhone Case
Imagine an iPhone case that charges your phone with solar power, is compatible with industry standard wireless charging and looks good while protecting your iPhone.
If that sounds like your kind of case, the SolMate iPhone case is a KickStarter project you should back right now, before the backing closes and you have to wait for it to arrive in retail stores.
The SolMate iPhone case has a solar cell ont he back that is powerful enough to charge even when your phone is in the shade, and the case comes with an app that helps with power management, ensuring better iPhone 4S battery life and efficient operation.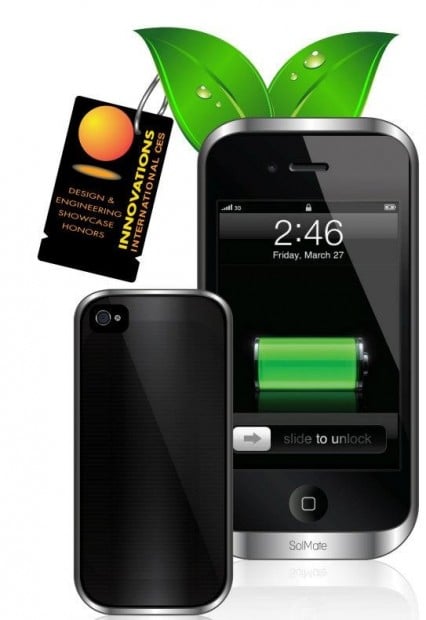 If you aren't in the sun, you can use a Qi compatible charging station to charge your phone without wires, much in the way that you can use a PowerMat case to wirelessly charge your iPhone and other gadgets. I really like that they have added wireless charging and solar charging to the same case, giving you more options and more value. Perhaps that's why the team already raised almost double their Kickstarter goal.
You can check out a word from one of the guys behind the project in the video below where he gives an update on the progress and shares some of the technology behind the SolMate iPhone charger.
The SolMate iPhone case backing starts at $35 for a T-Shirt, and $99 for a SolMate iPhone 4 or iPhone 4S case. If you are planning to buy the iPhone 5, you can back the project for $129 and get one of the first SolMate iPhone 5 cases. Other backing levels go up to $519. Backing closes at 6:23 Eastern February 23rd.
What is Kickstarter?
KickStarter is a crowdfunding website that allows everyday gadget lovers like you and me to invest in ideas and products. By investing, you can get early access to the products and help bring cool gear to life that might never have made it to the market.
GottaBeFunded is a new series on GottaBeMobile highlighting innovative, exciting and cool gadgets and accessories on KickStarter and other crowdfunding websites. To have your product considered for a future GottaBeFunded article, email [email protected] with GottaBeFunded in the subject line. 

As an Amazon Associate I earn from qualifying purchases.