5 Great Samsung Galaxy Note 5 Wireless Chargers
Samsung's fancy new 5.7-inch Galaxy Note 5 and the Galaxy S6 Edge Plus with its curved display both support an extremely convenient feature called wireless charging. These phones have stunning aluminum and glass designs, big and bright displays and tons of power. However, wireless charging is a feature not too many owners know about, and below are five great wireless chargers all owners should consider.
Many recent phones like the Nexus 6, LG G3 and others that have wireless charging use the Qi standard, which is what most wireless chargers sold on Amazon are. Then some cars and coffee shops use something called the PMA wireless charging standard. Samsung didn't want to leave any options off the tablet, and integrated both wireless charging methods into the Galaxy S6, S6 Edge, and the new Note 5 and S6 Edge Plus. Meaning almost any charger will work.
Read: Galaxy Note 5 Setup Guide: 10 Steps to Get Started
Wireless charging is something I've been using for the past few years, but it's still not a feature most smartphones and tablets come equipped with, but more will in the near future. It used to be slower than traditional wired wall chargers, making it convenient but impractical. The new Note 5 features "Fast wireless charging", a first for any smartphone, and more will feature the same technology later this year and in 2016.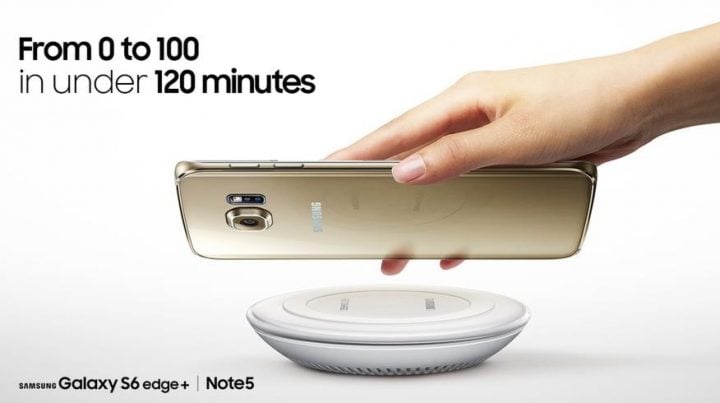 With the new Samsung Galaxy Note 5 and Galaxy S6 Edge Plus the company introduced fast wireless charging. A new standard by Qi, that Samsung is one of the first to adopt. This promises to increase the speed of wireless charging by 1.4x not to mention increase Qi Wireless charging pads output power to 15 watts, instead of only 10. This makes wireless charging an actual feature owners will want to use, not just something that's convenient.
Now users won't have to choose between charging their smartphone quick with the wired charging that came in the box, or the easy wireless charging that takes forever. Fast Wireless charging promises to recharge the Galaxy Note 5 and S6 Edge 50 minutes faster than typical wireless charging. Here's our quick hands-on video showing the Note 5 and the Fast Wireless Charger in action, along with the neat animation and on-screen effect Samsung's added.
As you can see above it's extremely easy. All you do is walk up and drop your Note 5 on the charger and that's it. Fast Wireless charging kicks on and starts wirelessly charging your smartphone. Buyers will still get a faster charge using the wall charger included in the box, but this is a nice addition that will make wireless charging actually useful, instead of just a convenience. The Note 5 can recharge in 80-90 minutes with a cord, and 120 minutes using the fast wireless charging method shown above.
The Samsung Fast Wireless charger is the first one in our list below, and the rest are just regular 10w slower wireless charging pads. Meaning you'll want the fast one. We'll update as more fast wireless charging pads get announced and released to the public.
Samsung Fast Wireless Charger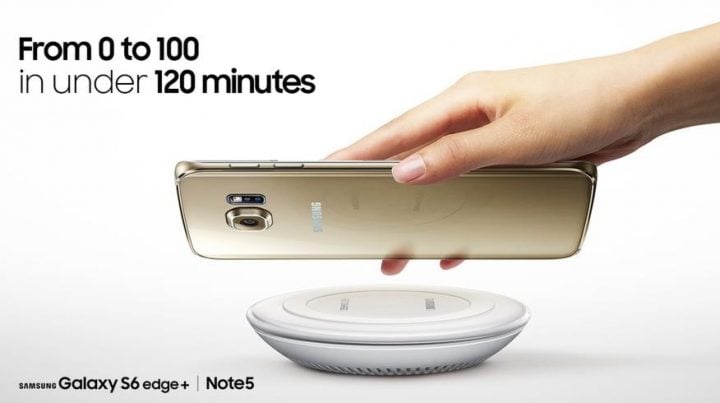 As we mentioned and detailed above, the official Samsung "Fast Wireless Charger" is the best option. Simply because it's made by Samsung, supports the new fast wireless charging standard, and comes in White or Black to match the Galaxy Note 5. It's a bit expensive compared to the rest on our list, due to the fast charging capabilities, but it's worth it for many. Samsung still hasn't released it yet, but it should be available soon.

This article may contain affiliate links. Click here for more details.