Green Throttle Arena Aims To Bring Hardcore Gaming To Kindle Fire HD
The new Green Throttle wants to turn the Kindle Fire HD and other Android tablets into home consoles with its new Arena app and Atlas controller.
Green Throttle Arena is a free app that's now available for the Kindle Fire HD, which will soon come to other Android tablets. The app serves as a hub for both casual and hardcore games that support the service. Arena helps gamers find new apps to use with the Atlas controller, and lets them launch the games without touching the tablet.
To go along with the Arena app, Green Throttle has its own controller, which it calls the Atlas. The Green Throttle Atlas looks a lot like a third-party Xbox 360 controller. The button and stick layout is nearly identical to the Xbox 360 controller, but the controller has colorful outlines around each button, giving it an almost cartoonish or childish design.
The Atlas controller can control the entirety of the Green Throttle Arena app, as shown in the above video from VentureBeat. With the controller, users don't have to touch the tablet to launch games or switch between them.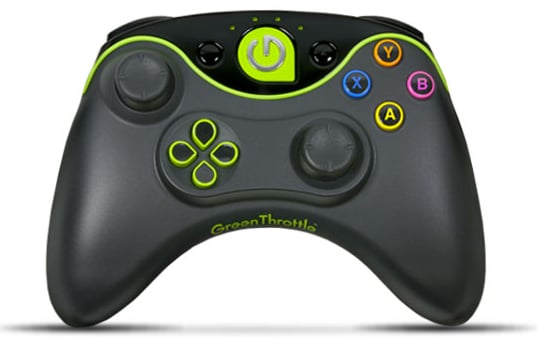 The only time users have to interact with the touchscreen in the Arena app is when they want to buy or download a game. Green Throttle doesn't have its own store, so it relies on the Amazon Appstore and the Google Play Store, which aren't controller-enabled. Once the user downloads the games, however, they can launch them through Green Throttle Arena.
Green Throttle Arena is just one of the many attempts to turn Android into a platform for a home game console. Unlike other attempts such as the Ouya, however, Arena will work on existing Android tablets. Users only have to buy the $39.99 controller to play games with Arena, as opposed to buying another standalone device to connect to their TV.

This article may contain affiliate links. Click here for more details.