Hackers Claim to Bring Down Dropbox. Dropbox Denies
If you're having trouble with Dropbox tonight you are not alone. The site is currently down and the hackers know as Anonymous are claiming responsibility. In a developing situation Dropbox is claiming that the outage is not due to a hack and is saying, "we are aware of an issue currently affecting the Dropbox site. We have identified the cause, whig was the result of an issue that arose during routine internal maintenance, and are working to fix this as soon as possible."
UPDATE: The hack was indeed a hoax. Dropbox is back up and running.
The original claim came through a Tweet from the group 1775Sec:
Which was followed by a similar tweet from Anonymous: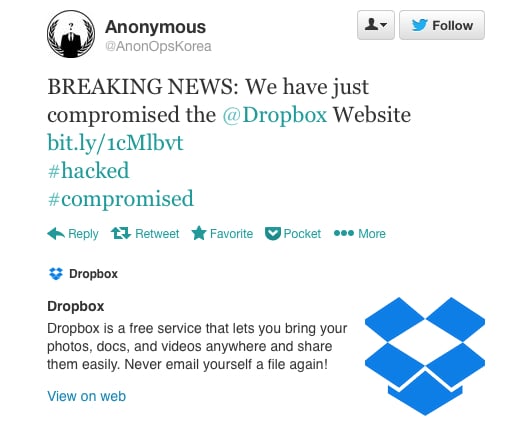 The hacker's supposedly behind this are claiming that the breach was made in honor of the one year anniversary of the death of Aaron Swartz.
Following Dropbox's statement, quoted above, 1775Sec published a sample of the Dropbox database that it claimed to now have in its possession and threatened to release the entire thing if fixes weren't made. According to The Next Web, the hacker "Thomas Jefferson" is believed to be responsible for the attack.
More as it comes.

As an Amazon Associate I earn from qualifying purchases.