Hackers Take over a Fox News Twitter Account and Announce Obama is Assassinated.
The world is full of insane stories about hackers of late as they seem to be even more brazen as the days go by. This morning's hacker news is that some took over the Twitter account @FoxNewsPolitics and announced to the world (at least the Twitter world) that US President Obama was assassinated. Apparently the tweets have been taken down. It makes you wonder what would happen if all the folks doing all this hacking would apply their talents to doing something good.
I'm sure this will cause all sorts of hemming and hawing on the Internets today.
Via multiple sources.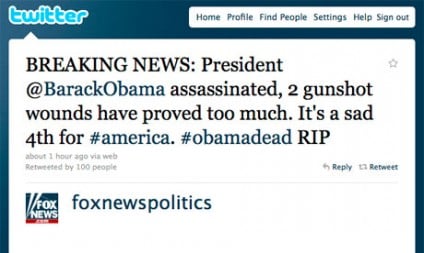 As an Amazon Associate I earn from qualifying purchases.