Hands-on With Grand Theft Auto III for iPad 2, iPhone 4S, and Android
This weekend at New York Comic Con Rockstar gave attendees a chance to play the version of Grand Theft Auto III coming out soon for smartphones and tablets. It's the game's 10th anniversary this week, so what better time to get everyone excited about how sweet it's going to be?
I was able to play around with it for about 20 minutes on an iPad 2 and could have played for much longer if the little boy standing next to me hadn't made the saddest face ever since I was taking so long. Unfortunately, the Rockstar reps weren't letting even the press take pictures or videos of the game because it's still technically in beta. But someone got a camera past them because this video showed up on YouTube on Saturday.
Watch it before someone catches on!
The version for iOS and Android is the same as the original in terms of plot and gameplay, though it has updated graphics as you can see. During my time playing it I didn't notice any performance issues. The framerates stayed pretty smooth and consistent, averaging about 20fps. I didn't note any lag or lack of responsiveness.
Since tablets lack external game controllers, all controls are now on-screen. The directional control sits on the left under the thumb and everything else from running/walking, gas, break, and getting in and out of cars is on the right. The best part is that users can edit the placement of each control, moving them around to better fit their playing style or hand size.
The D-pad area of the left looks like it'll work with the Joystick-IT accessory from ThinkGeek, making it even easier to use. But I didn't have any trouble getting the guy to run around the way I wanted him to with my thumb. Driving was another matter, but it's always that way for me in games.
Different Rockstar reps told me different things about the release date, some saying it may happen as early as next week and someone else saying in the next couple of months. There's no firm pricing, either.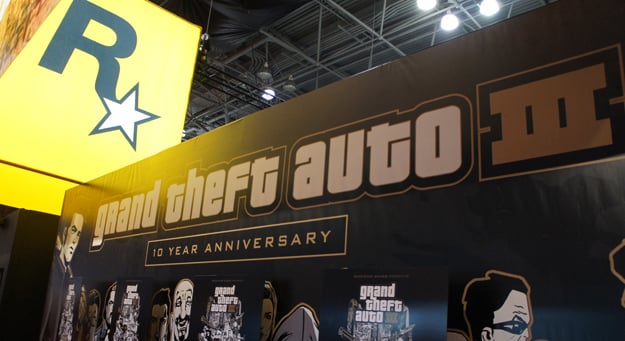 So far, GTA III will only work with certain phones and tablets with dual-core CPUs inside. That means only the iPad 2 and the iPhone 4S on the Apple side. Supported Android phones include the Droid X2, HTC Evo 2, LG Optimus 2X, Motorola Atrix, and Samsung Galaxy S II (all versions). Surprisingly, only the Acer Iconia A500, Asus Eee Pad Transformer, Motorola Xoom, and Samsung Galaxy Tab 10.1 are listed as supported even though any Tegra 2 tablet should run the game just fine if these can.
I don't know about you, but I'm super excited for this game. Hopefully it will herald even more Rockstar releases on both platforms. And with Nvidia's Kal-El coming up, we may even get Vice City and San Andreas before long.

As an Amazon Associate I earn from qualifying purchases.