Hands on with Inking on the HTC Flyer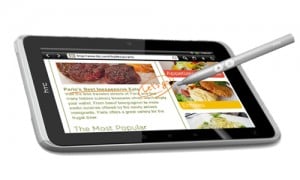 Chris Davies of SlashGear has an HTC Flyer in his hands and has put up a video that demonstrates the Inking functionality for that device. He also talks about just how kooky HTC seems to be viewing the Inking and pen features it has obviously taken pains to incorporate into the device. As others have said, Chris points out that HTC has made some noise that it won't include the stylus with the Flyer when it makes it eventually makes it to US shores. Not only that, but the pen will be available for a pretty steep price, at least at Best Buy. I call FAIL.
But, anyway, here's the video for you to check out. After the unboxing and walk around, Chris gives a good look at what you can and cannot do with the stylus.


As an Amazon Associate I earn from qualifying purchases.