Hands-On With Lenovo ThinkPad Tablet 2 (Video)
Lenovo's first Windows 8 tablet is here, and it looks like it could live up to the ThinkPad name.
The Lenovo ThinkPad Tablet 2 is a 10-inch Windows 8 tablet that uses Intel's latest Atom System-on-a-Chip processor which lets it run almost every Windows app that's compatible with Windows 8. The only exception is likely graphically-intense games, but I doubt many hardcore gamers will want to play Crysis 2 or Skyrim on a tablet like this.
Read: Lenovo Unveils ThinkPad 2 Tablet with Windows 8
Update with Lenovo ThinkPad Tablet 2 hands on video.
The ThinkPad 2 is about the same thickness as the iPad 2, but the widescreen aspect ratio makes it wider and thinner. It's still very portable, and weighs about 50 grams less.
Lenovo is really making a point that Tablet 2 can do everything a Windows laptop can, in addition to running the Metro Windows 8-Style apps from the Windows Store. Legacy apps like Quicken and TourboTax aren't the easy to use with a finger, but the included stylus should make that easier. The stylus is very responsive, even in the pre-production models, and it's a lot nicer than the capacitive styli we see all the time for the iPad.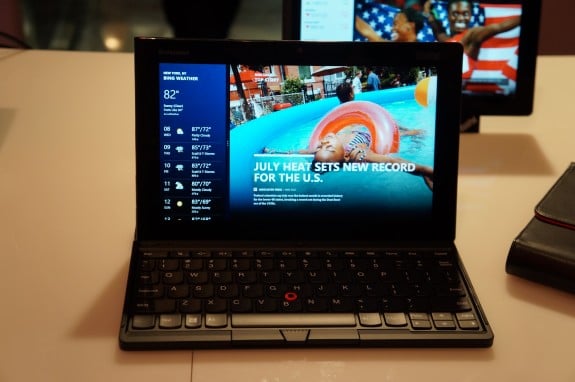 Though the models I saw were all pre-production units, they felt very nice to hold. There were still some glitches in Windows 8 as shown in the video above, but it still runs relatively smoothly. We're hopeful it will run even more smoothly and with less crashes when the ThinkPad 2 is released in October.
The design and accessories aren't as exciting as the Microsoft Surface, but so far the ThinkPad 2 looks like it could be a great Windows 8 tablet. If nothing else, I think it's more interesting than many Android tablets, especially if the battery life hits the 10 hours Lenovo is targeting.

As an Amazon Associate I earn from qualifying purchases.