Hands-On With The $199 Kurio 7 Android Tablet For Kids
The $199 TechnoSource Kurio 7 is an Android tablet that offers decent specs, comprehensive parental control and attractive design in one package. The Kindle Fire better watch out.
Tablets for kids have so far been more like the LeapFrog LeapPad than the iPad — low res displays, chunky chassis, and proprietary app and content selection. There's nothing inherently wrong with this approach and the LeapPad is a good choice for young kids, especially in the rugged department. But kids recognize good design as much as adults do. And part of the reason they're drawn to mom and dad's stuff is that it looks adult.
At this year's Toy Fair I saw several tablets for kids that strike more of a balance between design and protection and aren't as stuck to one company's ecosystem. I was most impressed with the Kurio line.
The $199 TechnoSource Kurio 7 is an Android tablet that offers decent specs, comprehensive parental control and attractive design in one package. It runs Android 2.3.4 (Gingerbread) with a custom UI and software package (also called Kurio) that not only changes the look of the OS but also adds a sweet feature set.
The Kindle Fire better watch out.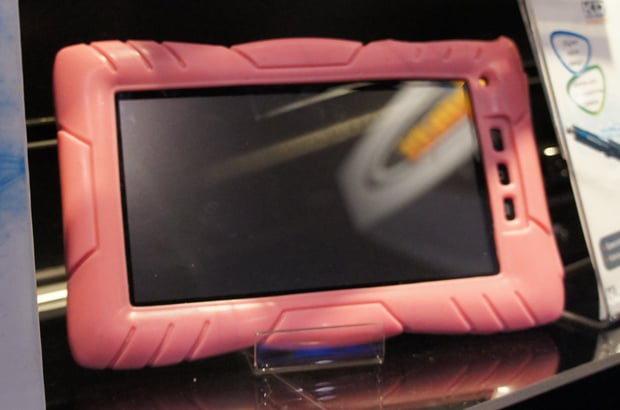 Parents can set up the Kurio 7 with multiple profiles for adults and kids — up to 8 total — then fine tune the parental controls to suit the age or maturity of the child. You can block websites by subject and whitelist specific sites that are okay, even if the service blocks them. A Net Nanny-like service comes free with the tablet and updates the list of acceptable websites regularly, so even if something new pops up on the Internet your kids is safe.
Parents can also control which apps each profile has access to. The Kurio app store is the Android market but with inappropriate apps filtered out. This includes free apps that have ads or in-app purchases, so you won't have a Smurf's Village situation on your hands. But since some apps may be okay for an older child but not for a younger one, parents can hide that app from a specific profile.
Also useful if you want to take an app away as punishment but still allow the kid to use the tablet for school work.
Check out the UI, parental controls and performance in our hands-on video:
Since the Kurio 7 runs on Android it can play games, videos and music from compatible sources, not just one company.
Though not overly rugged, the tablet does come with a rubber case that can protect against minor drops. However, kids don't have to use it. Out of the case it looks similar to any other 7-inch tablet.
The HD display features 5 point multitouch, decent viewing angles, and rich colors. I found it responsive and speedy. A single-core processor and 512MB of RAM run the show, which is fine for a tablet aimed at this audience. Just 4GB of internal storage, but you can expand it via the microSD slot and add up to 32GB more.
I like that for the same price as a Kindle Fire you get more connectivity. There's a mini HDMI port that can do up to 1080p output and a USB host port for connecting peripherals (like keyboards) and flash drives. There's also a front facing VGA webcam and a mic for Skype calls. All things the Kindle Fire does not have, by the way.
The Kurio 7 is rated to last for 5 hours of video playback.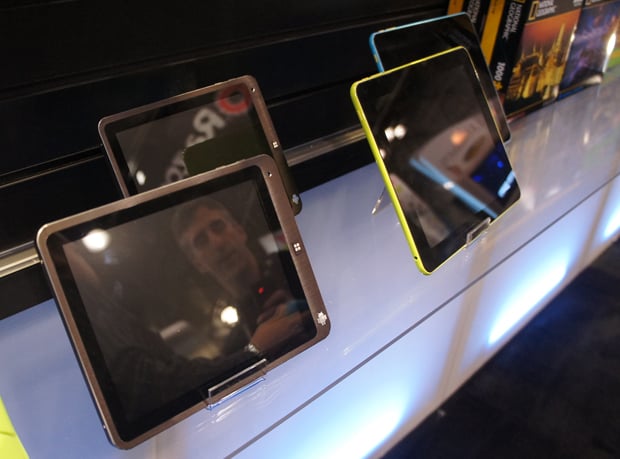 TechnoSource is also coming out with 8 and 10-inch Kurio tablets for $279 and $349, respectively. These larger tablets have a 4:3 aspect ratio, 7 point multitouch, and both front and rear facing camera. They're meant for older kids but still have the same interface and parental control options. The internal specs aren't all final, but expect them to also run on Android 2.3 with similar processors and storage.
I like that the larger tablets also look well-designed. The 8-inch one has a brushed metal bezel and back that wouldn't be out of place in the adult tablet aisle. And the 10-inch version looks about as thin as a Galaxy Tab with just a splash of color around the edge. Again, kids recognize good design when they see it. And just because they're young they don't want to be saddled with young-looking tech.
All three tablets will be out this fall.