Health and Fitness Gadget Gift Guide
The cold winter air may be keeping you inside, but we all have a fitness minded friend or family member on our holiday shopping list that is still pounding the pavement or hitting the gym despite chilly conditions.
After testing out a number of gadgets over the past year, we wanted to share some of the coolest health and fitness gadgets to give as a gift in 2011. These are no ordinary gadgets. They are fitness gifts that will deliver and hold up, rather then sit in a closet collecting dust.
Whether the giftee is a fitness fanatic or just wants to be a bit healthier, these gadgets will help them track progress and make workouts more enjoyable year round.
Fitbit Ultra
For data lovers, the Fitbit tracks activity and sleep habits.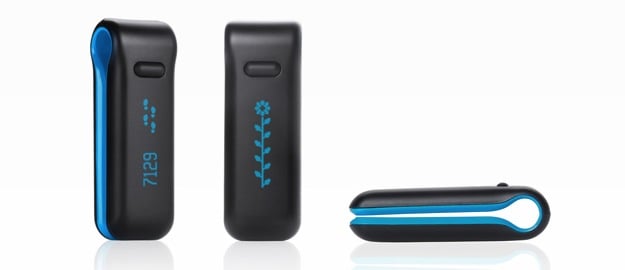 The Fitbit Ultra takes everything we loved about the Fitbit (review), and makes it better with a collection of new features. In addition to tracking your daily activity level and guiding you to get more active, the Fitbit Ultra can now track the stairs you climb and includes the ability to customize the metrics it displays. The new Fitbit also includes a stopwatch, a clock, and comes in two colors.
Unlike other trackers that are meant to track just your workouts, the Fitbit Ultra tracks your activity all day, and even tracks your sleep habits at night.  Your progress is shown on the Fitbit with a plant that grows with your activity. It's also wirelessly uploaded to the web so you can track in more detail. The biggest downside is that the Fitbit is not waterproof, so a trip in the washing machine can kill it.
MOTOACTV
Strap on this smart watch to track fitness, listen to music and get smartphone notifications.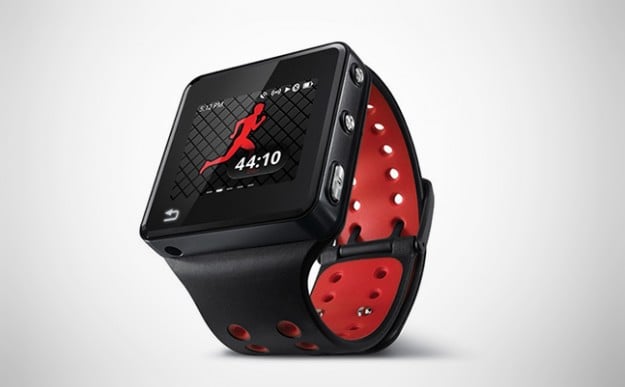 The MOTOACTV is smart watch that includes an MP3 player, fitness tracking, and even pulls in notifications from your Android phone. If you are looking for a great gift that will make any Android user smile or excite the fitness nut in your family, the MOTOACTV is it.
This device includes a heart rate monitor and GPS to track your workouts, and is designed to handle the sweat that comes with getting fit. The watch can track your running and walking workouts, connect to fitness equipment with ANT+ sensor,s and even works on your bike workouts.
The MOTOACTV stores 8GB or 16GB of music locally, has an FM radio, and allows you to answer calls with the included headphones, as well as view texts when paired with your Android smartphone.
iPod Nano
Affordable clip on MP3 player brings Nike+ tracking to your workouts.
Apple has just released a new iPod Nano that includes Nike+ integration to help you track your workouts without the need for a dongle and a special pair of shoes.
Additionally, you can carry your music and tune into a local FM radio station for the push you need to finish a hard workout. The iPod Nano comes with a clip to attach to your belt or pocket, or pair it with a watchband to wear around all day.
You don't get as many features as the MOTOACTV, but the 8GB iPod Nano starts at $129 and comes in an array of colors. Be sure to mention the new watch faces, including Mickey Mouse, to your recipient.
Philips Bluetooth Workout Headphones
Pair these sweatproof wireless headphones to your smartphone,
Not just any headphones will do when it comes to working out. Philips offers up a wireless way to power through your workouts, and even allows you to make and take calls on your run. These headphones can stand up to the sweat, and are washable to prevent grime.
Audio quality is good, with an appreciable amount of bass for wireless active headphones. The headphones do a decent job of blocking out surrounding noise, but will allow car horns through, which is a plus.  Call quality is OK, and the person on the other will be able to hear wind noise.
The earbuds come in three sizes and are angled to keep them in while running. The wire that connects the earbuds together is more comfortable than the hard back that you find on many competing headsets. Overall, a great pair of headphones for active users.
WiThings WiFi Scale
This scale has built in WiFi to report your weight to a variety of services and apps.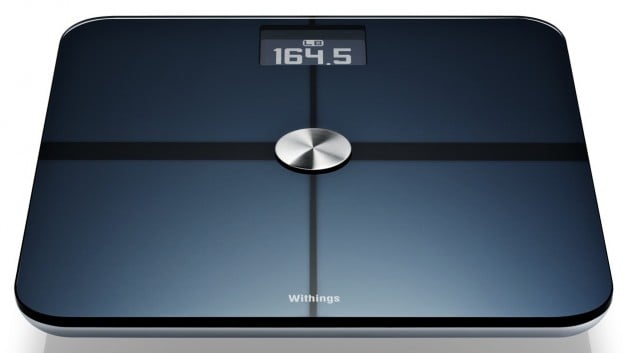 You won't insult your recipient with this magnificent scale. In addition to accurately gathering your weight, fat mass and lean mass, the Withings scale displays your BMI and uploads this data to the web for tracking.
You can even share this data with a number of apps and services so that you can make it a part of a total fitness tracking solution. The scale supports up to 8 users, so the whole family can track their progress.
This is perhaps the only scale you'll be able to give as a gift without first putting on your running shoes.
Belkin Fast Fit iPhone Case
This iPhone 4 armband allows access to your screen and keeps your headphones in check.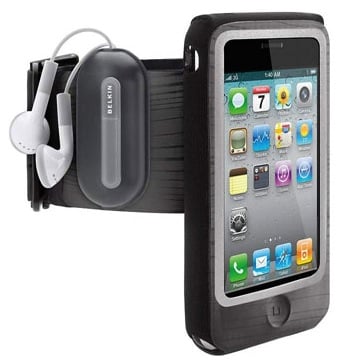 The Belkin Fast Fit iPhone 4 case puts your iPhone securely on your arm, including the iPhone 4S. The main selling points include the clear cover that keeps sweat and the elements from hitting your iPhone screen and the cable organizer that keeps cables from flailing about as you run.
This case goes on and off easily with one hand, which is a nice touch. Some users won't like the fastening system on bare skin, so this is best for runners who put on a shirt before hitting the gym.
The small size and good fit are a steal at around $20 online, and about $25 at your local stores.

As an Amazon Associate I earn from qualifying purchases.