$200 Hello Kitty Android Tablet Coming Holiday 2012 (Video)
Chances are if you're under the age of 30 and owned a digital camera, camcorder, or branded electronics device or accessory as a kid, you've owned a Sakar product. The company is showcasing some of their new gadgets here at CES — mostly the same tech with different branding from the likes of Hello Kitty, Disney, or Nickelodeon attached to them.
Given their wide array of products ranging from karaoke machines to USB drives to computer keyboards to popcorn machines, I shouldn't have been as surprised as I was to run across an Android tablet in their booth. Specifically, it's a Hello Kitty tablet and it will probably cost $200 when it hits store shelves next fall.
The demo unit in the booth was running Android 2.3. It's got a 7-inch capacitive matte display with an 800 x 480 resolution, Wi-Fi, two mini USB ports, a microSD slot, and (shocker) a mini HDMI port. It has just one camera in the front that looks to be 0.3MP or 1.3MP from the quality.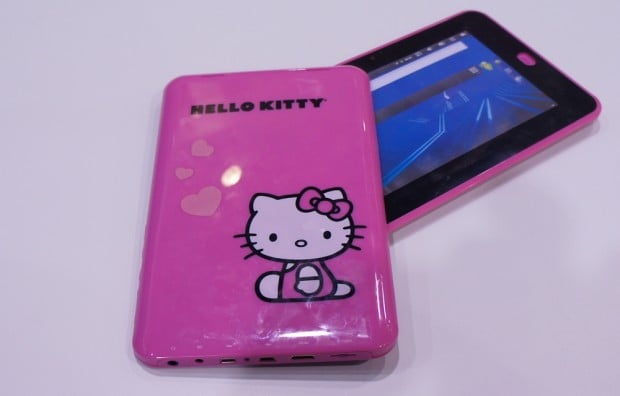 Though running Gingerbread it only has one physical button on the front, perhaps to make it look more like an iPhone or iPad. The software keeps the important buttons — Home, Menu, and Back — persistent at the top of the screen.
The booth attendants didn't know the under the hood specs, but it's safe to say that it's probably a single core processor with 512MB or less of RAM. Playing with it, the tablet felt just a hair faster than what I'd peg as sluggish, so not the very best experience. Also not the very worst.
In the app drawer I did see the Android Market, but the tablet wasn't connected to Wi-Fi so I couldn't try downloading apps. And since it was a demo (that the booth attendants were shocked to learn actually turned on) there weren't any clues to whether there would be special Hello Kitty apps or content on board.

Given the presence of the HDMI port I assume kids would be able to output videos to a big display at least. Neither the Kindle Fire or Nook Tablet can do that.
We'll have to wait until the next holiday season to see this come to market. If it does manage to come in at $200 is it destined to grace the shelves of ToysRUs and tempt shoppers looking for something like the iPad for the children in their lives?

This article may contain affiliate links. Click here for more details.