Highlight App Knows Where You And All Of Your Friends Are (Should You Be Afraid?)
One of the promises of the social media age that hasn't yet come to full realization is the idea that Facebook and twitter and Pinterest and all the rest will strengthen people's real world connections as well as their digital ones. It's always been possible to find like-minded people on the Internet, but finding them in your own town isn't as easy.
And even with all the people obsessively checking in to bars, restaurants, bathrooms in the park, and their offices, unless you're looking right at the app you might not know that your friend is just around the corner or even on the other wise of a crowded mosh pit.
However, a new app called Highlight that got some attention at SXSWi last week may finally bring together social, local, and tech in a way that's both organic and that people may actually use.
It might also be yet another giant step toward the eradication of all privacy and reveal more personal data than users may realize or understand.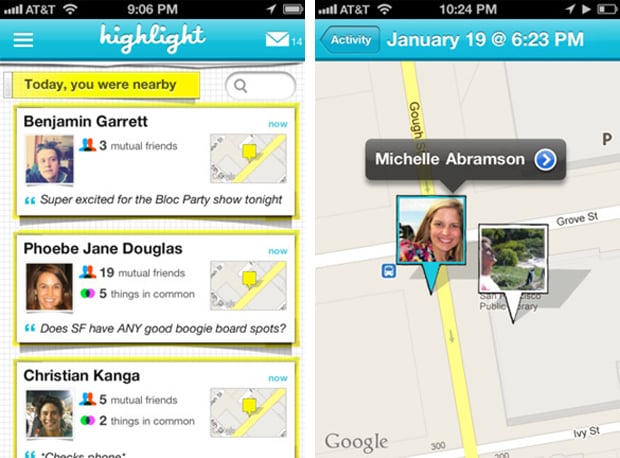 The app and service had its digital coming out party at South by Southwest Interactive and by all accounts was the belle of the ball. SXSW is the perfect place to debut an app like this because the festival is spread over and a little beyond downtown Austin. With thousands of attendees you could be walking 5 feet from someone you know and not realize it. With highlight, the app will alert you when someone you're connected to via a social network (Facebook right now) is nearby as well as alerting you to the presence of people with friend potential.
This idea isn't entirely new, of course. We already have Google Latitude and Apple's Find My Friends apps that allow you to see where people are and lets folks check in with each other. However, neither of those services does a great job of hooking to your friends from existing social networks. Plus, Highlight can also find friends of friends.
While FourSquare and other check-in apps and services can tell you where a friend was at the moment they checked in, they don't show you if said friend is still there. Highlight can.
The app also adds the ability to highlight a person nearby, which is sort of like bookmarking them. It's not exactly a follow (which you can do on Facebook and Twitter from within the app) but more of a way for you to remember that you found a person and want to keep up with them. Highlights are also useful for remembering the folks you met at a party or night out or event. You may not want to get as intimate as following each other or even exchanging info, but you can still keep up.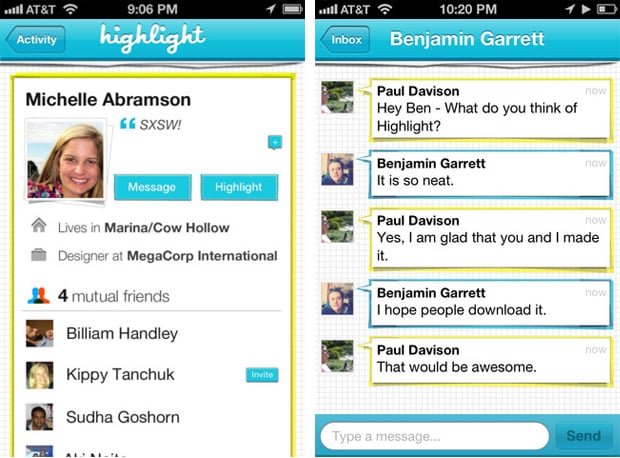 While I find this aspect fun, I can see where it might go bad pretty quickly. Just picture this: a woman in a club gets some unwanted attention from a dude she's rejected multiple times. She then opens up her phone to find he's highlighted her and can look forward to further attentions in the digital realm. Let's hope there's a comprehensive blocking feature.
The biggest hurdles Highlight has to overcome are privacy issues and saturation. Services like Latitude and Find My Friends are all great in theory, but many people don't like them because they feel like it's broadcasting too much information to the world, even if it is just to friends. Highlight doesn't keep it to just friends by default — will that put users off?
SXSW attendees are very techie and into new things, but I wouldn't call them mainstream as a whole (that's a good thing, in my eyes). They're also a crowd that is way more comfortable with the kind of sharing Highlight is all about.

And the whole SXSW atmosphere is, again, the kind of place where Highlight can thrive because you have thousands of people with some kind of smartphone (usually an iPhone) trying to connect with the people around them in some way. Once they go back home are they going to be able to use Highlight? Or will they have another situation similar to what happened with Color where there weren't enough people using it to catch on?
One last potential problem: battery life. Since it runs in the background and utilizes the GPS radio in the iPhone, there's a potential for some serious battery drain. The creator says that with every release the app gets better at not gobbling energy. Still, you might want to invest in one of these battery packs if you're going to go out on the town with Highlight on, especially if you have an iPhone 4S.
One future I can see for Highlight is as a white label app for conferences, conventions, and mass get-togethers like concerts and festivals. Even when these are business-related people will want to find friends and/or friended colleagues.
If Highlight catches on the way other SXSW stars like Twitter and FourSquare did it may not be long before the line between digital and physical social relationships blurs completely.
Highlight is currently only available for iOS devices on iOS 5. It's meant for iPhone, but lists iPad 3G and 4G models in the compatibility area.