Hints of a Google Nexus Smartwatch Revealed Through Motorola Patent
Motorola had filed for three patents for a smartwatch that may give hints to the rumored Nexus smartwatch that Google is working on, in addition to Google Glass. As adoption for smartphones and tablets peak, Google and other technology companies are exploring wearable computing gadgets like Glass and watches.
The patent applications were initially filed as recent as November 2012, but the patent has still not been awarded to Motorola Mobility yet, which is now owned by Google. The applications were first discovered by Patent Bolt.
The patent filing would extend Motorola's first foray into the smartwatch with its MOTO ACTV fitness tracker. Like the MOTO ACTV, the patent makes mention of additional sensors that are aimed at tracking wellness and health, such as heart rate, pulse, body temperature, and skin moisture.
One potential application for the watch, according to Motorola, would be if a user encountered a robber and fainted. The watch, through body sensor and heart rate monitoring, could detect if its wearer had fainted and contact emergency services for help automatically.
Given the number of violent smartphone thefts that have been occurring recently, this may not be a bad idea to tether to your wrist.
In addition to body sensors, the Motorola smartwatch would be equipped with a number of radios as well, including WiFi, NFC, and GPS. The device would have an accelerometer, light sensor, IR sensor, and dual microphones.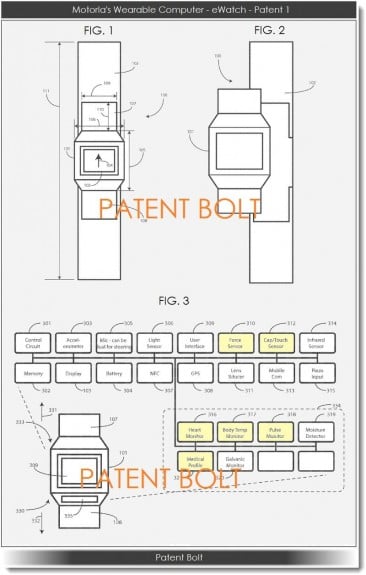 Additionally, it looks like the watch could be a standalone device that doesn't even need to be tethered to a phone. The problem with existing smartwatches today–such as the Pebble smartwatch and the Sony Smart Watch–is that they need to be tethered to a phone for apps, wireless connectivity, and even to function. Though the MOTO ACTV could function as a standalone device, it's functionality was limited and did not allow for phone calling.
This new smartwatch would have all the necessary cellular radios and modems to stay connected on its own without having to rely on WiFi or your smartphone as a mobile hotspot. It could potentially have a CDMA, GSM, UMTS, and push-to-talk (PTT) radio. These radios would allow the watch to make phone calls and access the web without the aid of another phone.
The device has 8 GB of storage and an 800 mAh battery.
And processing power is no slouch either. The smartwatch is said to be equipped with the same Qualcomm MSM7630 processor that came with the HTC EVO Shift 4G on Sprint's WiMax network.
The patent says that Motorola would use a 1.6-inch OLED display. It's still unclear if the display is a flexible variety or not.
Given that Google is rumored to be working on a smartwatch of its own to compete against Apple's much rumored iWatch and Samsung's speculated Galaxy Watch and that the search giant has proclaimed at Google I/O that more sensors will be a big part of its goal moving forward, the Motorola patent filing may give us some hints to what Google may be considering for its Nexus Smartwatch.