Send Instant Holiday and Thank You Cards From Your Android or iPhone Christmas Morning
When Apple first introduced their Cards app at the iPhone 4S launch, Xavier immediately hit on an excellent use of the service: during the holidays when people receive gifts, use the app to create instant Thank You cards while the present is fresh out of the wrapping.
It's a particularly nice idea for far-flung families who can't be together when the great gift mauling occurs.
Want grandma and grandpa to see the eyes-lit-up joy your kids experienced when they unwrapped the best gift ever? Sure, they might have Facebook or email, but getting a physical card in the mail still means something to many people, especially if they're older.
This is also useful if, like me, you're just now thinking "Oh, right, I should maybe send out holiday cards…" A picture of you by the tree, perhaps cuddling the small animals you own (who have perhaps been forced to wear Santa hats), is easy to take with a phone, then to send out to the people you love.
Apple's Cards designs are quite beautiful, which makes it feel more special for the recipient.
Don't worry, Android owners, you don't have to miss out on this. After all, Apple didn't invent the concept. There are several apps on the Android Market that will send out nicely printed cards with pictures taken with the phone's camera or available in you Gallery. Here are the ones I'm trying out this weekend: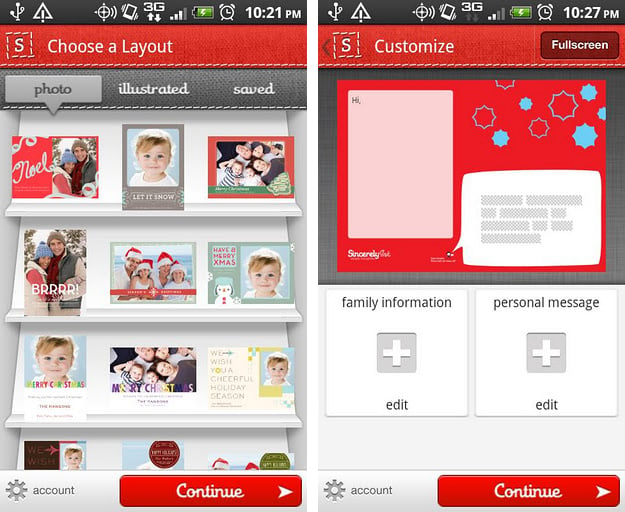 Brought to you by the company behind Postagram Postcards. With this app you can choose from19 different templates that include space for a photo and 14 cards with personalizable text.
Cost: $1.99 per card, including postage.
Pros: Choose photos from the Gallery or take a snapshop from the app, religious and non-religious designs, simple and straightforward card design process, personal message space allows up to 240 characters, ships to US, UK, Europe and Canada.
Cons: Sends a glossy postcard instead of a folded card, can't rotate photos when adding, limited template selection, app doesn't play well with Ice Cream Sandwich.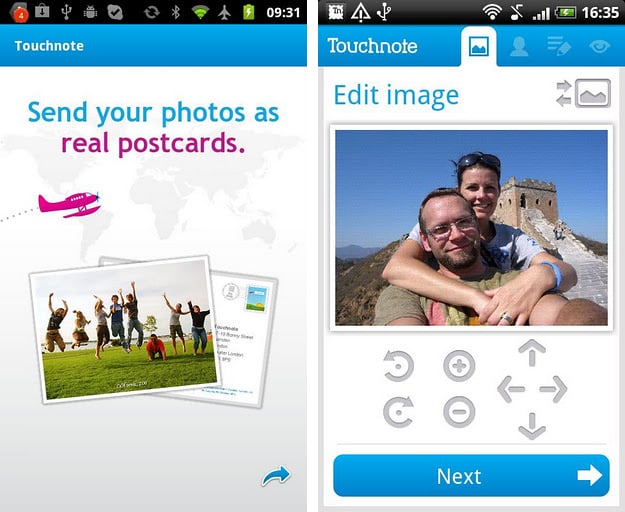 This is a straight up postcard app for any occasion instead of one with a holiday theme. The picture you upload will fill the entire front side of the card while the back has room for a short message and the recipient's address.
Cost: $1.49 per card, including postage.
Pros: Can rotate and crop images to fit, create postcards offline and send later, postcard history available, when choosing recipients only shows contacts with physical addresses, pulls in photos from phone and Facebook.
Cons: No ability to put text on the picture side, no themes for the back side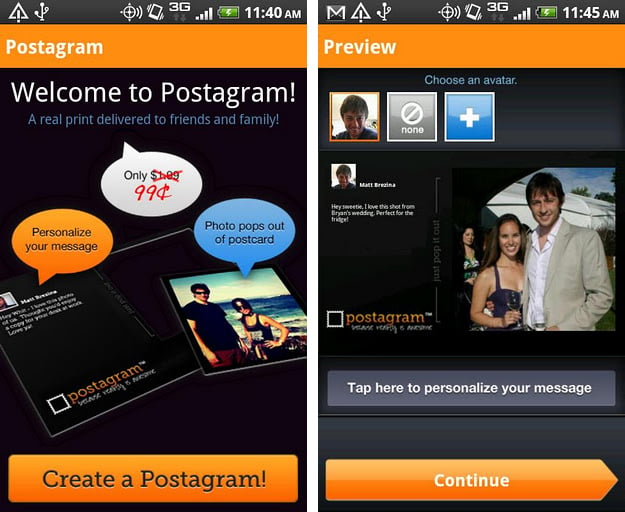 The service is much the same as Touchnote but with a twist. The actual picture on the card is perforated, so it can be removed by the recipient to add to a frame or photo album.
Cost: $0.99 per card, including postage.
Pros: Pulls in photos from phone and Facebook, can include a small avatar of the sender, quick and easy to create.
Cons: No control over what goes on the back side, loads all photos at first open, only 140 characters for messages, can't rotate images.
A tip before you get started with any of these apps: be sure that your Android contacts are in good shape before you pull them into these apps. Enter addresses properly on the phone or online so that Android parses them right.