How I Lost 25 Pounds Using the iPhone
At the start of 2015 I was close to the most I ever weighed, out of shape and close to burnout. Here's how I lost 25 pounds, ran a Tough Mudder with 10 miles of obstacles and how the iPhone played a major role in losing weight and getting back in shape.
Owning an iPhone alone will not help you lose weight or get in shape, but it is an essential tool in leading a healthier life. Eventually I added the Apple Watch to my weight loss journey, but if you own an iPhone you're good to go.
After returning from CES I weighed 244.5 pounds and by the CDC definition I was obese, no matter if I chose to believe it at the time or not. After just over six months I'm still overweight, but I am no longer obese and the iPhone is a major part of how I got to where I am and how I plan to get below 200 pounds in the coming months.
Once I lost enough weight for others to notice the most common question I started to hear is, "What's your secret?" While there is no magic to losing weight, the iPhone is my secret weapon.
I quickly discovered that the easiest way to lose weight is to consume less calories than I ate each day. Counting calories can quickly become time consuming and frustrating, but I discovered that the iPhone allowed me to track what I ate easily and it also tracked my activity, which simplified a lot of the process.
To start I installed My Fitness Pal on my iPhone and allowed it access to my steps. The iPhone 6 tracks steps and other data without the need to strap on a weight loss accessory like a fitbit or a Jawbone device. Eventually I added an Apple Watch to help track workouts and better track steps during the day, but this is not something that I needed to get to this point.
Counting calories is tedious and frustrating when you need to deal with unknowns, but My Fitness Pal delivers good reminders and a huge database of food allowed me to track what I ate, even if I had to make a few guesses.
It is easy to get hung up on finding the exact amount of calories consumed, but when you combine eating out at local restaurants with home made food it is impossible to track to the exact calorie. Instead I used the huge food database to get as close as possible to what I ate, and didn't waste time or energy on picking the exact option. A Kaiser Permanante study found that tracking your food intake is a major component of weight loss, doubling your goals, and after several months I believe it.
Another thing I quickly learned is not to lose focus when I slipped and ate too much. As long as I am moving in a net positive direction I can make progress even when I splurge on calories, as long as it isn't an every day thing. Like a budget, a good diet is not made of absolutes.
One reason I chose My Fitness Pal as my weight loss app and companion is because my friends are on the app and I could get encouragement from them, and motivation when I saw they worked out or stayed under goal. In addition to using my iPhone, I relied heavily on a friend to convince me to workout, drag my ass out of bed at 5 AM and run so I could make it to the end of a Tough Mudder.
For tracking workouts I used a combination of Runkeeper, the Apple Watch Activity app and also started my cardio with Xbox Fitness and the Kinect so that I could get going in the comfort of my own home.
I still have  long way to go to get to my goal weight, and the iPhone will be a major part of getting there. I found that I work best with a goal in mind. The Tough Mudder was a clear date I had to prepare for and I'm looking for my next challenge to give me the added motivation to lose another 25 pounds with My Fitness Pal and my iPhone.
After completing that goal I started to slack off and didn't use My Fitness Pal very much in July. I was able to maintain my weight, but without tracking my intake and activity I quickly realized what a poor judge I am of the calories I consume.
If you want to start your own weight loss journey, grab your iPhone or Android an download one of the best weight loss apps of 2015 to get started.
11 Best Weight Loss Apps in 2020
Lose it Weight Loss App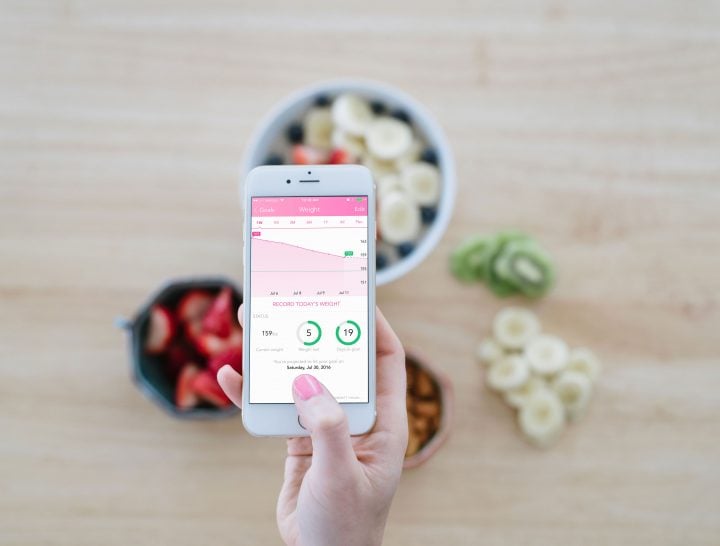 Lose It is a free weight loss app for iPhone and Android that helps you achieve sustainable healthy weight loss. This tool includes an app as well as a website so you can see your information on your computer as well.
You can connect to people, your various devices and food information that will help you lose weight with smart decisions. Lose It helps you create a personalized weight loss plan with goals that include a goal weight as well as total wellness and fitness.
The app includes access to a verified food database that helps you track your calories with easy searching, or add custom foods and you can share recipes. You can also scan a UPC to add food.
Lose It connects to other apps like RunKeeper, Nike+ and a variety of devices and scales to help you track all of your fitness data easily and intelligently. You can create goals with a group of friends, challenge friends or yourself and get support from the group to stay on track.

Lose It is free, with a $39.99 premium option that includes much more tracking, meal planning and other upgrades.

As an Amazon Associate I earn from qualifying purchases.