How to Add Calendars & Events to Calendar in Windows 10
Everyday we use so many devices for different things. Almost everyone has a notebook that lets them stay productive and enjoy some leisure time wherever they are. A growing number of users have tablets and smartphones that they are able to pull out in any situation to stay connected. No matter what kind of device you own, you have a calendar app on it and the Windows 10 update improves the Calendar experience on Windows notebooks, desktops and tablets in all sorts of interesting ways.
Officially called Outlook Calendar, Calendar in Windows 10 allows you more granular control over your appointments. It works in tandem with Outlook Mail, letting you Accept invitations with just a button press. New week, day and month views let you quickly see what you have coming up. Best of all, Microsoft has given up on forcing users into its ecosystem. Calendar for Windows 10 works with the accounts you already have.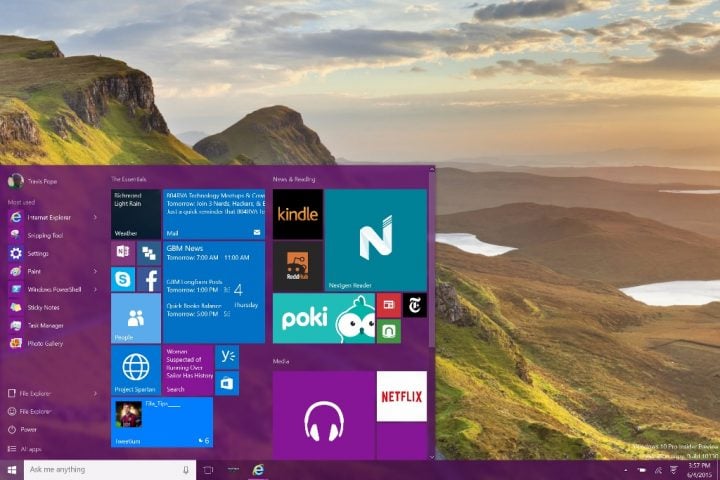 Here's how to add calendars and events to Outlook Calendar in Windows 10, plus some tips for using Outlook Calendar in conjunction with some of the operating system's other apps and features.
Add Calendars to Outlook Calendar in Windows 10
Let's start with adding a calendar. Chances are that the Calendar app is already pinned to your Start Menu or Start Screen. Press the Windows button on the bottom-left corner of your screen to open the Start Menu if you're using a mouse and keyboard. If you're using touch, press the Windows button on your device.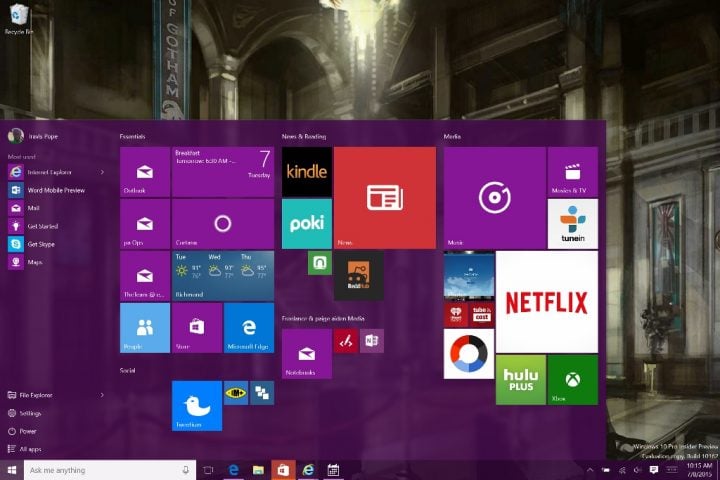 Now look for the Calendar app. Don't worry if it's not pinned to your screen. Click or tap on the All Apps button to get a list of every app installed on your Windows 10 notebook, tablet or desktop. Now click or tap on Calendar. Remember, Windows 10 looks slightly different depending on whether you're in Tablet Mode or not. As such, don't worry if what you're seeing looks a bit different than what's pictured here.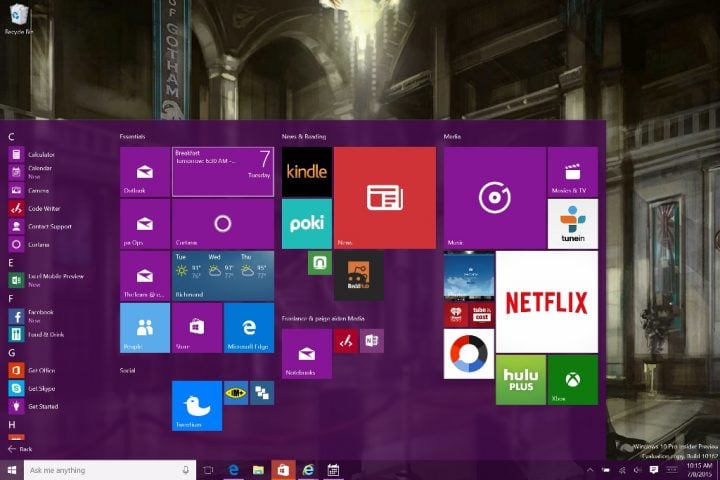 Welcome to the new Outlook Calendar app for Windows 10. If you've never opened the app before you'll get a setup screen, walking you through the setup process. Follow the prompts and you can add Outlook, Gmail, Exchange and iCloud calendars with ease. Any accounts you've already signed into with Outlook Mail, surface here in Calendar.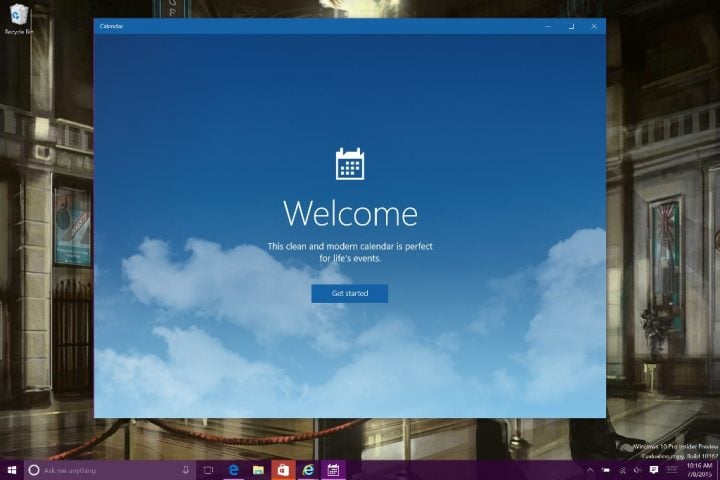 Click the cog icon on the bottom-left of the Outlook Calendar app for Windows 10 if you need to add a calendar to the app after making it through the initial setup process.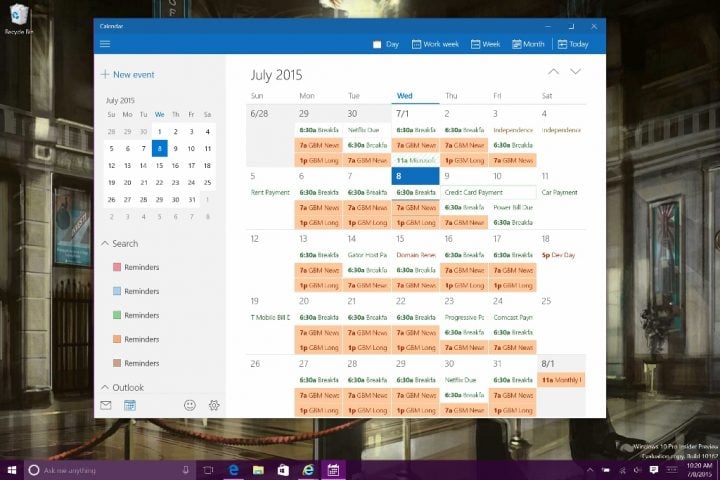 Tap or click on Accounts.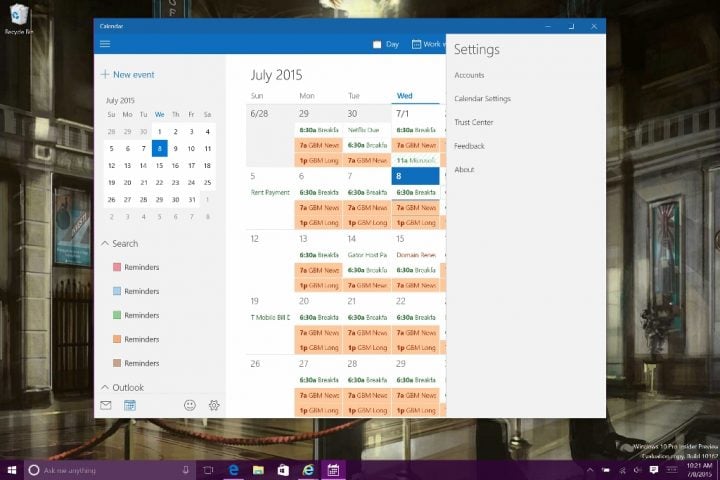 Tap or click on Add Account.
Choose what type of account you have and provide the information asked for in that particular account's setup process. You'll need your username and password for that particular service always. Sometimes you may need a special pin code if you have additional protections setup for an account, like Two-factor Authentication.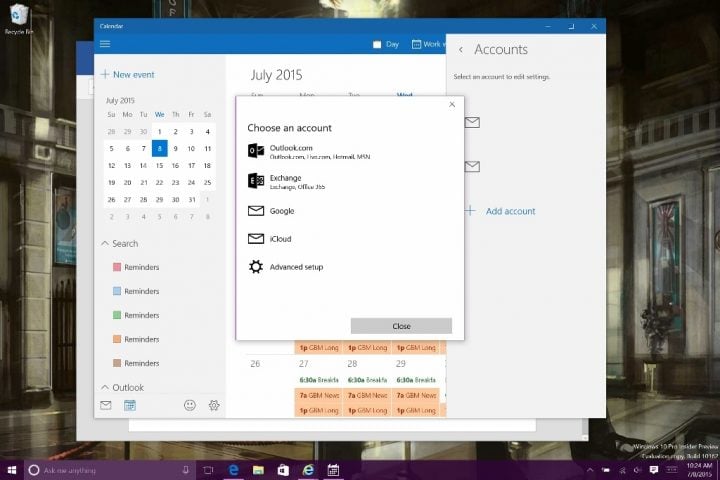 Add Appointments & Events to Outlook Calendar in Windows 10
To add an event to Outlook Calendar in Windows 10, tap or click on the New Event button in the top-left corner of the app.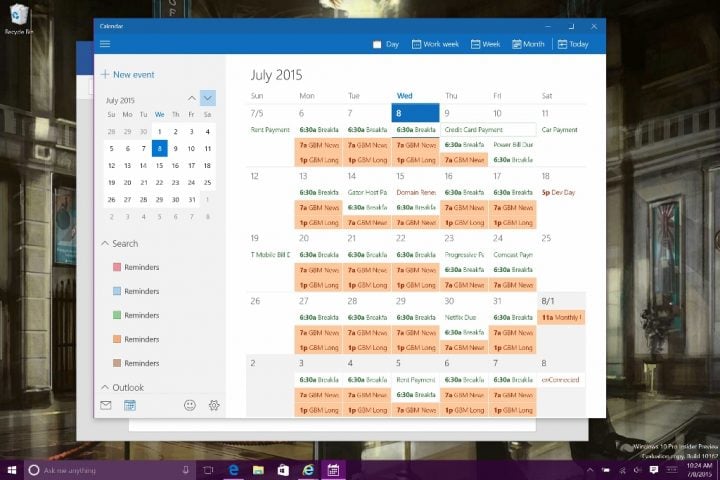 Now add all the information you have about the event and tap or click on Save & Close. If you have multiple calendars you want to be sure that you choose the correct calendar in the drop down menu when creating your new appointment or event.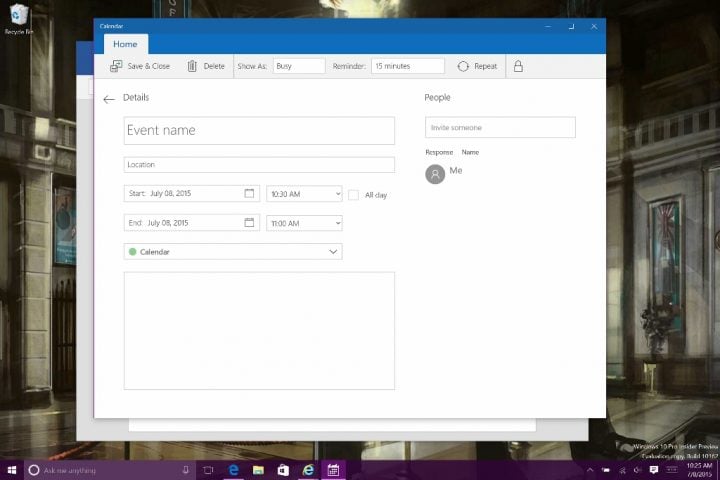 Calendar in Windows 10: What You Need to Know
When you create an appointment in a specific calendar that appointment gets synced back to the account you added into Outlook Calendar. In short, depending on how you set up your calendars events can be scattered between multiple accounts if you aren't careful. Outlook does this so you can keep work accounts and personal accounts separate. Because Outlook Calendar and Outlook Mail in Windows 10 work in tandem, removing an account on one removes the account on the other.
Outlook.com, Outlook for iOS and Outlook for Android all sync together too. If you plan on using Outlook Calendar for Windows 10 – and you should because it's terrific, download these apps too. Microsoft's Windows 10 update for Windows Phones will arrive with an upgraded app for that platform this fall.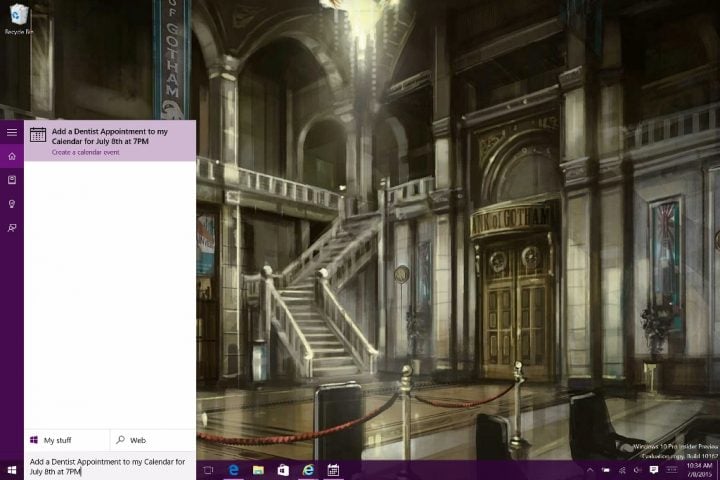 On the taskbar of every notebook, tablet or desktop running Windows 10 is a search box that lets users connect with the new personal assistant Cortana. Using voice or text you can have Cortana add new appointments to your calendar at will. "Add a Dentist Appointment to my Calendar for July 8th at 7PM" is something you can just type in that search box for quick results. Click the microphone and that same command works with voice.
Read: 36 Epic Windows 10 Features to Upgrade For
Good luck with your Windows 10 PC or upgrade. Microsoft says it plans to keep rolling out updates to Outlook Calendar through the Windows Store.