How to Add Data on T-Mobile USA
Wireless carrier T-Mobile USA wasn't just looking to pick up a few subscribers after its proposed merger with AT&T Wireless fell through. The company launched its Uncarrier initiatives and set the wireless industry ablaze. Bombastic announcements and customer-friendly initiatives have made T-Mobile the wireless carrier to watch. New phone purchasing options aside, T-Mobile's most interesting moves revolve around data and how it's used. On occasion, you'll need to add data on T-Mobile, but the need to do so doesn't come nearly as often.
T-Mobile, like any other wireless carrier, wants and needs to make money. For years, carriers drove profits by controlling how much time users could talk a month or how many text messages they could send. Go over your allotment and they charged you. The process was the same for cellular data. T-Mobile first solved this problem by introducing what it described as an end to data overages. On T-Mobile, you're only given an allotment of high-speed data. Go over that allotment and the carrier doesn't cut you off.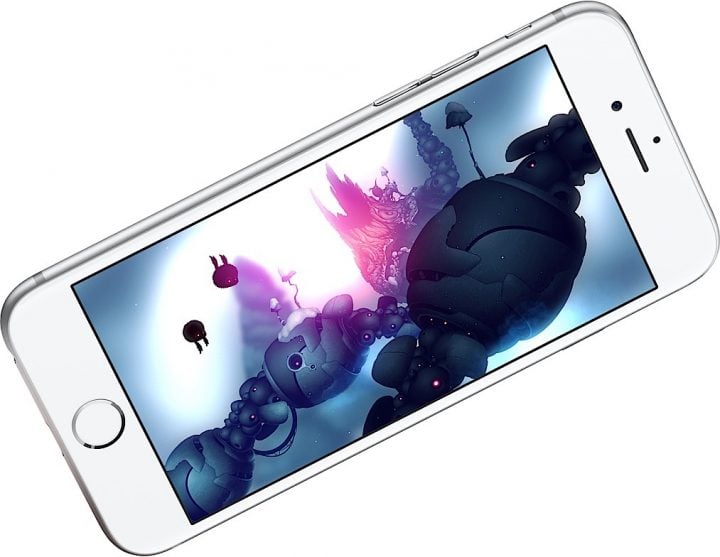 Read: AT&T vs. T-Mobile – All The Things That Matter
Instead, it slows the amount of data that your phone can consume down. Theoretically, it's a user-friendly way of encouraging heavy users to upgrade their data plan. If you frequently find yourself receiving a text message from T-Mobile noting that you've gone over your data allotment regularly, it's time to add data on T-Mobile. Here's how to do that.
How to Add Data on T-Mobile: Before We Begin
Before you add data on T-Mobile, there's some core concepts you have to understand. Are you a post-paid customer, or are you a pre-paid customer? This how to only covers how to add data to post-paid accounts. These are accounts that T-Mobile bills you for each month based on your usage. There are no store-brought cards to input or airtime cards to consider.
Second, you want to seriously get a better understanding on how T-Mobile's data promotions and initiatives work. Some of these initiatives might mean you don't need to add data on T-Mobile.
DataStash
DataStash allows users to build a bucket of backup data that they can dip into whenever they go over their monthly high-speed data allotment. If you have DataStash, you can dip into the that data to get you over any immediate needs that you have. T-Mobile lets users keep data in the DataStash for a year.  Years. Check to see if you have DataStash and how much is in it from the My Account area. DataStash is included with 6GB and 10GB data packages on prepaid and postpaid accounts.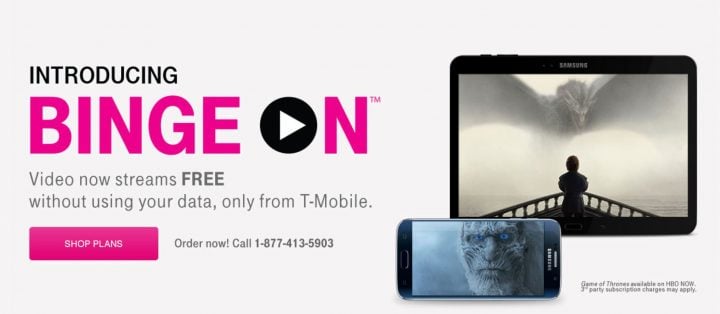 Music Freedom & Binge On
With Music Freedom & Binge On, T-Mobile USA lets subscribers enjoy the media they like without it heavily impacting their data usage for an entire month. Chances are that the services you use the most are already included in Music Freedom and Binge On, but be sure to check. Switching to one of the supported services could have a huge impact on your data usage. Then you wouldn't need to add data on T-Mobile.
Read: T-Mobile Binge On: Video Services, Details & More
Add Data on T-Mobile with the T-Mobile App
If you're out, you can address your data concerns directly from the dedicated T-Mobile app for iPhone and Android. Download it from the iTunes Store and Google Play Store.
Be sure to have your account password on-hand.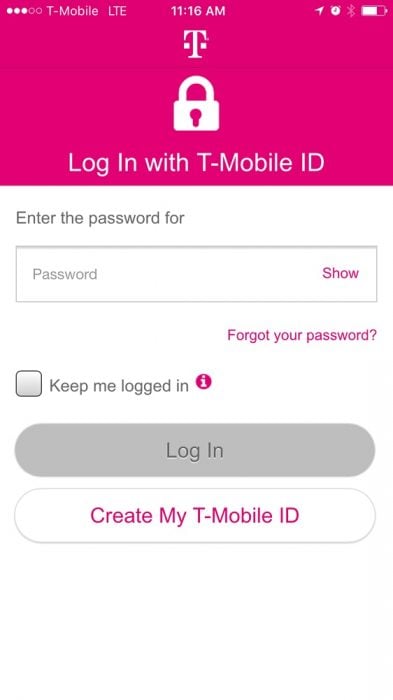 Once logged in, look for the Check Usage button. Now select Change Data Plan.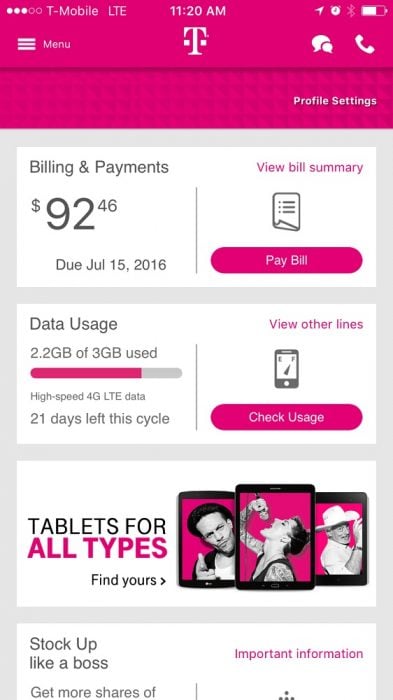 Look through the plan details and decide which plan is right for your needs. Note that the cheapest post-paid plans on T-Mobile don't support Binge On or DataStash.
Don't be alarmed if your list of available plans doesn't match what you see in this tutorial. The wireless industry is notorious for making frequent changes to their offerings. For example, DataStash is only available for plans with 6GB of data or higher, according to T-Mobile. For some reason, the 3GB plan listed on our account does support DataStash.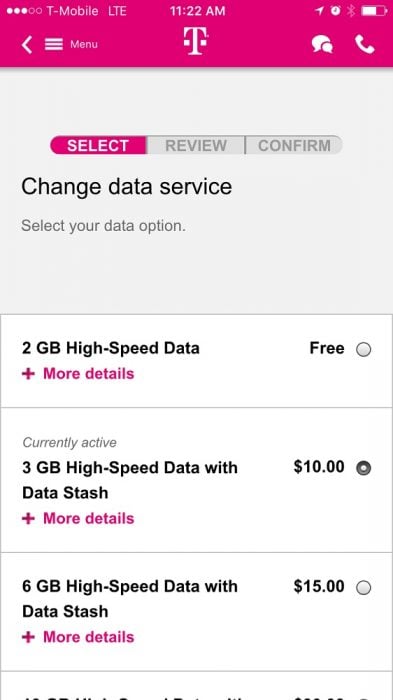 While you're here, you may also want to take a look at the add-on services that you have on your account too. None of these have an impact on how much data you're using, but it's never a bad idea to know exactly what you're paying for.
Windows mobile users should note that the T-Mobile app in the Windows Store is seriously outdated and might not support changing data plans. Be sure to turn your device's Wi-Fi back on, if you were asked to shut it off by the app.
Add Data on T-Mobile through the Web
Changing your data plan is just as straight forward on T-Mobile's website as it is the iPhone and Android apps.
Login to the site using your account phone number and password.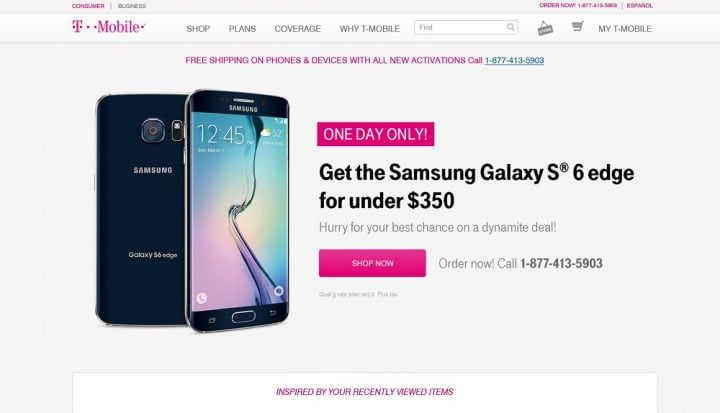 Click or tap on Plan in the top menu.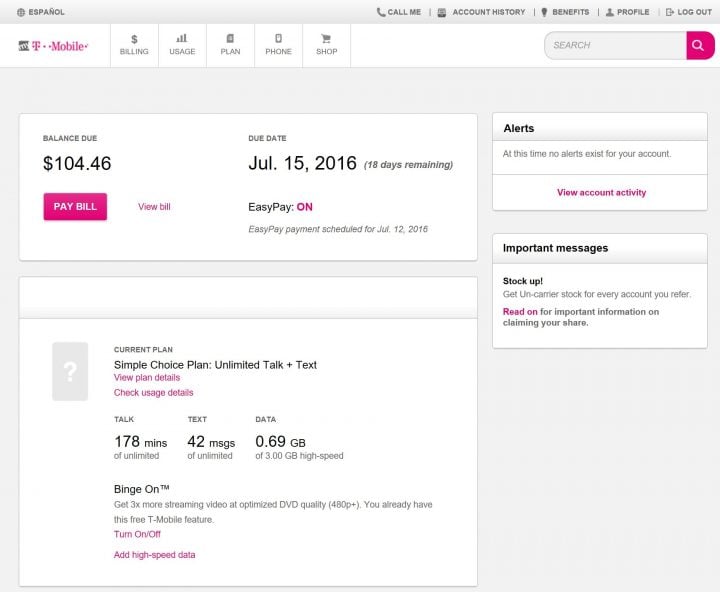 Now click or tap on Change Data.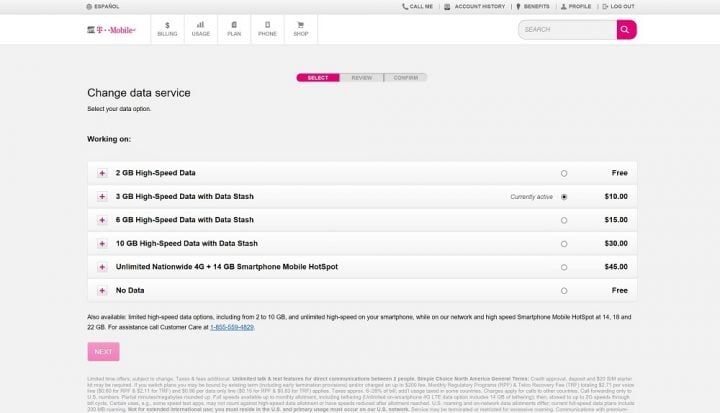 Select the plan that you'd like to go with and click Next. The site will guide you through the rest of the process.
Changes in data are immediate, meaning they'll reflect on the very next bill that you get for that data period.
Good luck with your data changes. Here's to hoping that you can get a healthy balance of additional data and pricing.

As an Amazon Associate I earn from qualifying purchases.