How to Add LTE to a WiFi-Only iPad
Whether you're stuck with a WiFi-only iPad or can't really afford to pay for the more expensive LTE model, here's how you can add LTE capabilities to your WiFi-only iPad.
If you've been eyeing LTE iPads, you'll notice that they're a bit more expensive than WiFi-only models. For instance, if we look at the iPad Air 2, the entry-level 16GB WiFi-only model is priced at $499, while the model that includes LTE is a whopping $629 — a whole $130 difference.
Many buyers aren't willing to shell out that much cash for just the inclusion of LTE, but the benefit of having internet wherever you go with your iPad is still enticing. Fortunately, there are ways that you can essentially add LTE to a WiFi-only iPad, some of which don't cost that much, while other methods may not be as cost-effective.
Whatever method you choose, here's how you can turn a WiFi-only iPad into one that also has LTE capabilities of sorts.
Use an LTE iPad Case
iPad cases that add LTE capabilities exist, but there aren't very many of them. AT&T's Modio case is the latest one on the market, and it's about the best option if you want AT&T LTE.
The Modio Smartcase, as it's called, can house your iPad and connect it to AT&T's LTE network, and the data used will be from the subscriber's Mobile Share plan, so there's no need to get a separate plan if you want to get such a case for your iPad, which won't add any costs for the subscriber other than any overages fees.
Furthermore, the case includes a built-in 4,600mAh battery that provides an extra 10 hours of use for your iPad, and it even includes a built-in microSD card slot that can support up to 32GB of extra storage for your Apple tablet.
The case works with the iPad Air 2, iPad Air, iPad mini 3, iPad mini 2, and iPad mini. Unfortunately, the Modio Smartcase doesn't have a release timeline or a price yet, but the landing page for the case is up and listed as "coming soon."
Tether Your iPhone
If you have an iPhone or other smartphone, you can tether it to your iPad to get LTE on your tablet. You can do this by enabling the hotspot feature on your phone, and the connect to the phone on your iPad just like you would with any other WiFi network.
Most celular plans support using the iPhone as a hotspot at no extra charge, but you may want to find out first if you're carrier supports it for free, or if there's an added monthly cost. You can try turning on the iOS 8 hotspot to see if it is included in your plan, and if it's not, you'll usually see a phone number to call to turn it on the feature.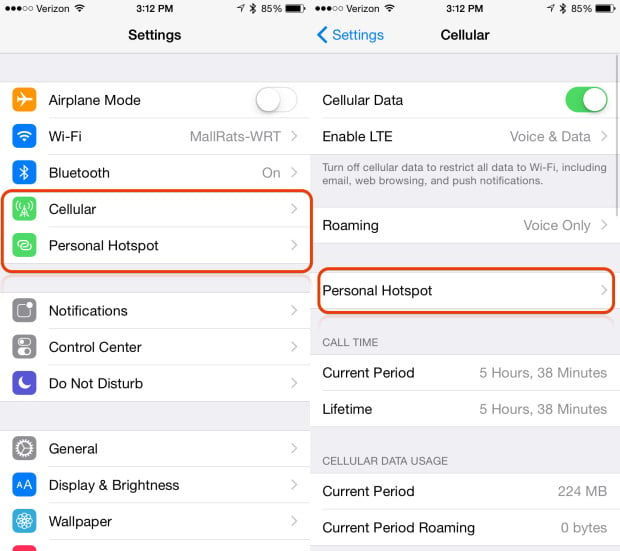 To enable the hotspot feature on your iPhone running iOS 8, open up the Settings app and navigate to Cellular > Personal Hotspot. From there, turn it on and off you go. Just get on your iPad and then connect to that hotspot just like you would with any WiFi network.
However, it's important to note that if you're on a limited data plan, you want to make sure not go over your monthly data allowance, as you could be charged with overage fees.
Get a Carrier Hotspot Device
If you'd rather not use your iPhone as a hotspot for your iPad, then you can get a dedicated hotspot device that you can take with you wherever you go.
Pretty much all carriers offer dedicated hotspot devices, and many of them you can buy on-contract for a low up-front cost, or buy outright and not be sucked into a contract at all. Furthermore, some carriers will even allow you to add a hotspot device to your shared data plan, that way you won't have to sign up for a different plan..
Hotspot devices are extremely handy to have, and all you have to do is turn it on and you have WiFi right at your fingertips anywhere you are.
The only downside is that you have to carry it around with you, and an added device in your bag can make it cramped, but the good thing is that you can slide it in a pocket and forget about it for the most part.
Granted, none of these options will be as convenient as just buying an actual LTE model of an iPad, but they can save you some money up-front, as the LTE versions of the iPad are quite a bit more expensive than the WiFi-only models.

As an Amazon Associate I earn from qualifying purchases.