How to Block Calls and Texts on the Galaxy S9
If you want to block a phone number from calling you on the Galaxy S9, we have you covered. This guide will show you how to start a blocked call list, and how to stop text messages too. Whether you're trying to avoid telemarketers, unknown numbers, or dodge your ex, these are the steps you'll want to take.
We all have certain numbers we don't want to hear from. Or, if someone won't stop texting you we can block that too. You can send numbers directly to voicemail, or just block them completely and you'll never even know they called. Let's get started.
How to Block Calls on the Galaxy S9
You can always drag the red phone icon during an incoming call to ignore the call, but if you want to completely block a telemarketer you have to add the number to a blocked list. And while there are dozens of apps on Google Play that do this, Samsung has controls built right into the phone.
From the home screen, tap on the Phone app
Tap on the 3-dots at the top right of the screen, then select Settings
Select Block Numbers to get started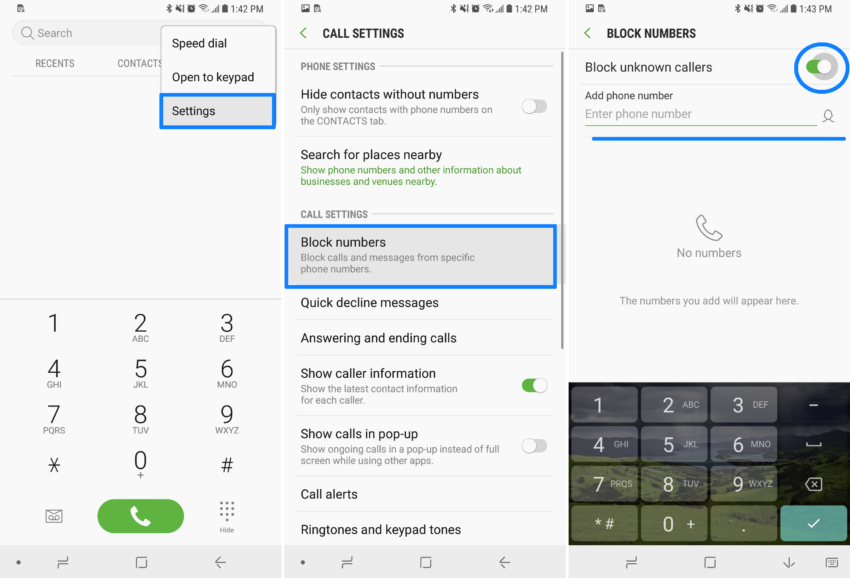 For one, you can enable Block unknown callers so you never get calls from a number you don't know, or that doesn't register. That's a great place to start.
Enter the number you wish to block
OR tap the Portrait head icon and go find and block a number from your contacts list
Make sure you flip the Block Numbers switch at the top of the screen to Green (On)
We're all done. Now, your Galaxy S9 will immediately recognize and block that specific number whenever it calls you. Alternatively, you can tap on a number from your recent calls menu then tap "Block Number" at the bottom right of your screen. Perfect for getting rid of a number that just called you.
How to Block Texts & Numbers on the Galaxy S9
You can follow similar instructions to block text messages and more using Samsung's Messages application. In fact, Samsung offers even more blocking tools and options in its text message app. So, fire up Samsung "Messages" and follow the instructions below.
From the home screen or app tray, tap on the Messages app
Tap on the 3-dots at the top right of the screen again, then select Settings
Select Block Numbers to get started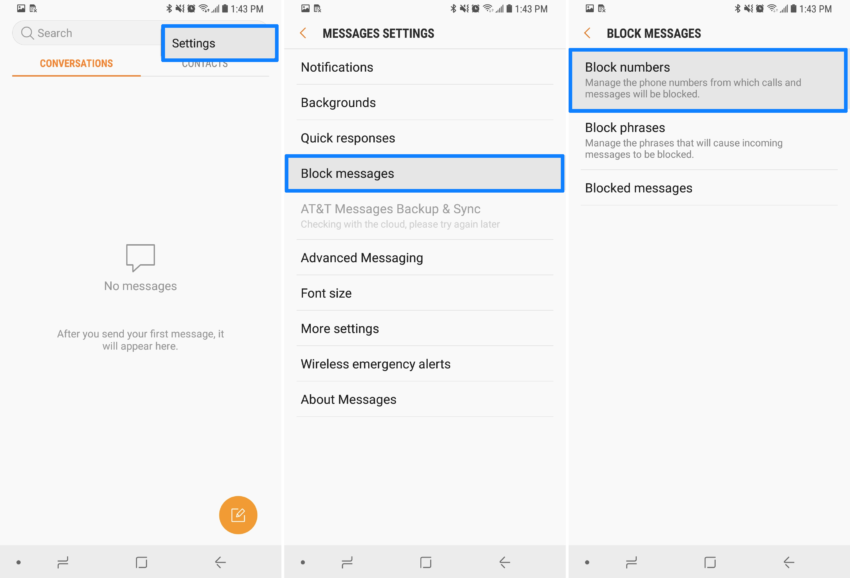 As you can see, Samsung will let you block numbers or entire phrases. The text message blocking tool is easier to use than the Phone blocking system, too, for whatever reason. You can dial a number and block it, find one from your messenger inbox, or look up and block a number from your contact list.
Enter the number you wish to block
OR tap to find one from your Inbox or your contacts list
Then, block entire phrases from coming through in text messages
Add new numbers to the blocked list, then tap back and add a phrase. That way if you keep getting spam texts about a free vacation, or "WINNER" you can block those specific phrases. Just keep in mind that this will block those words from anyone, even friends and family if they say that word.
That's it. You've successfully blocked specific numbers from calling or texting your Galaxy S9. It's worth mentioning that these instructions work for the Galaxy S8, S8+, Note 8, and likely most older Samsung smartphones as well. It's a system-wide setting Samsung offers for smartphone owners.
Additionally, you can find dozens of third-party "Call Blocker" apps on the Google Play Store. And while some have a lot of fancy features or controls to get rid of spam, the free built-in tools detailed above are more than enough for most. Before you go, take a peek at these 35 Galaxy S9 Tips & Tricks.

As an Amazon Associate I earn from qualifying purchases.