35 Samsung Galaxy S9 Tips & Tricks
This guide explains over 35 helpful Galaxy S9 tips, tricks or hidden features so you can do more with your phone. Whether that's customizing the always-on display, using a GIF on the lock screen, 960 FPS slow-mo videos or new features in Android Pie, take advantage of everything the Galaxy S9 has to offer.
You won't need to read the boring manual or spend hours on forums. Instead, our guide will help you learn how to use the phone and tell you about all the cool features you've been missing out on.
With our help, you can easily master the Galaxy S9. We'll start by quickly changing some settings to improve your experience. Then, detail a bunch of really helpful Galaxy S9 tips or tricks with how-to videos and step-by-step instructions.
Transfer Your Old Phone to the S9
First, you'll want to transfer your old phone to the Galaxy S9. If you already did, skip to trick #2.
No one wants to lose all their settings, texts, call log and pictures. Samsung has a feature called SmartSwitch, and this will automatically transfer your old phone, Galaxy, iPhone and more to the Galaxy S9. It does literally everything for you. Just find SmartSwitch in settings, use the adapter that comes in the S9 box, and connect it to your old phone. You can do the entire process over WiFi too if you don't have a cable or the adapter handy. Just follow the on-screen instructions when you open the app on each phone.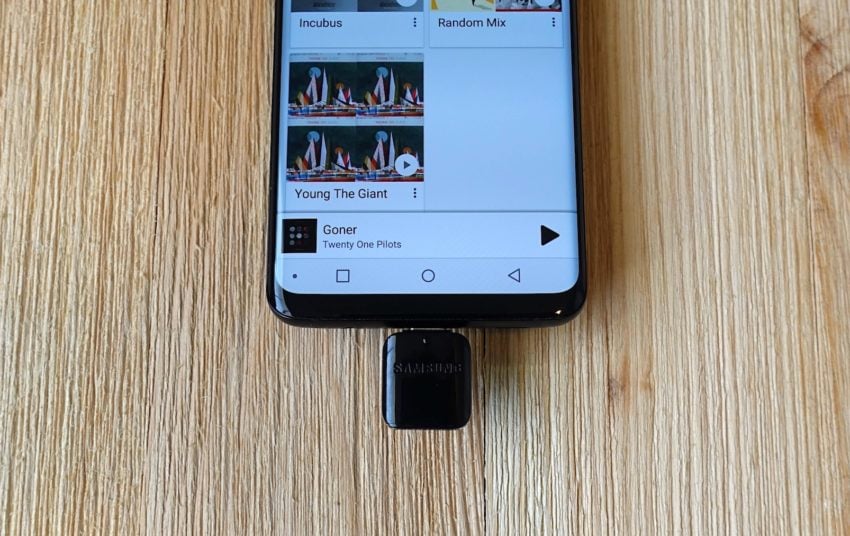 Find the little dongle (pictured above) that plugs into the Type-C charging port, and hook it up to both the new and old phone. Open SmartSwitch on each phone to start the transfer. Or, you can use this tool to back-up any smartphone to a computer, then restore it to another Samsung device later.
Force Apps to Fullscreen Mode on Galaxy S9
The first thing you'll want to do is make sure every app or game you enjoy takes advantage of the entire screen. Samsung's beautiful 5.8 or 6.2-inch screens are taller and skinnier than older phones. As a result, some apps don't use the fullscreen and you'll have black bars on the top and the bottom. This aspect ratio doesn't work right with a few apps, but we can force them into full-screen mode.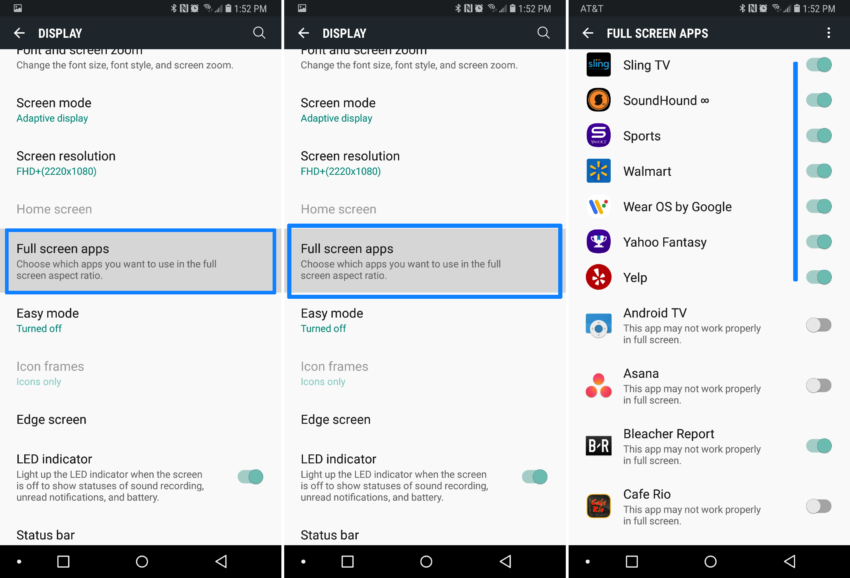 Here's how to enable full-screen apps. Or, Just head to Settings > Display > Full Screen Apps > and enable any app that isn't highlighted.
Read: 9 Best Galaxy S9+ Screen Protectors 
We specifically had to toggle Snapchat and Clash Royale to use the full 6.2-inch S9+ screen. That said, almost everything else works perfectly. Bonus tip: pinch to zoom will expand YouTube to full screen in case you're wondering.
Get the Full Galaxy S9 Quad-HD Resolution
You paid for a phone with a sweet 2560 x 1440 Quad-HD AMOLED display, so use it. Out of the box, Samsung has it set to 1080p Full HD, but we can quickly change it so you get the full resolution.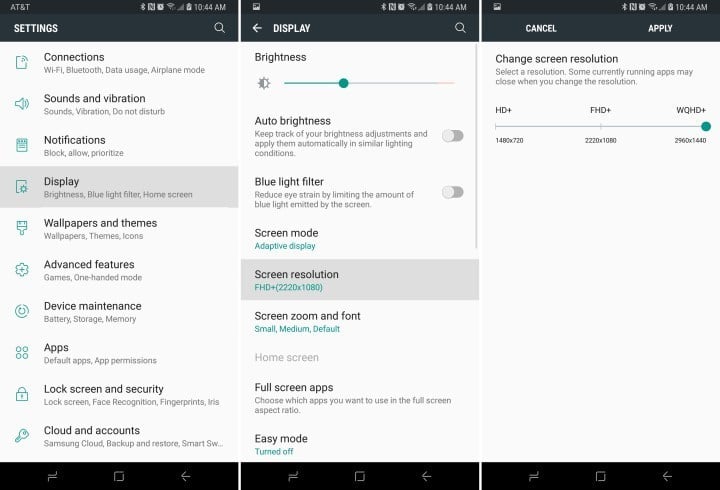 The Galaxy S9 and S9+ ship with the screen in FHD+ mode. This may help with battery life, but it also means you aren't getting the full resolution that the screen can offer. Upgrade your screen instantly in settings.
Go to Settings and search for Screen resolution. Slide it over to WQHD+ 2,560 x 1,440 and hit Apply.
Customize the Always-On Display
One of our favorite features is the Always-On display. Giving out quick information like the time, date, battery levels and even incoming notifications. This uses hardly any battery life and it's highly customizable. You can change just about everything, and that includes adding a GIF or live wallpapers to the always-on display.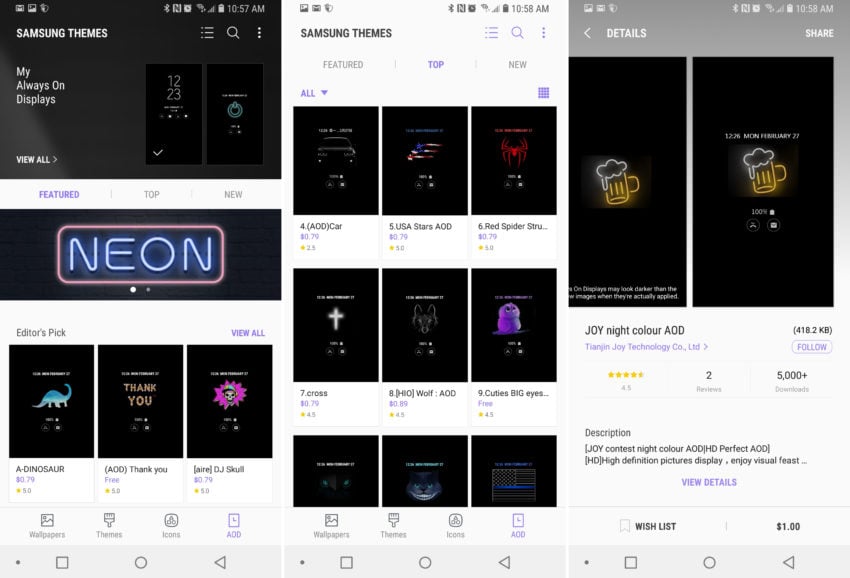 Simply go to Settings > Lock Screen & Security > Always On Display > and dig through the options. You can even go to Samsung's theme store and download or buy fresh new styles for the AOD. And while it changed a little on Pie, the always-on display is more colorful and useful than ever before. Or, disable it if you're not a fan with our video below.
Get Your App Drawer Button Back
If you recently switched to the Galaxy S9 from an older Samsung or another Android device, you'll likely miss the app drawer button. Basically, the white icon on your home screen that opens the folder with all of your apps inside. Samsung removed it, and you must swipe up to launch your app drawer. There's no reason to waste space with a button dedicated to the drawer. If you want it back though, here's how.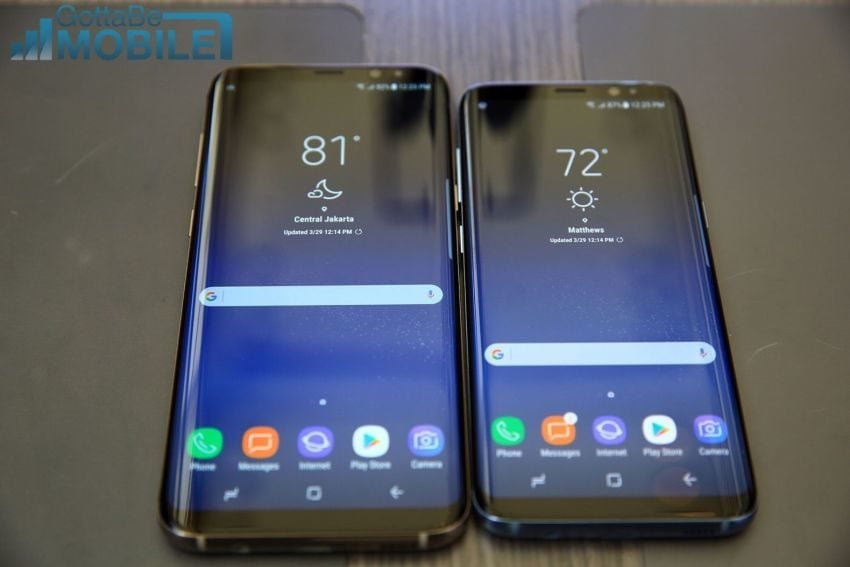 Simply long press a blank space on your screen like you do to add a new wallpaper. This brings up the layout and edit homescreen menu. Tap the gear-shaped settings button. Next hit the option in settings labeled Apps Button and select show apps button.
Clean Up the App Tray
Speaking of apps, I hate how they're out-of-order on the Galaxy S9. Especially after downloading an app from the Play Store and it goes to the back of the list, in no specific order. Thankfully there's a way to quickly re-sort them all in alphabetical order. Basically cleaning up the application tray.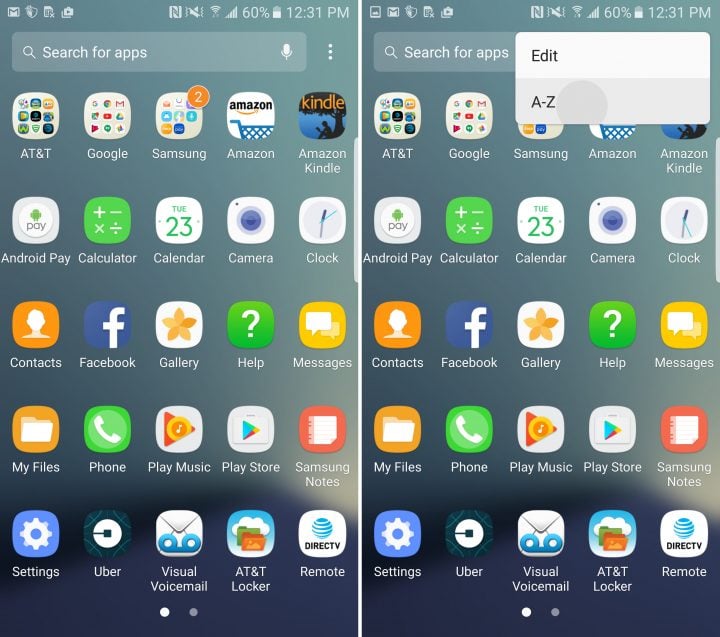 Swipe up from the bottom of the screen (or hit the app tray launcher button we just put back) and tap the 3-dot settings button at the top. Next, select "A-Z" and then tap Save. Now all of your apps get displayed alphabetically and are easier to find. The next time you install an app though, you'll have to do this again, as it reverts back to the list format.
Take a Screenshot on the Galaxy S9
A quick tip we share with every new phone is how to take a screenshot. Being able to capture and edit anything on the screen is extremely convenient. With the Galaxy S9 though, Samsung added three different ways to do a screenshot and a lot of options to boot. Here's a quick video on how to do it.
Basically, just press and hold both the power button and the volume down key at the exact same time. Press, hold and let go. You'll see and hear the screenshot, then get more options on the screen to use, share or edit that screen capture.
Change the Galaxy S9 Lock screen & Wallpaper
Everyone loves to customize their phone, at least a little bit. Here's a full guide on changing the Galaxy S9 lock screen, wallpaper, themes and more. Or, follow the quick instructions below.
Push and hold your finger on a blank area of the screen
It will zoom out to a customization menu. Select Wallpaper
Scroll through Samsung's options, or hit My Photos
Now select the image you want, crop to fit, and hit Apply Wallpaper
Choose home screen, lock screen or both
In case you didn't know, Samsung will let you use a short part of a video as a wallpaper too. Capture 960FPS slow-mo video with your Galaxy S9 camera, turn it into a GIF, and set that as your background. You can actually use a GIF for the wallpaper on your lock screen, home screen, or even the always-on display. Although that last one might drain your battery quite a bit.
Customize the S9 with Themes
While we're still mainly talking about the screen (other tips are coming, we promise) we wanted to quickly mention themes. If you noticed a lot of my screenshots look different from yours, it's because I'm using a stock Android theme on the Galaxy S9+. Here's how you can too.
Go to Settings and navigate to or search for Wallpapers and Themes. Download the Theme app if it isn't there already, then browse through hundreds of themes and wallpapers. Many of them are free, but there are others that you will need to pay for if you want them. Download any theme and hit apply.
Change & Download Fonts on the Galaxy S9
You can make your phone look different from everyone else by downloading a new font. There are multiple options to choose from or hundreds you can download for free, or a few dollars. Here's a full guide for changing the font. Or, watch this video from the S8, which has the same software as the Galaxy S9.
Basically, go to Settings > Display > Screen Zoom & Font > and choose one or download something new. Then just apply it to your phone and enjoy the fresh new look.
How to Customize the On-Screen Navigation Buttons
With a big edge-to-edge display there's no longer room for a physical home button. As a result, Samsung put the fingerprint scanner on the back and uses on-screen software buttons. And thankfully, they're highly customizable.
Go to Settings > Display > Navigation Bar > and change anything you'd like. We can show or hide the buttons, change the background color, or even switch which side the back button is on. And no, you can't change the notification bar, not too much. We're stuck with the clock on the left side in Android 9 Pie.
How to Completely Disable Bixby on the Galaxy S9 (and the button)
Like Siri, Alexa, or the Google Assistant, Samsung has Bixby. A new virtual assistant that wants to help you with your day. And while there are over 175 awesome things Bixby can do, far more than Alexa or Siri, some people just want to get rid of him/her. Here's how to completely disable Bixby, and that includes the Bixby button on the side of the phone.
One of the most frustrating things for me is accidentally tapping the Bixby button while I'm trying to change the volume. Then Bixby opens and interrupts whatever I was enjoying. So, disable the button, turn off Bixby voice, and remove Bixby from your home screen too.
The button doesn't do anything now, but I'm ok with that and you probably will be too.
Setup Iris Scan & Face Unlock (Intelligent Scan)
Older Samsung phones had facial unlock features or Iris scanning, but the Galaxy S9 takes those a step further. There's an all-new lockscreen and security option listed as Intelligent Scan, and you'll want to quickly set it up and use it.
Intelligent Scan is a biometric security and authentication method similar to your fingerprint. However, Intelligent Scan uses both Face unlock or Iris scanning, or both, to unlock your phone as fast as possible. To start, go to Settings > Lock screen and security > Intelligent Scan and follow the prompts to get all set up.
Use Smart Lock & Skip Fingerprints
Yes, we just mentioned how you can use a fingerprint or Intelligent Scan to unlock your phone. However, Smart Lock is better than them both, but hardly anyone uses this amazingly helpful Android feature. Click our link to learn about Android's Smart Lock feature and skip the fingerprints as often as possible. This uses trusted locations and connected devices to skip unlocking the phone when it knows it's in a safe place.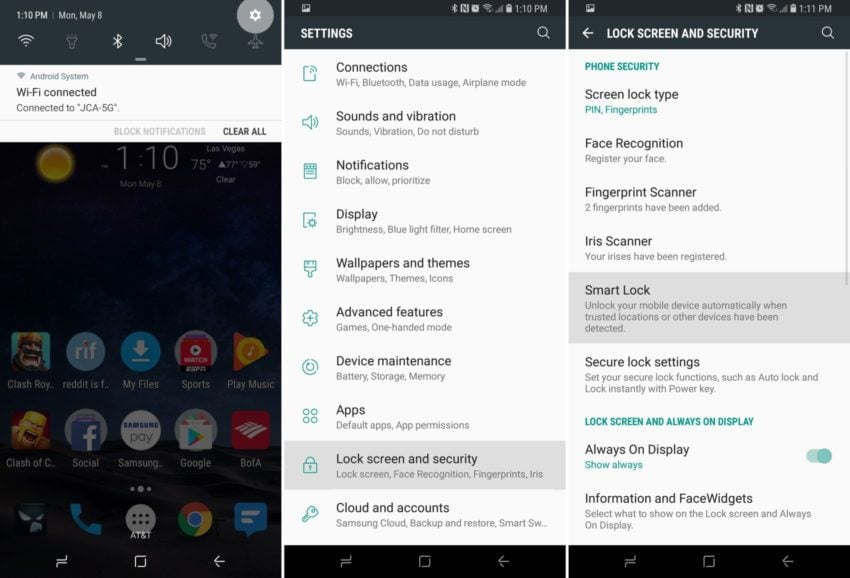 If you're home why use a fingerprint to access your phone? This way you don't have to use a fingerprint until you leave your house. Or, if you're driving and the Galaxy S9 is connected to your car stereo, why enter a pin before you can use your phone? It makes no sense, and Smart Lock bypasses all of it.
Go to Settings > Lock screen & Security > Smart Lock > and follow the prompts. You'll love this feature just like I do.
Disable Bloatware on the Galaxy S9 (All those pre-installed apps)
If there's one thing I really despise, it's pre-installed apps wasting space on my phone. And while you can't uninstall these and get that space back, you can disable them. That way none of those apps you'll never use are in the application tray, on your home screen, or ever waste time updating on Google Play. Here's how.
Pull down the notification bar and hit the gear-shaped Settings button (or open the Settings app)
Navigate to and select Apps
Make sure the tab on the top left says All Apps
Now, scroll through the list and tap to Select any app you want to disable
Hit Disable, then Confirm to get rid of it (some will uninstall updates first, then get disabled)
Repeat steps 4-5 for any app you'd like to get rid of
Do this for things like Sprint's NASCAR apps, AT&T WiFi, AT&T App Select, Amazon, Lookout, Hancom Office, and random apps from T-Mobile and Verizon. I disabled over 15 apps on my AT&T Galaxy S9+.
How to Speed Up the Galaxy S9 in 3 Easy Steps
Once you get rid of all of that bloatware your phone might run a little better too. That's because AT&T, Verizon, T-Mobile, or Amazon apps aren't trying to run all the time. However, we have an even better trick that will actually make your phone look and feel faster. This isn't a gimmick either, it's a way to make the animations all 2x faster on your phone.
Enable developer options, then follow the instructions in the video above. Yes, that's the Galaxy S8, but the same steps work on the Galaxy S9, S9+, Note 8, or any Android smartphone.
Setup Find my Galaxy S9 (If Lost or Stolen)
If you lose your Galaxy S9 or it is stolen, you can use this service to track it down or remotely wipe it. This is an essential step since you cannot do it after the phone is lost. Samsung's Find My Mobile works the same way, so use either option or both.
Go to Settings and search for Find My Mobile. Log into your Samsung account, or create an account, and then turn it on. Make sure you allow any prompts to use your phone's location and use Google Location service for a more accurate location. Then, do the same with Google's Find My Device app.
Use Fingerprint Gestures on the Galaxy S9
Did you know you can swipe the fingerprint scanner to perform a few tasks on the phone? Here's a video guide on the Galaxy S8. The steps are exactly the same on the S9.
You need to turn on Fingerprint gestures before you can use this option. Go to Settings and then search Finger sensor gestures. Slide the toggle to on and you're all set. There's more to it in this guide and the video above. Basically, you can swipe down to access the notification bar and things of that nature. It's just a quick little tip that some people will find useful.
Setup Do-Not-Disturb
Another feature we love that millions don't use is Do-Not-Disturb. It works great on the Galaxy S9 and will keep you free from distractions at night or at work. Keep the phone on when you need it, and have it automatically go silent or on vibrate at work, or at night.
To use this navigate to Settings > Sounds > Do Not Disturb or just search for Do Not Disturb. Turn it on or set a schedule so everything happens automatically. Don't forget the "allow exceptions" at the bottom so select contacts or apps can still get through at all times. Perfect for friends, family members or your boss. Samsung offers an option where repeat callers will still get through, in case of emergencies.
Keep in mind that this won't even let alarms get through if you don't set it up and allow a few exceptions. Once it's done right though, it's a lifesaver.
Use the Galaxy S9 Secure Folder
One of the best new features from Samsung is the Secure Folder. Here's a full guide on how it works, how to set it up on the Galaxy S9, and what to expect. Basically, you can create a folder and add anything you want to it and it's extremely secure. And when we say anything, that includes second instances of an app. Like two Gmail apps, a second Facebook for work, private photos and more.
Go to Settings > Lock screen & Security > Secure Folder > and Click Start. Then follow all the prompts, guides, and recommendations and enjoy everything this secure layer has to offer. You can even customize the secure folder itself and name it "Sports" so someone doesn't click on a suspicious "Secure Folder" icon on your phone.
Add a Trash to Your Gallery (In Case You Accidentally Delete Photos)
With the Galaxy S9 Android 9 Pie update (One UI) released in January and February of 2019, Samsung added a trashcan option to the gallery. This is actually an amazing feature and one you'll probably want to use.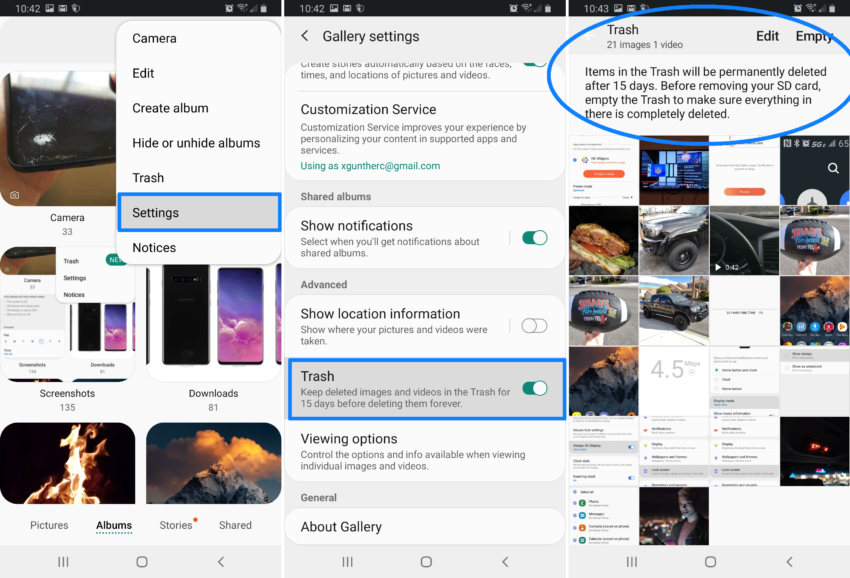 Open the gallery and tap the 3-dots menu button near the top. Tap on Settings, then scroll down to Trash and turn it on. Now, any photo or video you delete from the gallery will temporarily stay in the trash for 15 days, giving you time to recover anything. And yes, they automatically disappear forever after 15 days.
Use the Blue Light Filter (Night Mode)
Similar to do-not-disturb, Samsung has a Night Mode filter you'll want to use. This turns off certain blue colors on the screen to prevent eye strain and help you fall asleep faster. Studies have shown the blue light from displays, especially Samsung's can keep users awake and cause eye strain. Samsung even has a sunrise and sunset toggle so it's on only at night. Here's how to use it.
Go to Settings > Display > Blue Light Filter > and turn it on. Then, customize some of the options, how strong the filter is, and when it comes on or turns off. Mine is set to a schedule of 10PM-7AM Monday to Friday.
Turn Off the Notification LED Light
Just like the Always-On display, that blinking notification LED is very distracting at times. Here's a quick guide that explains how to turn it off or customize your notifications.
Head to Settings > Display > LED Indicator and turn it off. However, this also means you won't see a notification LED when the phone is charging. Our link above explains how to turn it off for certain notifications, but keep it on for the ones you need.
Customize the Notification Bar on the Galaxy S9
While we're talking about notifications, here's how to customize the notification bar and quick settings on your phone. Follow the steps in our link, or watch our video below.
You can change what quick-setting icons you see in the notification bar, add a battery percentage, how many notifications you see at once, or change the entire look and feel like we did. Simply pull down the bar and tap the icon at the top left to make changes, or download a new theme to make it your own.
But no, you can't put the clock back to the right side. It's stuck to the left in One UI.
Move Apps to the Galaxy S9 MicroSD Card
Samsung's Galaxy S9 has 64GB of storage, which is more than enough for most owners. That said, if you download tons of apps, games, music, and movies, you might start to run out. Especially after recording 4K or slow-motion videos. You might not be out of space yet, but wait a year or so, then follow these steps to move apps to the microSD card and free up space.
Go to Settings > Apps > All Apps > then follow the step-by-step instructions below and move apps one at a time. And yes, you have to do it one at a time.
Find and Select an App from the list
Tap the third option labeled Storage
Where it says "storage used, internal storage" click the Change button
Choose your MicroSD card from the pop-up menu
Confirm by selecting Move at the bottom right, wait for it to export
Repeat steps for any app you'd like to move (or that is eligible)
Of course, this isn't ideal, but after owning your phone for a while you'll start to run out of space. Anything large like a game, maps, or PUBG is worth moving to the SD card to free up space.
How to Close Running Apps on the Galaxy S9
If you're new to Android or this is your first Galaxy, tips like closing apps are very helpful. As a result, here's a quick video on how to close and clear running apps on your phone.
There are two ways you can close apps on the Galaxy S9. The video above shows you both. Or, press the recent apps button and then either swipe an app right or left, or tap on close all.
Quick Launch Galaxy S9 Camera
This is a tip that I'm still surprised people don't know. Grab your Galaxy S9 and quickly double-tap the power button on the right side of the phone. This instantly launches your camera, even if the screen is off. It doesn't matter what you're doing. Double tap and the camera fires up ready to snap a sweet photo. Do this once, then say YES to turn this feature permanently on.
Samsung Galaxy S9 Camera Tips
Now that you've set up the quick camera button, there's a lot more you can learn about the Galaxy S9 camera. Here's our guide on how to use the Galaxy S8 camera like a pro. It covers;
What camera modes are available
camera options for voice control, tracking stabilization, HDR+, and more
Timer options
Motion Photos
How to save photos to your SD card
camera editor options and more.
And while that guide is all about the Galaxy S8, most of those settings and controls apply to the Galaxy S9. It's the same camera setup, only better, and with a variable aperture lens. Spending 10 minutes learning about the camera modes will make your photos look 100X better and they'll get more likes on Facebook and Instagram.
Use AR Emoji on the Galaxy S9
If you don't want to shoot photos like a pro, but do want to mess around, use Samsung's new AR Emojis. It's a wanna-be Apple animoji, but they're still fun. Here's a full guide on how to use Samsung's Emoji Camera.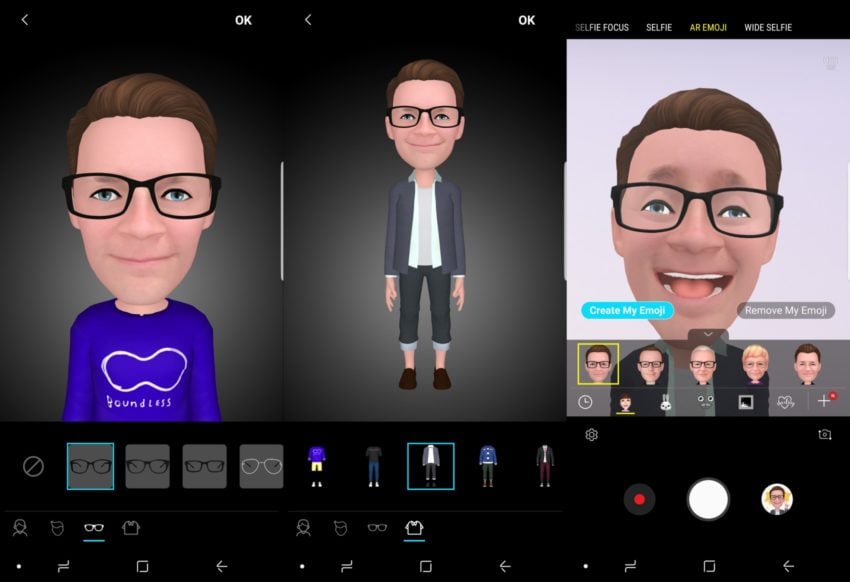 Fire up the camera, then swipe on the screen until you see "AR Emoji" as a mode type at the top of your display. Now, take a selfie or a photo and start customizing your new character. Our link above explains everything in detail.
Try Galaxy S9 "Easy Mode"
Not everyone is a tech enthusiast or even knows how smartphones work. Sometimes all the settings and options get confusing. A lot of older people buy Samsung's Galaxy phones for the big screen, and that's all. If you're one of them and the software is too confusing, or you just want to see things easier, try Easy Mode. This simplifies the software and increases the size of everything for those with poor vision.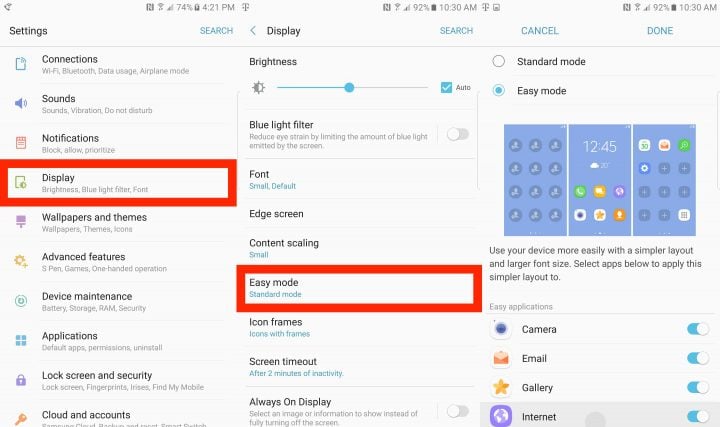 Head to Settings > Display > Easy Mode > and turn it on. From here, you'll get tons of customization options to tailor the experience exactly how you want it. Or, exactly how you think your parents will want it.
You can put important apps and contacts right on the home screen for easy access, the camera, and cut out everything else. Basically, making it a smart-ish "dumb phone".
Open and Run Two Apps at the Same Time (App Pair)
Being able to use two apps simultaneously is nothing new for Samsung smartphones. However, Samsung recently added a new feature called App Pair, where you can instantly open two apps together at the same time. Pair apps up, and tap once to instantly multitask like a pro.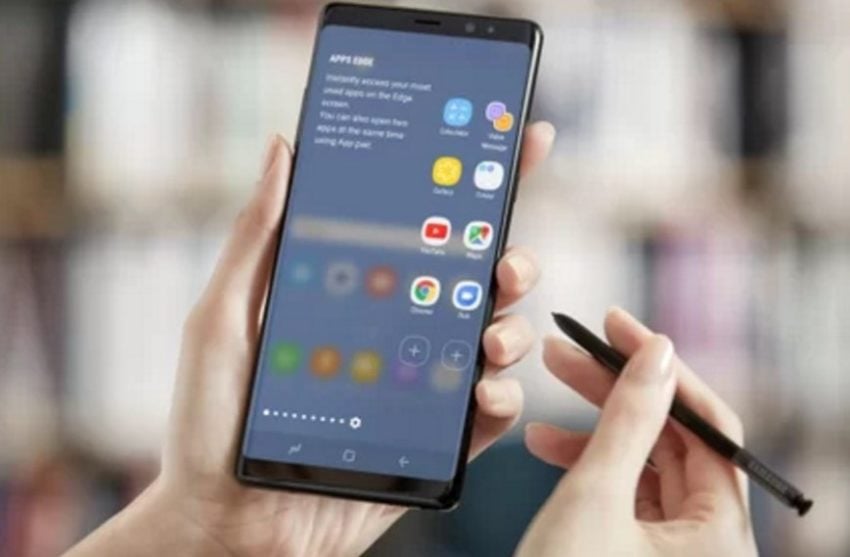 Open the Edge Apps panel (if you didn't disable it) and look for App Pair. Now just pair apps you like together and use them as you see fit. From here on out you can tap once and instantly launch two apps in split multi-window mode. It's pretty helpful for college students or business users.
Turn Off the Edge Panel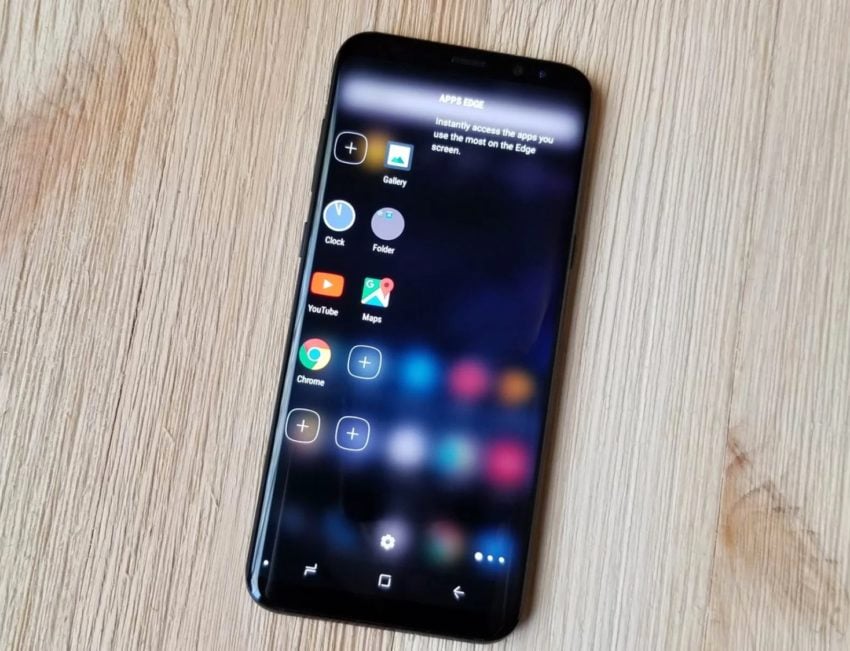 Speaking of the "Edge" on your phone, do you hate that little white tab that slides out the Edge apps and controls? We do, and quickly turn off the Edge features on any new Galaxy device.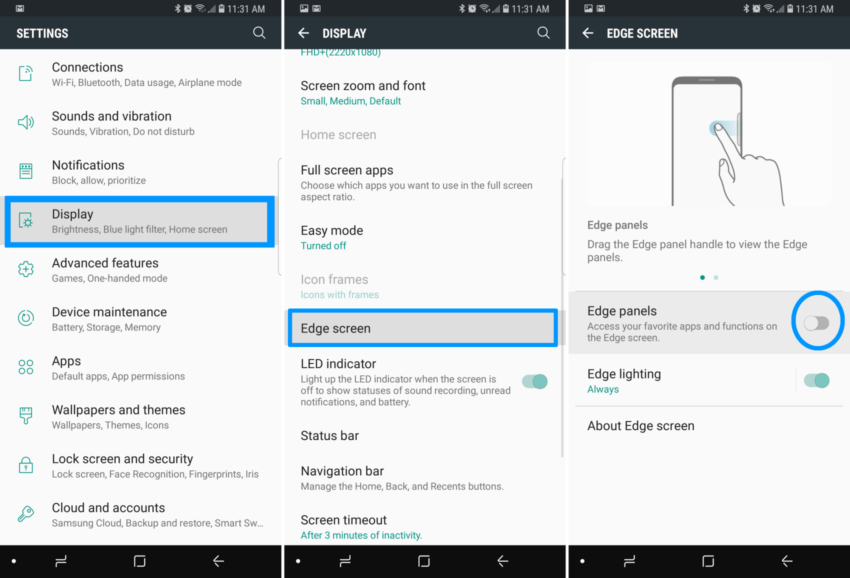 Here's a full guide for getting rid of the Edge panel on your Galaxy S9 display. Basically, head to Settings > Display > Edge Screen > and uncheck Edge Panels. You're welcome.
Use the Galaxy S9 as a Mobile Hotspot
Did you know you can turn your phone into a WiFi connection? This way you can connect your laptop, tablet, game console or even car to your Galaxy S9 just like you connect to WiFi at Starbucks. Here's how to use the S9 as a hotspot, or watch our video below.
Open the Settings app on your phone. In Settings, go to Connections > Mobile Hotspot & tethering > Turn on hotspot. Don't forget to customize your WiFi name and password so other people don't connect to your phone.
Get Better Galaxy S9 Battery Life
The Galaxy S9 and S9+ both get good battery life but it can always be better. Not to mention sometimes apps can kill the battery in just a few hours. You can use this guide to fix bad Galaxy S9 battery life so that your phone lasts longer without the need for a battery case. These are things to change or look for throughout the day, and what we cover in our guide we just linked to.
Apps using your battery life
Screen Brightness and Sleep Time
Why You Need to Reboot your S9 sometimes
Turning Off Features you don't need
Other helpful tips & tricks
In less than 10 minutes you can fix most Galaxy S9 battery life issues on your own, without a trip to a carrier or a call to Samsung.
Read: 15 Common Galaxy S9 Problems & How to Fix Them
Battery life is just one of many potential problems you'll run into while you own the Galaxy S9. That's why in addition to all of these tips, we have a guide (above) all about potential problems and how to fix them. Give that a good look at if you're experiencing issues.
Print from your Galaxy S9
If you have a wireless printer, you can print stuff right from your Samsung phone. You'll need an app plug-in for it to work, but it's very simple.
Open Settings > Connections> More Connection Settings > Printing > Download Plugin. Now, just download Google Cloud Print and follow the on-screen instructions for setup and you're done. That way you can easily print things wirelessly from your phone.
Reboot a Frozen Galaxy S9
Now that we went over tons of helpful tips, these next two are for saving you when you run into trouble. If your phone is frozen or unresponsive, here's how to quickly reset it.
To reboot a frozen Galaxy S9 press and hold down both the power button and volume down for 7-10 seconds. The phone will shut down, reboot, and be back on in no time. This fixes almost any small problem you might face and is a great way to fix a frozen or unresponsive phone. Or, do this if your device is acting funny.
Set Up Weekly Auto Restarts
Smartphones are very powerful computers that do a TON of things every day, and even more throughout the week. Just like a computer, occasionally they can bog down, get slow, and need a break. With the Galaxy S9 Android Pie One UI update Samsung added an "auto restart" option in settings, and we recommend EVERYONE use it.
Actually, this was in Android 8.0 Oreo, but hidden, now it's very easy to find and use. Here's how to ensure a smooth, fast, longer-lasting phone every week.
Go to Settings > Device Care
Tap the 3-dots at the top right (settings) and select Auto restart
Turn the switch to on, choose the day and time (I do 3AM on Thursday)
and weekly it'll reboot and give itself a fresh start
Factory Reset the Galaxy S9
Last but certainly not least is how to perform a factory data reset. This is great for fixing any major problems, starting fresh after a software update, or before you sell your Galaxy S9 later in life. A factory reset will erase everything, so back up your S9 before you do this.
Start by heading to Settings > Cloud & Accounts > Backup & Reset > Factory Data Reset. Select the last option to do a factory data reset and return the phone to the out-of-box state. This is the last resort if you're experiencing problems or are trading it in for a different phone.
You can also boot into the recovery and clear the cache if you're having problems but don't want to erase your phone.
Final Details
Before we let you go we have a few more last-minute tips. Arguably two of the most important tips. First, buy a case for your phone with our links below. It'll keep your Galaxy S9 or S9+ looking nice and new. Then, get a screen protector because that big 6.2-inch screen is fragile.
Then, don't forget to occasionally delete your Galaxy S9 browser history, or use Galaxy S9 performance mode while gaming for the best experience. And last but not least, if you have any serious problems here's everything you need to know about your Galaxy S9 warranty.
Stay tuned for more details, and as we find exciting new features in the One UI update we'll add them to the list. And we'll do the same for Android Q later this year.