How to Buy the iPhone 6 Off-Contract from Apple
If you've been dying to buy an iPhone 6, you probably already did last Friday. However, if you have yet to purchase one and are wanting to buy an iPhone 6 off-contract from Apple, it's a little weird how the company handles it on their website. If you want to buy an iPhone 6 at full retail price without a contract, here's how to do it.
Granted, most users buy subsidized iPhones at a discount in exchange for signing a two-year contract that they'll be locked into. However, more and more consumers are buying smartphones off-contract to stay away from contracts in the first place.
When you first visit Apple's website to buy the iPhone 6, you'll get options to buy it on AT&T, Sprint or Verizon at a subsidized cost, or buy it off-contract for T-Mobile at full retail price. However, off-contract models for AT&T, Sprint and Verizon are nowhere to be found, and the T-Mobile version won't work on Verizon, so you're kind of stuck.
Never fear, though, as you have to dig deeper into the belly of the beast on Apple's website in order to by an off-contract iPhone 6 on AT&T, Sprint or Verizon. Here's what you'll need to do.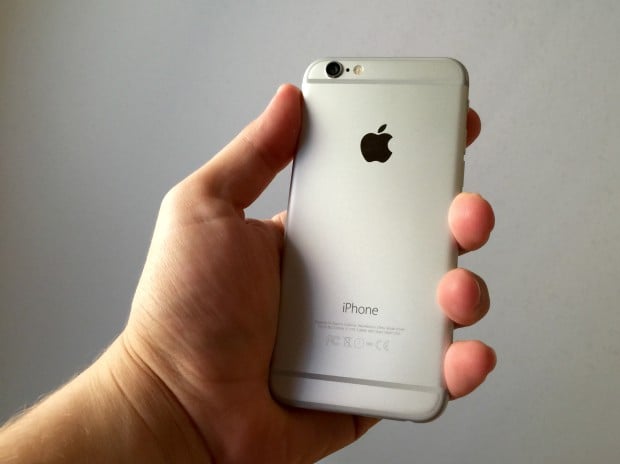 How to Buy Off-Contract iPhone 6
First, head to Apple's iPhone 6 Buy Now webpage and choose the iPhone model that you want. If you're wanting a Verizon iPhone 6 off-contract, go ahead and select Verizon as the carrier when you get to that step.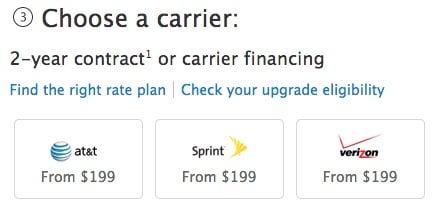 Once you get through all four steps, hit the green Select button at the bottom to go to the next step.
The next page will ask you if you're a new carrier customer or an existing one. If you're a new customer, simply just create a new wireless account with that carrier. If you're an existing customer, either choose whether you want to upgrade an existing line or add a new one.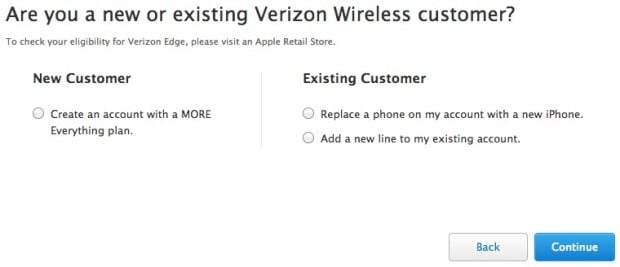 The next page will have you enter in your carrier subscriber information so that Apple can access it and see what your upgrade eligibility status is. From there, it will automatically check to see if you're eligible for a subsidized upgrade, and if not, Apple will offer you the off-contract iPhone 6 at full retail price for your chosen carrier.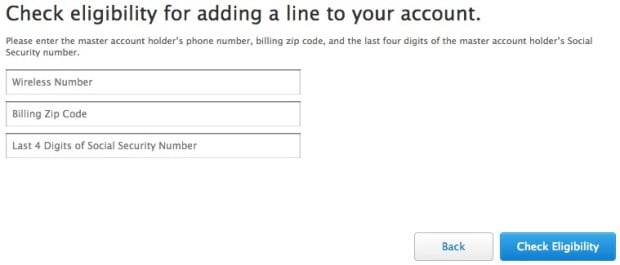 Next, simply just add it to your cart and begin the check-out process.
There is one thing to be aware of, and it's that you have to order iPhones separately in two different orders if one is a subsidized model and the other is an off-contract model. I'm not sure why Apple has this rule implemented, but nonetheless, it's something you'll have to do if this will be the case for you. Otherwise, you can buy multiple off-contract iPhones in one order if you'd like.
Where Else to Buy Off-Contract iPhone 6
Of course, we think Apple is the best place to buy an iPhone since you're buying it from the source, but it's also not a bad idea to buy a new iPhone from the carrier itself, and Verizon especially makes it easy to buy an off-contract iPhone if you're not eligible for an upgrade, and you don't need to split it up into two different orders if you're buying a subsidized iPhone 6 and an off-contract model.
The iPhone 6 starts at $199 when signing a new two-year contract, while off-contract models start at $649. The iPhone 6 Plus starts at $100 more, thanks to the larger screen size and the small handful of exclusive features. If you're not sure which model to get, we have a guide that might help you decide on either the iPhone 6 or the iPhone 6 Plus, but choose wisely!

This article may contain affiliate links. Click here for more details.