How to Buy & Listen to Music in Windows 10
The are some very big reasons to download the free Windows 10 upgrade to your notebook, tablet or 2-in-1. Tablet Mode, a new Windows Store, the Cortana personal assistant, everyone is focusing on those core, in your face reasons for committing to Microsoft's new vision for Windows. Respectfully, those are only half the story though, Windows 10's real triumph is that it ushers in another big wave of fixes and changes for the different apps that the Windows experience relies on. How you buy and listen to Music in Windows 10 is a perfectly good example of this.
Read: Windows 10 Review – A Love Affair
The free Windows 10 upgrade brings with it huge changes to how users listen and buy music. Gone is Xbox Music, replaced entirely by Microsoft's Groove Music service. Fundamentally, the subscription service offered through Groove is the same as Xbox Music, but Microsoft has tweaked some settings and upgraded the user experience. The Groove Music app itself no longer holds a store. Microsoft has moved purchasing activities to the Windows Store, where it already offered apps and games.
Here's how to buy and listen to music in Windows 10, using the Groove Music app and Microsoft's new Windows Store.
How to Listen to Music in Windows 10
Fundamentally, listening to music in Windows 10 hasn't changed at all if you're coming from Windows 8. Xbox Music is now Groove Music. Look for it in your list of installed apps under G.
When you open Groove Music you get a welcome screen explain Groove Music's features. Besides playing the content you already own, Groove Music has a $9.99 subscription pass for streaming anything you want from Microsoft's servers. You can still use the Groove Music without the Groove Music Pass, but turning it on enhances it. Music purchased in iTunes works in Groove because it's unprotected. Music purchases from other stores should work just fine too.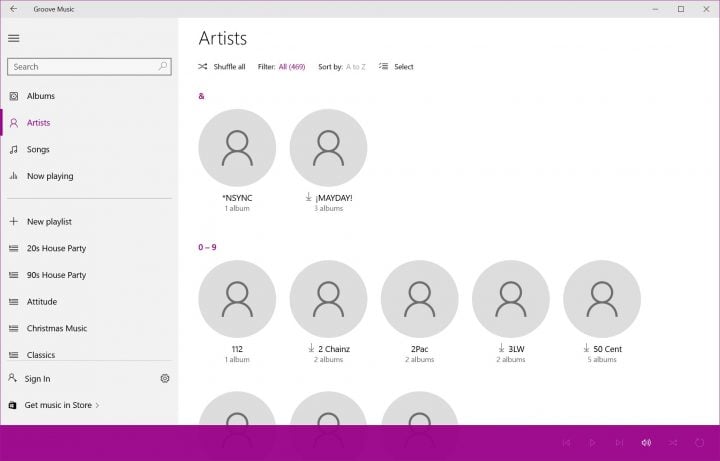 Groove Music is able to find MP3s, WMA and MP4 files. When you tap or click on an audio file in Windows 10, Groove automatically launches and plays that file. Any compatible file that it sees in your Music folder will show up in Groove. In the set up area you can add more folders for Groove Music to monitor if you'd like. You can do that from the Settings area.
Using the metadata in your music, Groove Music breaks your music down by Album, Song and Song. For now, Groove Music will add metadata to your music, but it won't let you add metadata inside.
Windows Media Player is still available within Windows 10, but it has seen no functional upgrades and won't be actively updated. It's purely there for legacy reasons. You can find it by entering Windows Media Player into the search bar on the Taskbar.
OneDrive, Microsoft's cloud music service, connects to Groove Music in an interesting way. Upload unprotected songs there and Groove Music lets you stream that content inside it. Doing this saves you from hogging space on your PC with your music collection. It also means you won't ever have to worry about losing your library if something happens to your device.
Read: Microsoft OneDrive Review
How to Buy Music in Windows 10
Buying Music in Windows 8 depended on the Xbox Music app. Groove Music has offloaded that responsibility to the new Windows Store. You can access the Windows Store from the Shopping bag icon in Groove Music or go to the Start Screen and look for the Store app in the list of installs apps on your device.
The Windows Store sells unprotected albums and songs, but no music videos yet. When you purchase a song it's billed to the same card that you added for apps and games. Frequently, there are discounts and bits of music editorial content added. Just like every other music service, new albums and songs typically show up on Tuesday.
Purchasing songs through the Windows Store has other benefits besides just being convenient. The songs you buy are automatically added to your Groove Music collection so that you can stream them anytime. Groove Music even has a setting for restoring purchases on your devices automatically.
Groove Music on Your iPhone & More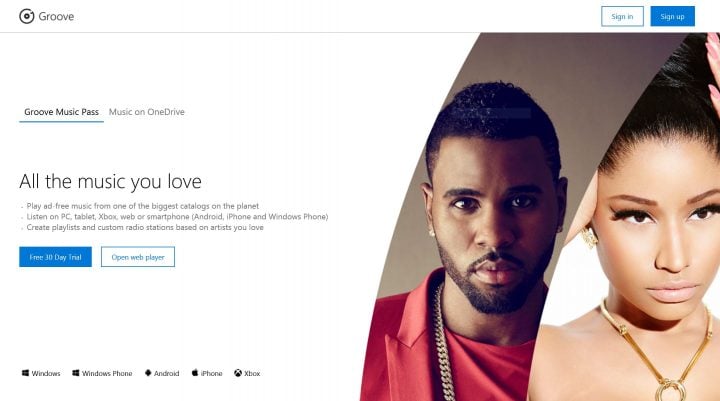 Microsoft's smartest moves this past two years all revolve around Microsoft's services available on iPhone and Android. Groove Music has companion apps online, on iPhone, on Windows Phone and on Android.