How to Change the Galaxy Note 9 Text Message App
This quick guide will show you how to change the Galaxy Note 9 text message app. Samsung has its own built-in Messages application, but 3rd party alternatives on the Google Play Store typically have a lot more to offer.
Our text apps below deliver more features, themes, notification bubbles or font options, or are just easier to use than Samsung's. Basically, there are several reasons to try something else for your texting needs.
Read: 5 Best Android Text Message Apps
Our link above goes over some of the best Android text messaging apps. Download one today, then follow the step-by-step instructions below to change it in settings. This will prevent you from receiving duplicate notifications too.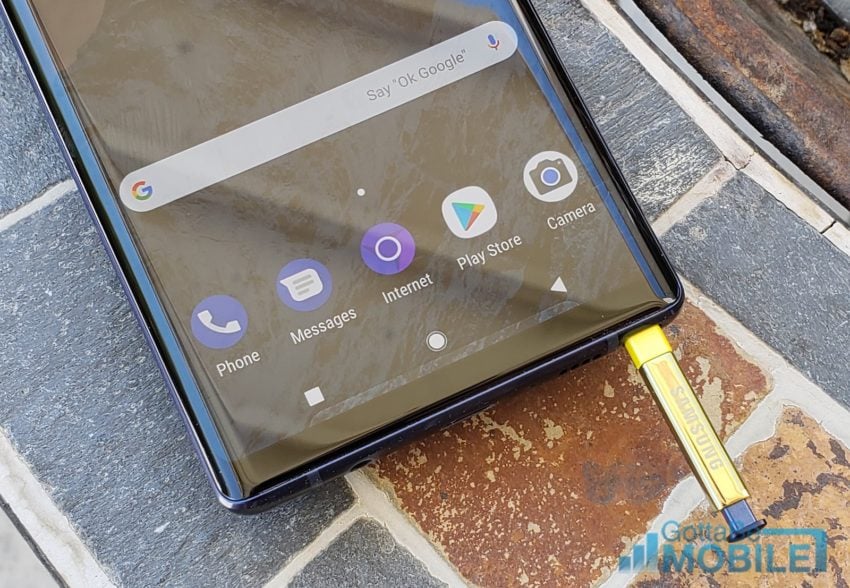 How to Change the Galaxy Note 9 Text Message App
The first step is downloading a new text message program from the Google Play Store. Simply search for SMS or text message, and Google lists them all. Textra is my favorite text app, although Chomp or GoSMS are two other popular options. Here are the full instructions. 
Instructions
Download a new Text Messaging App
Go to Settings by hitting the gear-shaped button in the notification bar
Select Apps or Applications
Click the 3-Dots "menu" button at the top right and choose Default Apps
Tap on Messaging app and select which app you'd like to use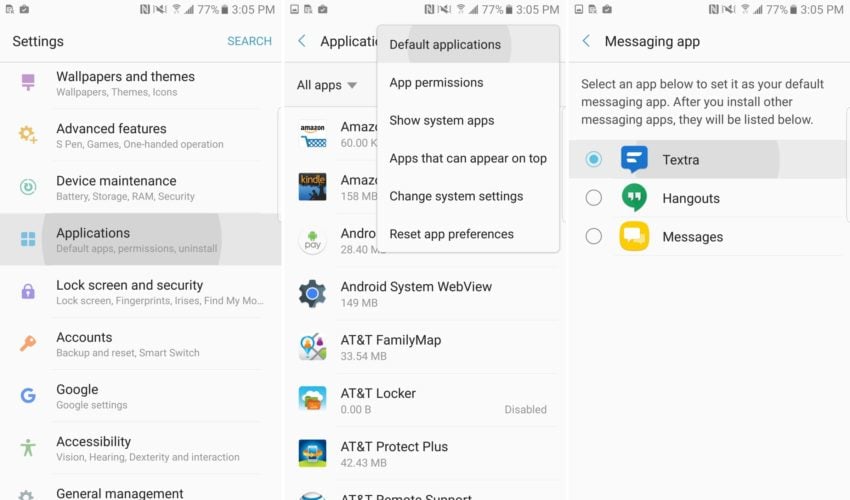 Basically, head to settings and quickly open the "Apps" section. Then, go to default apps and choose a new text message program on the Galaxy Note 9. This tells the device which application to use for sending and receiving messages.
Other Details
It's worth noting that some apps, like Textra, will do the last few steps for you. Once you install Textra and open the app you'll see a "Set as Default" option at the bottom of the screen. This automatically changes the setting we mentioned above.
Read: How to Turn Off the Galaxy Note 9 Always On Screen
If a new text message app doesn't prompt you to set a default, simply follow our steps and do it manually. This is a step you can't skip. Why? because older Android devices received double notifications if you downloaded a second text message app. That isn't the case anymore. Android won't let two apps be set as "default" at the same time. This way you only receive one text notification, regardless of how many apps you install.
From here on out this is the only text app that will be able to send, receive or alert you on text messages. If you chose Textra (or many others) go in and customize it how you like. Change everything from the font, style, colors, bubble colors, and even the notification icon or emojis. Textra offers a little bit of everything. You can change the entire text message experience and color for each contact in your phone too, making your Galaxy Note 9 more personal than ever before.
Before you go here are 10 other neat things the Galaxy Note 9 can do. Or, head to our Galaxy Note 9 portal for more tips and tricks.