How to Change OnePlus 6T APN Settings
Whether you bought the OnePlus 6T from T-Mobile or unlocked, this guide will show you how to change the OnePlus 6T APN settings. These are the settings you need to change to use your phone on different carriers.
APN stands for "Access Point Name" and is essentially a doorway to carrier networks. It gives your phone the necessary info to communicate with AT&T, T-Mobile, Verizon and others. That way you'll get 4G LTE or be able to send text and picture messages.
For some devices or networks, these settings change automatically when you insert a SIM card. However, sometimes it doesn't work. If so, you'll have to find and manually configure the APN settings yourself. Only then will you be able to use the OnePlus 6T on a carrier other than where you bought it.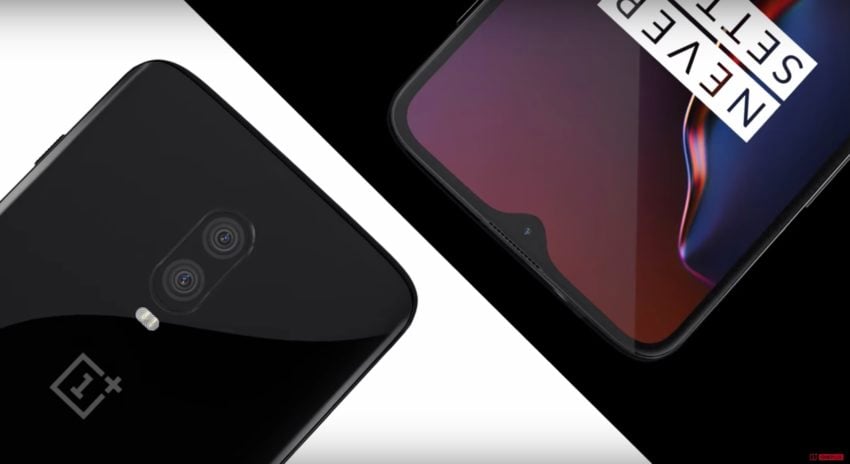 How to Change OnePlus 6T APN Settings
The steps to find the correct menu in settings varies on different phones, but with stock Android 9 Pie on the 6T, it should be pretty easy.
Instructions
From the Home screen, head to Settings (pull down the notification bar and hit the gear-shaped Settings button)
Now, tap on SIM & Network Settings
Choose Mobile network, then tap on SIM 1 or SIM 2
Then select Access Point Names (this is where you enter your carrier information)
Choose the APN info for your carrier if it's listed. If not available, tap ADD or +
Input new APN settings provided by your carrier of choice
To reset your APN settings, tap the Menu (3 dots) icon and then tap Reset to default.
If no APN information is shown, you'll have to manually enter it. If you put a SIM card in the phone and reboot it, the phone should automatically pull the APN settings it requires. Try that first. Otherwise, tap the ADD button in the top corner to start.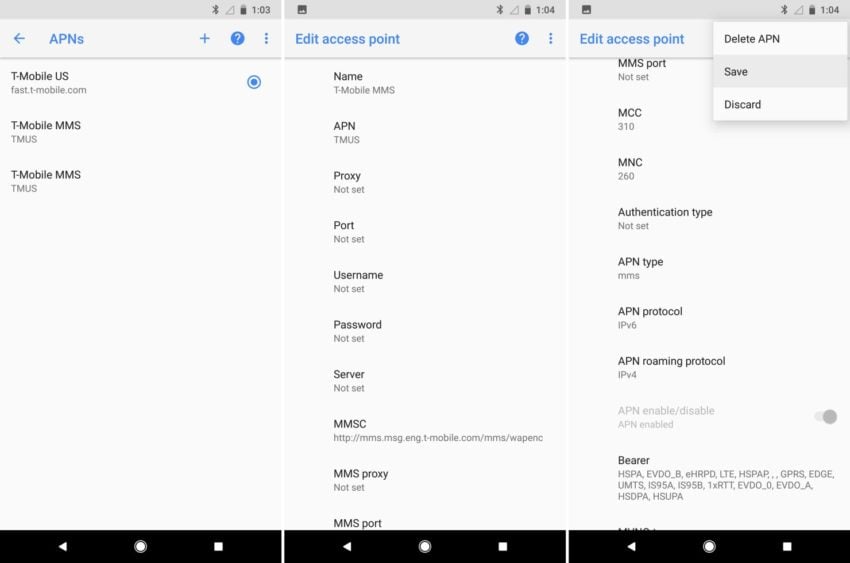 You'll see a lot of weird things like name, proxy, mmsc, port, and protocol. It sounds confusing, but you don't need to know what they mean. All you need to know is what values or words to put in each category. You can get that information from your carrier, or from a quick Google search.
As you can see above, I hit ADD and started adding the required info for T-Mobile's APN settings. Input all the required lines of text, skip where it says "not set" then select the three dots at the top and tap Save. You can edit the ones already there, or enter your own.
Now your OnePlus 6T can communicate with T-Mobile cell towers and you'll get full 4G LTE, HDVoice, and sending picture messages will work. Or, just buy the phone from T-Mobile to avoid this hassle. You can find APN settings for Verizon here and AT&T here.
As a reminder, fill in the sections (or leave them blank) exactly as you see the APN details wherever you get them. If a line is blank or says "not set" just leave it that way. Don't enter more than you have to.
T-Mobile APN Settings (Input using the instructions above)
Since most people getting the OP6T will likely use it on T-Mobile, here are the latest APN settings for them.
Name: T-Mobile US LTE
APN: fast.t-mobile.com
Proxy: <Not set>
Port: <Not set>
Username: <Not set>
Password: <Not set>
Server: <Not set>
MMS proxy: <Not set>
MMS port: <Not set>
MMS protocol: WAP 2.0
MCC: 310
MNC: 260
Authentication type: <Not set>
APN type: <Not set> OR Internet+MMS
APN protocol: IPv4/IPv6
APN roaming protocol: IPv4
Enable/disable APN: <greyed out unless there are multiple APN's>
Bearer: Unspecified
Tap MORE > Save
Where it says fast.t-mobile.com is a crucial line. If you use an outdated APN setting and it doesn't say "fast" you'll get slow 3G internet speeds. Follow everything exactly as shown above.
Once you're done and hit save, we're all set. We recommend owners reboot the phone, then go back to the APN settings and make sure the values you input stick. If not, try it again and make sure to hit save.
To ensure everything worked, send a quick text message, make a phone call, or try browsing the web. If it doesn't, double-check for any mistakes and try again. Users can also call their carrier of choice to confirm the APN settings are correct. Or, take the phone to a T-Mobile store and they'll do it for you.