How to Change the LG G4 Keyboard
This quick and simple guide will explain how to change the stock keyboard on the LG G4 to something else for those who'd like a different typing experience on their new 5.5-inch Android smartphone. There are multiple keyboard options available on the Google Play Store, and here we'll explain how to change some settings and use one.
The new LG G4 is an impressive phone with a big and bright 5.5-inch Quad-HD display, is made with genuine leather materials on the back, and has one of the best cameras on any smartphone. Thanks to being powered by Android 5.1 Lollipop users can chance out many aspects of the device. From changing the text message app, using different cameras, clocks, calendars, and even the keyboard.
Read: 30 LG G4 Tips & Tricks
When you get a brand new smartphone there are obviously some things all owners should do. Get it turned on and all setup. Sign in and sync your Google account, Facebook, and all the usual stuff, and users that want to change the keyboard will want to check out our quick how to guide below. It's still super easy and only takes a few moments of your time.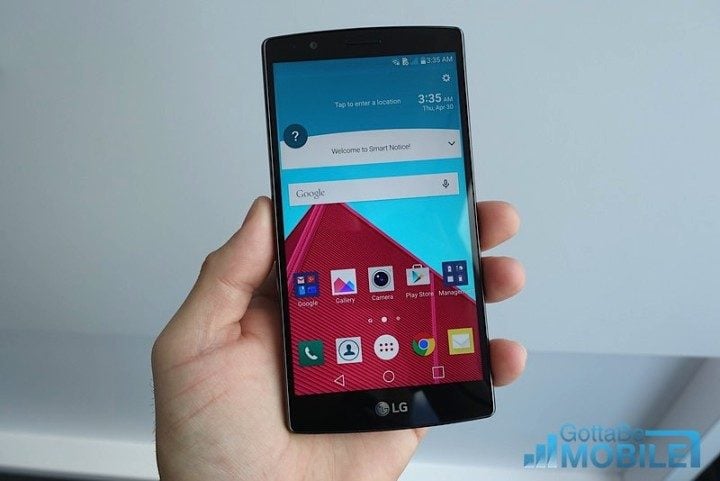 With the LG G4 users get a pretty great keyboard experience right out of the box. Most Android manufacturers build their own keyboard for devices, rather than just using the stock Google Keyboard inside of Android. However, owners can still use Google's Keyboard, which is my favorite, or one of the multiple different 3rd party keyboards available in the Google Play Store.
LG's keyboard is large, has numbers on top for easy access, and even a one-handed operation mode where it can be moved to the left or right side for easy use on the large 5.5-inch screen. However, it isn't for everyone, so lets change it to something else. In the instructions below we're using Google Keyboard, available on the Google Play Store, but the same steps work for any keyboards downloaded and installed.
Instructions
First off users will need to head to the Google Play Store and download a new keyboard. Google Keyboard is our favorite, but SwiftKey is extremely popular and Swype is another good option. Once downloaded follow the next set of instructions. Some 3rd party keyboards will instruct you through these steps on install, otherwise changing it manually only takes a few seconds.
To start you'll head into settings by tapping the gear-shaped icon in the notification bar, then tap the "General" column, and the first setting titled "Language & input". From here users will see a few settings, then the LG keyboard and any other keyboards downloaded.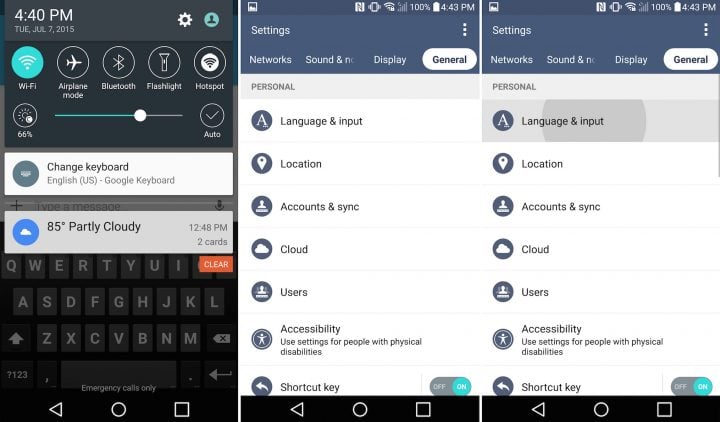 Right above where it says LG keyboard and lists any downloaded options, there is a setting titled "Default" which is what we'll be selecting to change the default keyboard. Simply press Default, and a popup will appear listing all the keyboard options that are installed. From here simply select the keyboard you'd like, and you're all done. It's that easy. The image below shows what to look for.
You've now successfully changed out the stock keyboard on the LG G4 to something different that might be more powerful, offer more customization or themes, or just better fit your preferences.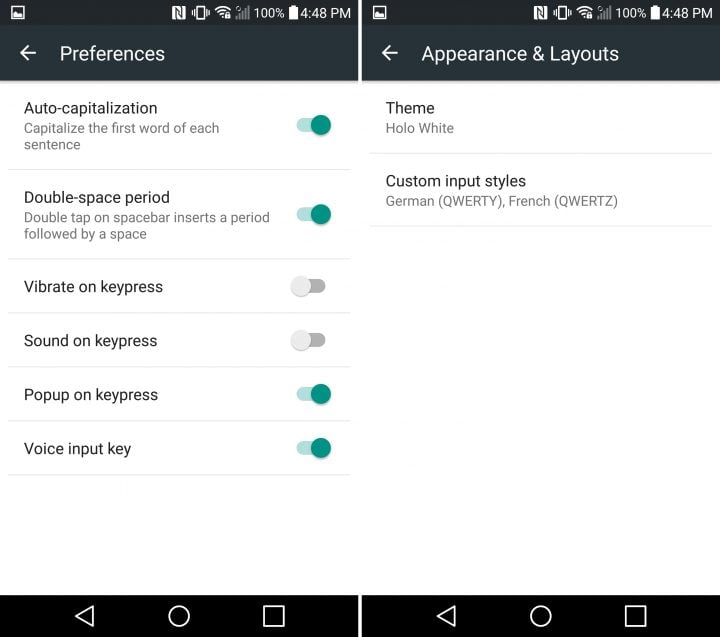 While we're here you can also head into settings for any particular keyboard and change some of the settings. Whether that be the vibrate on key presses, turning off that obnoxious noise it makes each time you tap a letter on the keyboard, or even changing the theme and colors if that keyboard has such features. Above is a look at a few settings in the Google Keyboard.
That's it. Owners can easily change out and try different keyboards in a matter of seconds on the LG G4. Give a few of the more popular keyboards for Android a try, and find what's best.

This article may contain affiliate links. Click here for more details.