How to Check if Your SSN Is in Equifax Hack & What to Do
The personal information of 143 million Americans was exposed in an Equifax hack. That's nearly half of the U.S. population. This is a massive data loss and you need to check to see if your personal information was part of the breach.
Equifax is one of the biggest credit score providers in the U.S. They share your credit score with banks, car dealers, landlords and other agencies who want to know what your credit is. In early September Equifax announced a massive data breach that likely started in May. The Equifax hack exposed the SSN and other personal information of up to 143 million Americans.
In all, the hack exposed names, social security numbers, birth dates, addresses, drivers license numbers, credit card numbers and some dispute documents that contained additional personal information. This is how you can check to see if your SSN was leaked by the Equifax hack, and what to do if it was.
How to Check if Your SSN Was Leaked By Equifax Hack
You'll need to provide Equifax with your last name and the last six digits of your SSN to check if you were effected by the Equifax hack. This is annoying, but it is the only way you can check to see if you are part of the Equifax data breach.
Click on Potential Impact
Enter your last name and last six of your SSN
Although there are reports that checking will waive your rights to sue or join a class action lawsuit the FAQ states that you are only waiving those rights in regard to the free credit monitoring. You can check your status, but you may want to skip or seek additional clarification on the free identity monitoring service.
After this you will see a message letting you know if you were impacted, or if you not impacted. There is no clear message saying your SSN is part of the Equifax hack, but you will see a message telling you, "Based on the information provided, we believe that your personal information may have been impacted by this incident."
What to Do if You're Part of the Equifax Hack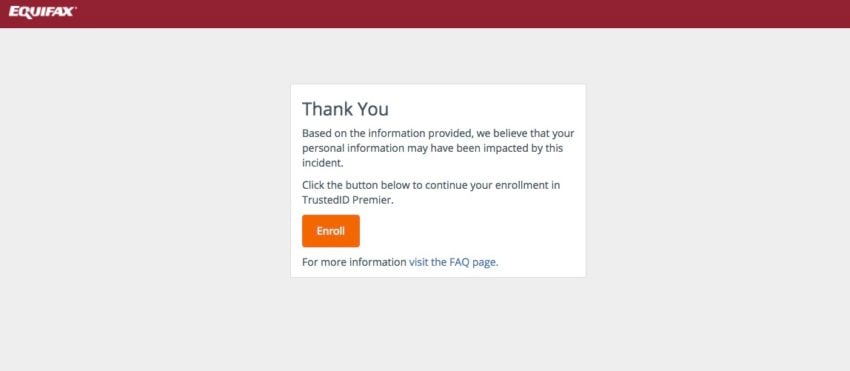 If you are potentially impacted, you can sign up for TrustedID Premier, Equifax's credit monitoring service. But, you cannot sign up right away for your free access. Instead Equifax wants you to wait. There is a good chance they are hoping you forget about this, so make sure you add it to your calendar. You will not get any additional reminders to sign up.
You can sign up on the Equifax site, when your date arrives.
You must enter your your last name, last six of your SSN and other personal information.
Once this is complete, your free credit monitoring will start a few days later and it will cover three credit bureaus. The next step is to monitor your account statements and credit reports. Credit Karma is a great way to stay on top of your credit score and even get push notifications when there is a credit event.
You should also review the information from the FTC on identify theft, which will help you stay on top of any potential abuses of your SSN from the Equifax hack. Additional steps include;
Check your credit reports often at annualcreditreport.com.
File your taxes early before someone can do so with your info
Place a credit freeze or a fraud alert
Don't believe anyone who calls to say you will be arrested, even if they provide some of your SSN.
It's very important to share this information with other people in your life, especially if they believe phone calls, mail and letters that claim to be from official sources without verifying. There is a good chance that this information is for sale online and will be used by many people to try to scam people out of money.