How to Check 2017 Tax Refund Status
You can use your iPhone or Android to check the status of your 2017 tax refund from anywhere. You don't need to use an app from a tax prep company or waste time on the phone to figure out what is going on with your 2017 tax refund from the IRS.
With the IRS2Go app, you can follow your 2017 tax filing through the process and double-check the tax refund amount and see where it is in the process of being filled.
This app works no matter where you filed your taxes or who you had prepare your taxes. If you use the IRS2Go app to check your 2017 tax refund status you need to wait up to 24 hours after filing electronically. If you file by mail you need to wait about four weeks. Most people file taxes electronically, so you can check quickly.
Check 2017 Tax Refund Status
To check your 2017 Tax refund status, make sure you download the IRS2Go app to your iPhone from the App Store. If you are on Android you need to download the IRS2Go app from Google Play.
You can use these apps no matter who you filed your taxes with. Be cautious of any apps you don't recognize offering to check your 2017 tax refund status. You need to enter your Social Security Number and other personal information that the IRS2Go app keeps secure, but other apps may use it for identity theft. If you used an app to file your taxes that same app may also track your refund safely. Check out these tips for finding safe tax apps.
Tap on Refund Status to start. You need to enter your SSN, filing status and the estimated refund amount. This lets the IRS check for your 2017 Tax Refund status.
If there is no information found, you may need to wait another day. The information updates once per day. This normally happens at night, so check back in 24 hours if you don't get a result.
The app works on iPhone, iPad, Android and Android tablets. If you need to check your 2017 tax refund status online without using an app you can do this on your computer at the IRS website.
Go to the IRS Refund Status tool on your computer. You need the same information, SSN, filing status and refund amount. Then use the Where's My Refund? tool. This uses the same data as the app, and is only updated once every 24 hours.
With any of these tools you can check your 2015 tax refund status. The process takes less than five minutes to complete. Because you need to enter personal information you may want to do this at home or in your office and you shouldn't do this on some else's device.
The IRS2Go app also offers other important services including the ability to look up tax records and request a copy that the IRS will mail you in several business days. This is a handy way to gather lost material that your accountant or tax prep firm may need.
You can also use the app to find free tax prep providers. This uses the IRS Volunteer Income Tax Assistance program and Tax Counseling for the Elderly services to find a location you can visit for free tax prep if you qualify.
The app finds locations near your zip code, using a mileage range you choose and includes fast access to directions. The programs offer free 2017 tax prep to, "people who generally make $53,000 or less, persons with disabilities, the elderly and limited English speaking taxpayers who need assistance in preparing their own tax returns.", with the help of IRS certified volunteers.
The Best Budget Apps for 2020
Mint Budgeting App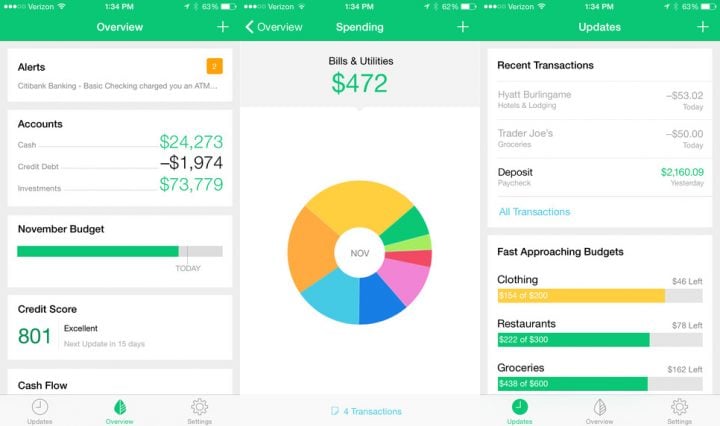 Mint is one of the best budget apps because it takes the hassle out of making a budget. You connect the Mint app to your bank and the app can use your details to help create a personalized budget. We love this budget app because it can help you quickly identify where you are spending your money, so you can see where to trim your current expenses as you make a budget.
It's a very easy app to get started with, so you can take the hassles out of starting a budget for 2020.
The Mint app uses the same security as banks and the team behind this service also makes TurboTax and Quicken, so you can trust that they take all possible steps to secure your accounts and your data.
Mint will send you alerts to unusual charges and helps identify tips customized to your spending that can help you reduce the money you spend on fees and on other bills. Mint also includes your credit score, so you can see a big-picture view of your budget and your personal finances. The base subscription is free, but there is an optional in-app purchase of Mint Live for $24.99.
With the Mint apps for iPhone, iPad and Android you can see your budget anywhere and there is also an online component to look at from your computer and a bill pay component to help you manage and pay your bills in one place.