How to Clear the MicroSD Notification on Galaxy S7, S7 Edge
Samsung's new Galaxy S7 and Galaxy S7 Edge have a microSD card slot for owners to expand storage to download apps, or add games, music and videos. It was one of the most requested features since being removed last year, and now it's back. However, we're getting lots of complaints about the Galaxy S7 microSD card notification staying in the pulldown bar. Here's how to clear or remove it.
On February 23rd Samsung officially announced the Galaxy S7 and Galaxy S7 Edge, and the release date was March 11th. Many users received it early, tossed in a 128GB microSD card, and are enjoying the big new screen, water resistance, and everything it has to offer.
Read: How to Take a Screenshot on the Galaxy S7
As small and simple as it sounds, we're seeing multiple complaints about the microSD card notification and users asking how to remove it. And for those who've cleared it, the notification keeps re-appearing randomly throughout the day. There's an extremely simple solution to both of these problems, so read on to learn how to clear the Galaxy S7 microSD notification.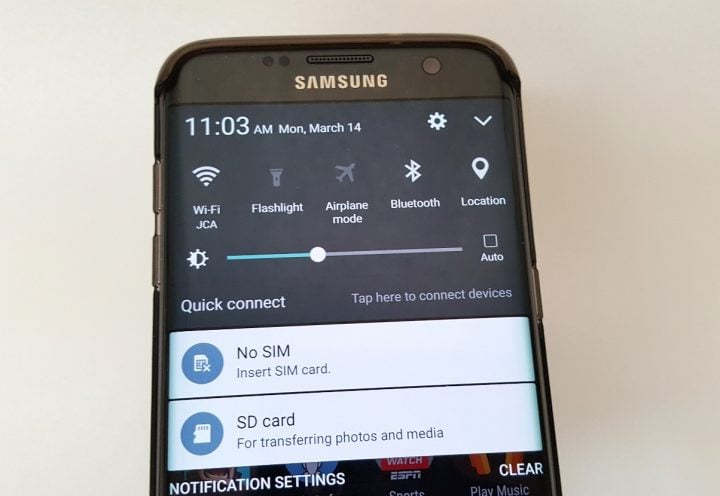 The Galaxy S7 and Galaxy S7 Edge only come with 32GB of internal storage, and about 23GB is available out of the box as pre-installed apps, software, bloatware, and Samsung's user interface all take about 8GB. As a result millions of owners added a micro-SD card, and keep seeing the notification shown in our image above.
No question is silly or stupid, and as simple as this is to remove, it isn't common knowledge for everyone. If you're seeing the "SD card, For transferring photos and media" notification on your Galaxy S7, and eject or explore buttons below it, just swipe to clear the notification.
The phone is telling owners a microSD card has been installed, and tapping the notification only opens a file browser to see, explore, and manage what's on the SD card. It doesn't go away. Just like any notification, simply swipe it away and it's gone for good. Once you reboot the Galaxy S7 or S7 Edge this notification will reappear. Swipe it away again, and you're all set. Some users are complaining they looked through settings for an hour trying to remove it, when all that's needed is a swipe to clear it like any other notification.
However, countless complaints all over forums, comment sections and Twitter keep mentioning this notification appears again, at random, throughout the day. We're not experiencing any issues like that, but for those that are, here's a quick fix. Format the microSD card inside the phone.
Instructions
The Galaxy S7 and Galaxy S7 Edge use a microSD card slightly different than a computer or camera, and formatting the card inside the phone will set up the file system properly so this notification doesn't appear anymore. We're seeing most complaints with 128GB or 200GB cards. Here's how to fix it so it doesn't come back.
1. Backup your MicroSD card: Plug the Galaxy S7 into a computer and copy the content to a folder or the desktop
2. On the Galaxy S7 navigate to: Settings > Storage > SD Card
3. Select SD Card, click FORMAT
This will completely erase anything on your micro-SD card, so we'd recommend doing it first before you transfer any content to it. The Galaxy S7 will format the card to a file system that works best for smartphones, and you're all set.
Now simply plug the Galaxy S7 back into a computer and copy all the contents back to the micro-SD card, and you're all done. Users can also transfer apps and games from the phone to the microSD card to free up space using the how-to guide below.
Read: How to Move Apps or Games to the Galaxy S7 MicroSD Card
Once you've formatted a MicroSD card inside the Galaxy S7 this notification should only appear once each time you restart the smartphone. Simply swipe away the Galaxy S7 microSD card notification and continue on with your day.
We are seeing a few reports that this notification is still appearing for some, so make sure the microSD card is properly installed in the microSD card slot, and slowly slide it into the phone for a safe and secure fit. Enjoy the Galaxy S7 and its premium design, IP68 water resistance, and the expandable storage. Drop us a comment below with any other questions, concerns or problems you may be facing.
10 Best Galaxy S7 Edge Screen Protectors
Skinomi Galaxy S7 Edge TechSkin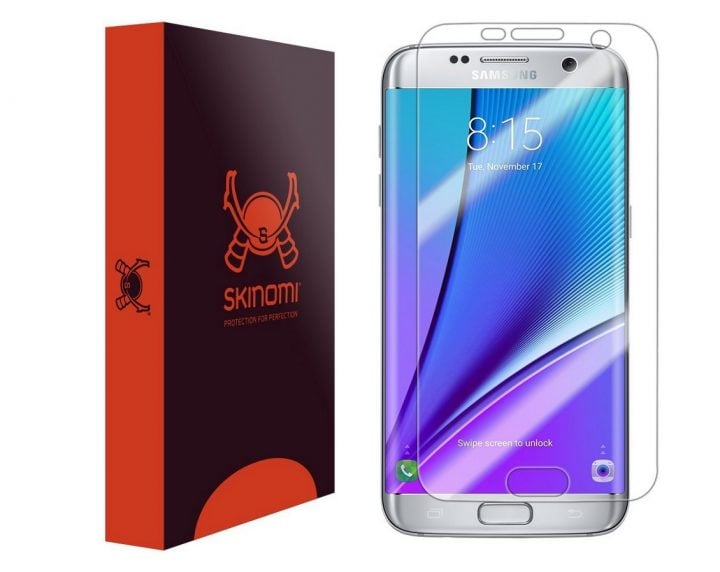 When it comes to protecting the Galaxy S7 Edge, don't cheap out when it comes to screen coverage. It's more prone to damage because of the curved glass.
Skinomi is a trusted brand who's made some of the best screen protectors for years. This is curved plastic, not glass, just so you know.
The Skinomi TechSkin perfectly covers the entire screen. You can still install a case without it pulling up the protector, too. This accessory has precision cutouts for the fingerprint scanner, earpiece, and sensors. Skinomi also has a Matte finish (fingerprint resistant) option that's worth trying out.

As an Amazon Associate I earn from qualifying purchases.