How to Customize the Notification Bar in Android 6.0
This week Google finally released the highly anticipated update to Android 6.0 Marshmallow for the Nexus 5, Nexus 6, Nexus 7, Nexus 9 and the Nexus Player. One of many new features is completely customizing the notification pulldown bar, including removing icons or adding a percentage number to the battery meter. Below we'll explain how to enable the system UI tuner in Marshmallow.
With the Android M developer preview over the summer we saw a lot of things Google was testing. They had a dark and light color theme for the settings menu, one which changed along with the time of day, a multi-window mode, and even an option to completely customize the notification bar. Most of those are gone, but a few remain, and here we'll explain how to do it.
Read: How to Install Android 6.0 Marshmallow Right Now
If you've yet to get the update to Android 6.0 on your Nexus device, the how to guide above will explain how to manually get the update. After that, users may want to mess around with settings and customize a few of the new hidden features.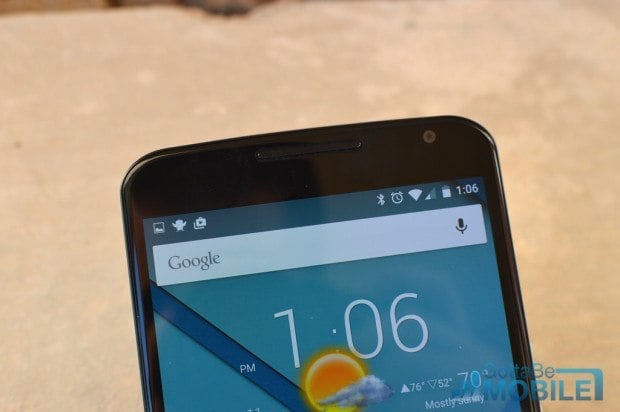 Android 6.0 Marshmallow delivers a lot of new features, controls, options, and animations. Overall it looks very similar to Android 5.1 Lollipop, but the entire experience has been completely refined and overhauled. So far everything is fast and fluid with our hands-on time, but others results may vary.
One of our favorite things in the developer preview, that for now, is still in stock Android 6.0 Marshmallow that's rolling out as an update for users this week is something called the "System UI Tuner".
Read: Android 6.0 vs Android 5.1 Lollipop: What's New in Marshmallow
This allows us to add a battery percentage number inside the battery meter in the notification bar, remove unneeded icons from the notification bar, or even rearrange and customize the quick settings in the pulldown bar. When you swipe down with two fingers you get easy access to some most-used settings, and this can all be changed with the System UI Tuner. Lets enable it, and change some settings.
Instructions
Just like accessing the hidden developer settings menu on Android, the System UI Tuner controls are hidden, but very easy to enable.
Simply pull down the notification bar on any Android 6.0 Marshmallow device and press and hold the gear-shaped settings button. It will spin for a second (hold for 2-4 seconds) and let go. A little popup will appear as shown below letting you know you've enabled the System UI Tuner.
Now all users need to do is head into settings by tapping the same gear-shaped settings button, and scrolling to the bottom of the settings page. At the bottom is a new option called "System UI Tuner" and there are lots of small tweaks that can be done in here.
For one, you can head into "Quick Settings" and customize or rearrange what icons and settings are in the quick settings pulldown bar. I just rearrange it how I'd like, and leave it alone. Then, there's the status bar, which shoes the clock, battery, SIM slot (or missing SIM) WiFi, 4G LTE symbols, and all sorts of icons. You can completely remove any icon you'd like from the status bar. It's kind of neat, and a nice touch. This is also helpful for developers who want to use screenshots for an app listing on the Play Store.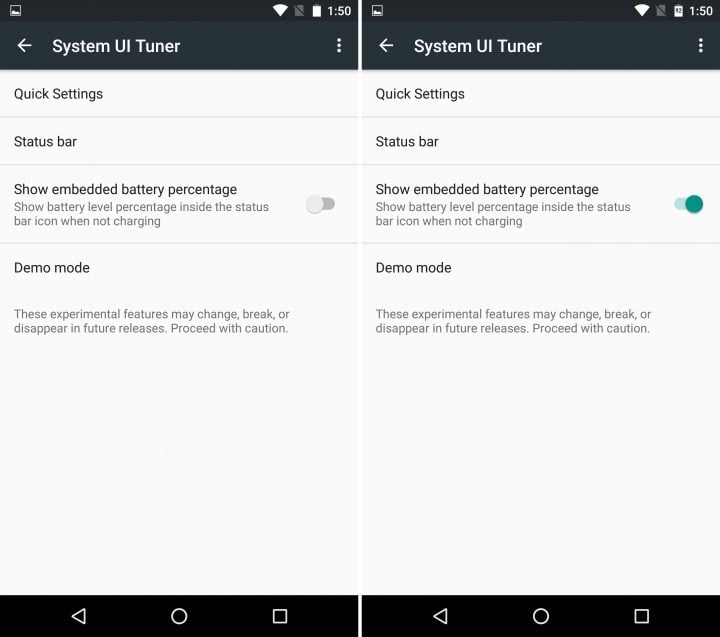 However, as shown above, the 3rd option in our new System UI Tuner settings menu is a slider to easily turn on or toggle off a battery percentage number in the in the status bar icon. As long as you didn't remove it, you'll now see a number as your battery drains for a more accurate reading. This has been available on Samsung and other devices for some time, but is now a hidden option inside stock Android.
Last but not least the System UI Tuner allows for a "demo mode" which is what we mentioned above. Essentially removing any and all icons, allowing for a clean looking screenshot to show off an app, what's on your screen, or anything else for that matter.
This new system UI tuner isn't anything crazy, but is just one of many small changes inside of Android 6.0 Marshmallow. Our favorite new feature is still Google Now on Tap, which we showed off in our hands-on video, and you'll want to stay tuned for more hands-on coverage, how tos and more in the near future.

As an Amazon Associate I earn from qualifying purchases.