How to Delete Devices from Your Microsoft Account
A Microsoft Account is like glue. That's only gotten truer as Microsoft has improved Windows by adding in new subscription services, settings and features. The side-effect of practically requiring a Microsoft Account to get the most out of Windows is that you end up with lots and lots of devices attached to your Microsoft Account. Eventually you'll need to remove some.
It's your Microsoft Account that allows your settings to sync from device to device. Microsoft Accounts are how the built-in OneDrive app knows which account to connect to or how to charge your account for purchasing an app or a video. Having a Microsoft is required to get the most out of Windows 10. That's why Microsoft heavily encourages users to login with one or create one when setting up a Windows PC.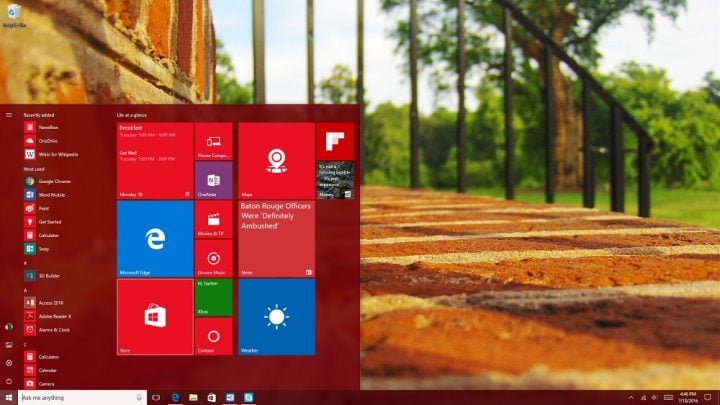 You can link your Microsoft Account to as many devices as you'd like, but after 10 devices you'll be asked to remove a device before you can install apps from the Windows Store. If you have an extensive list of devices on your account, other issues might surface too. For example, Microsoft's own Groove Music subscription service only lets users download songs for playback offline on four different devices.
Here's how to delete devices from your Microsoft Account.
Delete Devices from your Microsoft Account: Before We Begin
You'll need internet access to remove a device from your Microsoft Account, for starters. That's because it's not something that you can do without a web browser. Windows 10 does have ways of removing accounts from a PC, but the Microsoft Account website offers a more granular look at every device that's attached to your account.
Before trying to delete devices from your Microsoft Account, go to the device that you'd like to remove. Tap or click the search bar and type in About Your PC. What you're looking for is the name of your PC. Go ahead and write it down. It'll help you pick the PC out of the list of devices attached to your account. This information isn't must-have, but it'll save you from having to guess. Microsoft does a great job of identifying most devices by their names, but some of its partners – Lenovo included – doesn't.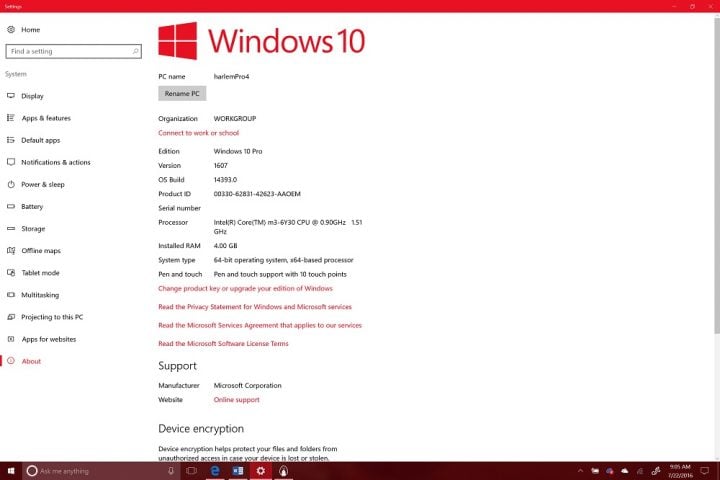 Also note that we're using Microsoft's Windows 10 operating system with the Windows 10 Anniversary update installed. The update will begin installing itself automatically on PCs in early August. The online process is the same, but the About Your PC area may look a bit different.
Because you'll need to login to your Microsoft Account online through a browser, it's a good idea to have your phone nearby. Microsoft may force you to provide a code it sends to your phone as a text message.
Deleting Devices from your Microsoft Account
Open a web browser and navigate to account.live.com.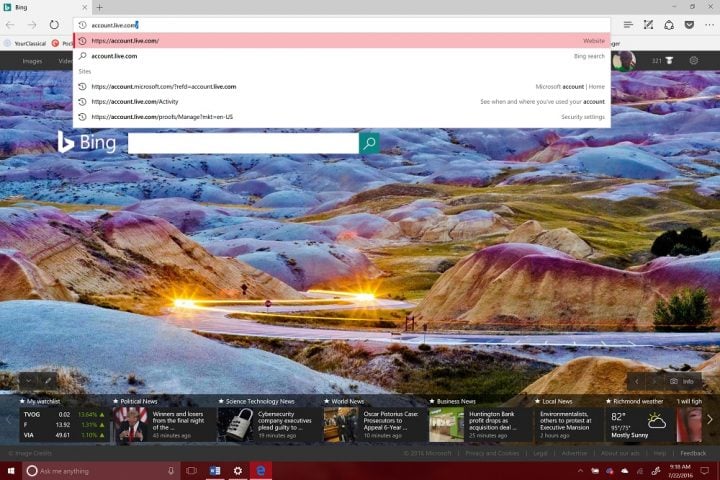 Here you may be prompted to provide your username and password, plus enter a code sent to your phone. If you're not, it's because you've logged into your Microsoft Account on this PC before. Tap or click on Devices. It's the fourth menu option from the right along the top of the site.
Now tap or click Your Devices.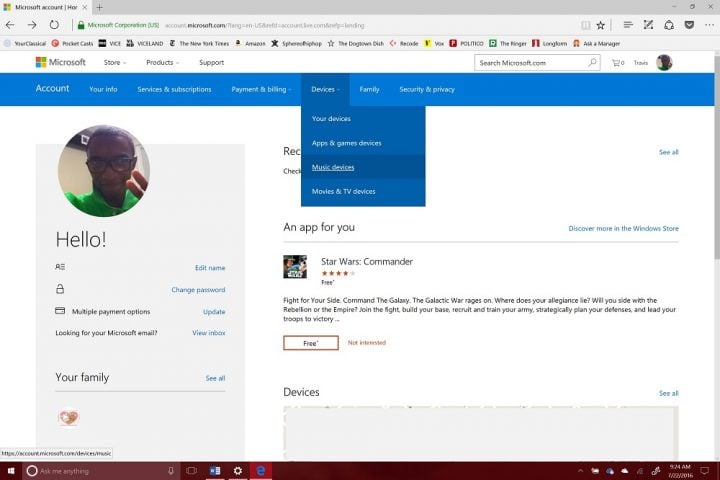 What you should have is a complete breakdown of all the devices that have ever been linked to your Microsoft Account. Notice that some of the devices in our list are easily identifiable because of work the device manufacturer has done on its end. That's why writing down the name of the device you're trying to remove is important.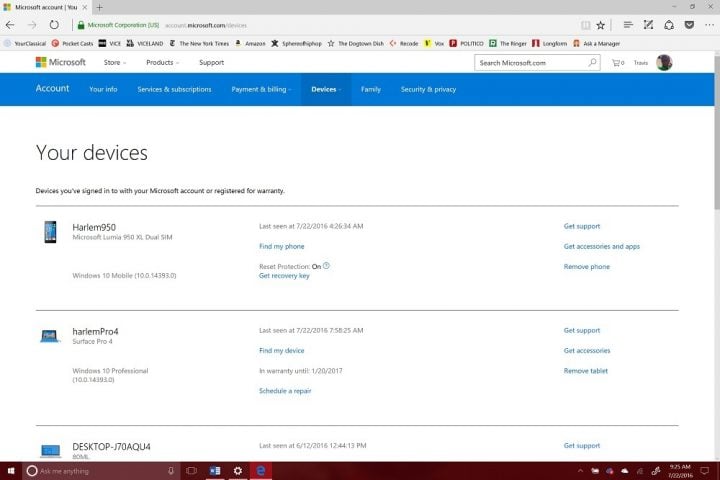 If you have already physically gotten rid of the device you're looking to remove, Microsoft provides enough information for you to deduce which devices should be removed. Try entering the model number of the device that Microsoft provides here into a search engine to track down what the brand name of the device is. You can also use the timestamp to decide what needs to go. If you sold off a PC in January and your Microsoft Account hasn't seen a device in your list since then, chances are that's the device you want to remove.
Tap or click on Remove this PC or Remove this Laptop. You may be asked to provide your Microsoft Account Password again.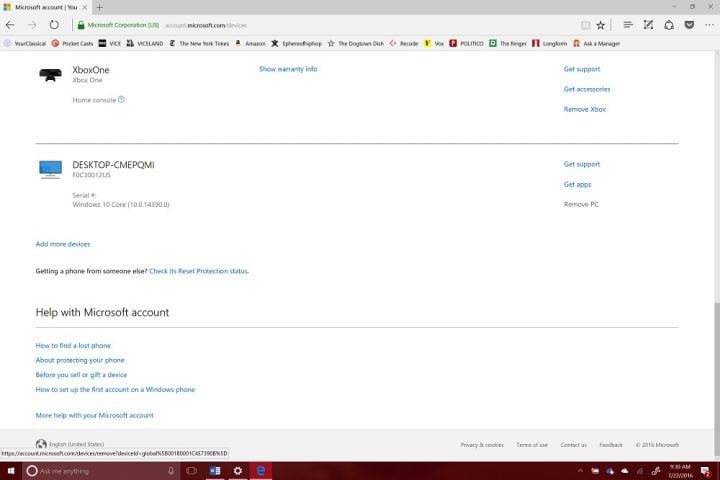 Now select the checkbox that says you're ready to remove the PC and tap or click on the Remove button.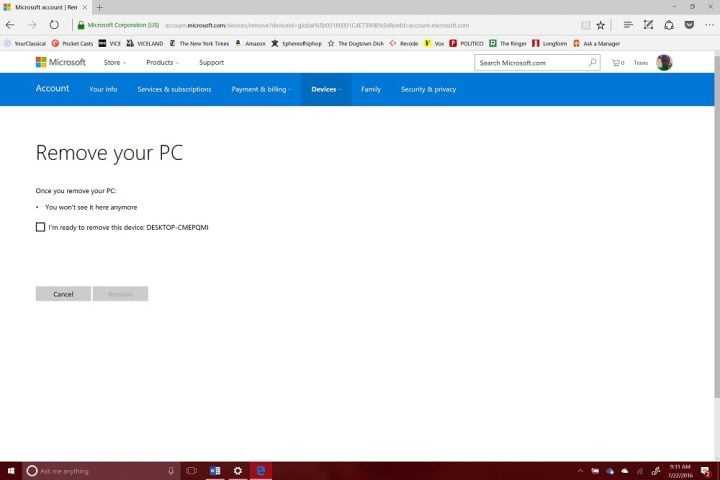 That's it. You've deleted that device from your Microsoft Account. Unfortunately, Microsoft doesn't allow users to remotely reset their devices. This means that if your PC is lost or stolen, removing a device does nothing more than makes sure that device isn't taking up a slot that you can use for another device.
Also, removing a device from your list of Devices doesn't necessarily remove it from Microsoft's media apps for some reason. Devices attached to a Groove Music subscription need to be removed from the Music Devices area. Devices you've authorized for video purchases can't be removed through a browser at all. Instead, you have to delete them from within the Movies & TV or Films & TV app on that device.