How to Disable LG G4 Automatic App Updates
This guide will explain the few simple and quick steps required to disable or stop the LG G4 from automatically updating apps on its own. This is a setting on the Google Play Store, and something we receive questions about from all users when they buy a new Android smartphone.
When users buy the new LG G4 and get everything all set up, it will likely have tons of apps that need to be updated right out of the box. Our own unit had 30+ apps that needed to be updated. After that though, it will continue to get updates and often times users want to disable them from updating automatically.
Read: How to Use the LG G4 Camera
If you don't want your device updating on its own, or rather not be bothered by tons of notifications to update apps on your LG G4 almost every day there are a few easy ways to solve the problem. The Google Play Store has a few extremely easy settings to change in order to control everything. This is very helpful to first-time smartphone owners, or beginners.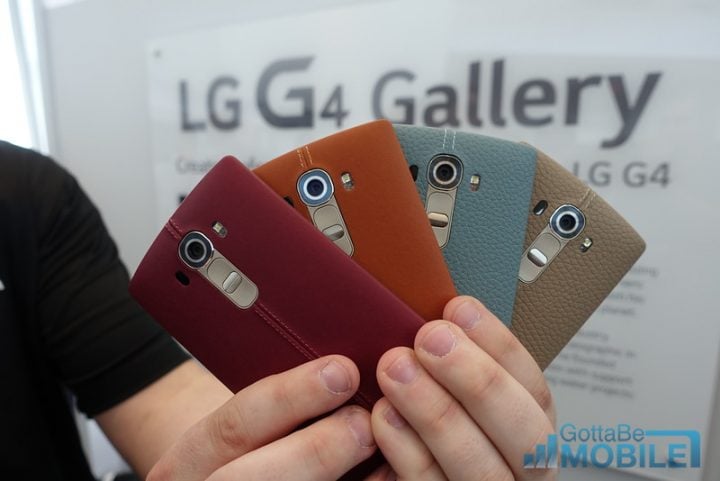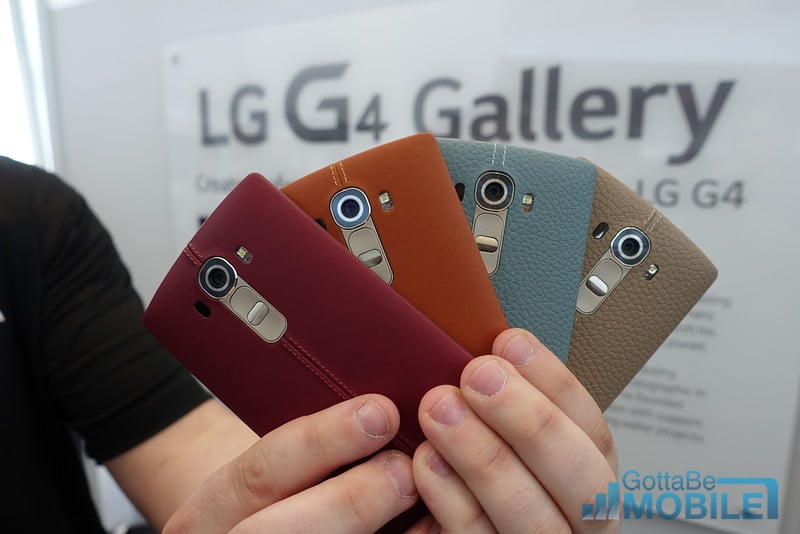 By default the new LG G4 and most Android smartphones and tablets are set to automatically update apps. That said, many don't want this, or want to only update over Wi-Fi to save data and not go over their carrier data plan. Whether or not you should do this is up to you, and here's how.
Instructions
In order to stop apps from updating on their own you won't be messing with settings on the LG G4, but instead it's inside the Google Play Store where you get all your apps, games, music and more. Simply head to the Google Play Store by tapping the icon on your homescreen, or find it in your application tray.
Read: 30 LG G4 Tip & Tricks
In the Google Play Store users will need to tap the menu button next to the "Play Store" at the top. The thee lines is the menu button. This retrieves a slide-out settings menu from the left, and this is where you'll head to settings for the Google Play Store. Tap the slide-out menu, then select "Settings" near the bottom from the list of options.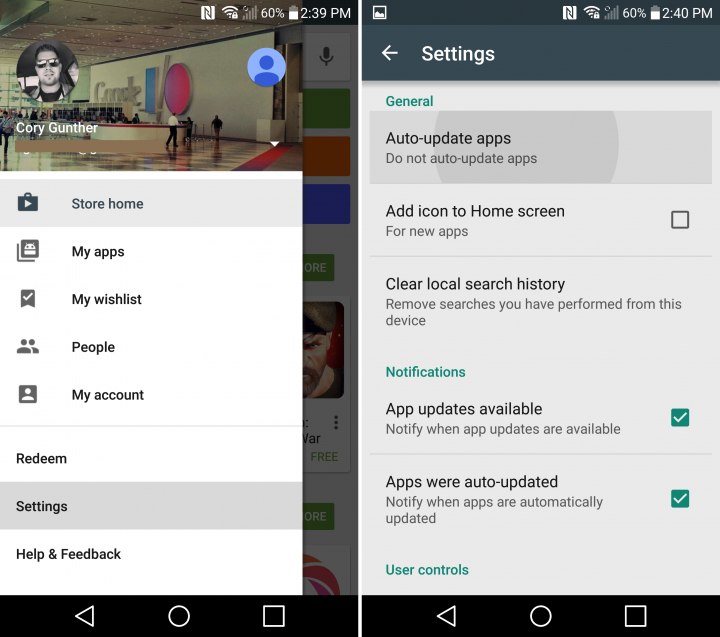 As shown above this takes users to the general settings for the Google Play Store. Right near the top is the setting we'll be changing. "Auto-update apps" is the button we want to press. Users will then see a popup appear with three options. Likely it's set to automatically update apps, which is nice, but this is where we stop apps from updating on their own.
Simply tap to select "Do not auto-update apps" and you'll have to manually update apps moving forward. However, this means you'll constantly get notifications that new apps need to be updated, and it won't do it for you. I prefer to control what apps update and look at changelogs first, so this is the setting I use myself.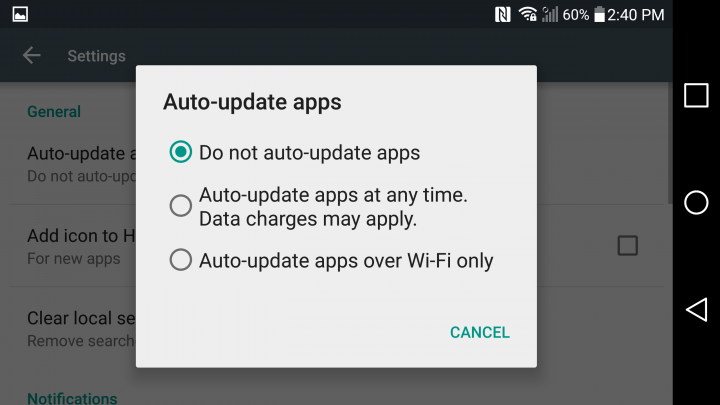 Alternatively there's a setting to update apps at any time, even if you're on mobile data and not a wireless internet connection. This isn't advised, as apps are large in size and users can go over their monthly data plan extremely quick. A good middle ground is set it to only update when you're on a WiFi connection, but again, this will let apps update automatically and users won't have control.
It's also worth noting that in this same settings menu you can also uncheck the feature that automatically puts downloaded apps on your homescreen. This is nice, but if you download too many apps you'll quickly fill up all those homescreens with icons. Disable that so you can control what goes on the homescreen, and what doesn't.
Should You Do This?
Users new to Android may want to let the smartphone do everything for them, and just keep it set to automatically update apps. I know my parents hate getting notifications for updates all the time, so they have it set to auto. Personally, I'd rather control what updates, and look at changelogs and permission requests, so I do it all manually.
If you use auto-update you won't know what's new, because you didn't read it when updating the app. You'll just notice changes to popular apps like Facebook, YouTube and more. A prime example is Textra, my favorite text message replacement app. It recently received a huge update that changed the look of many features. I chose not to update as I like things just the way they are right now.
In the end it's all about personal preference. How much time do users want to spend messing with things and manually updating apps, or just let the phone do all the work for them. Select what's best for you, and change it as you see fit.
11 Best LG G4 Cases
LG G4 Folio Flip Case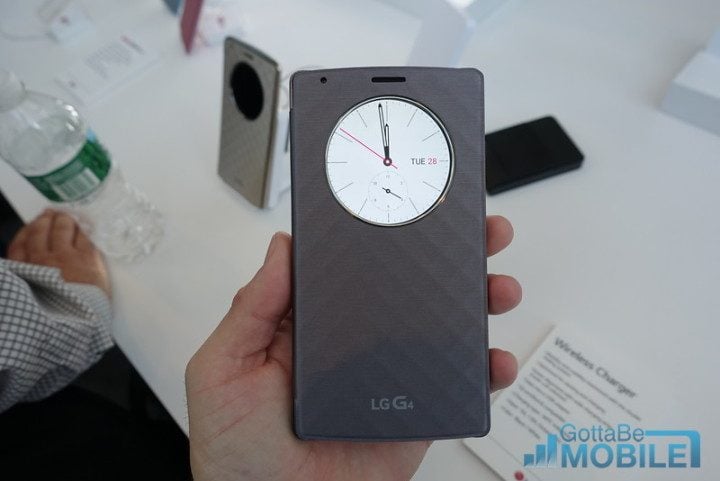 Just like last year, LG is offering an official Folio Circle Case that offers multiple levels of protection, additional neat features, and a Flip cover to protect that big 5.5-inch screen. The trademark circle window cutout in the flip cover shows a clock, the weather, incoming call or text message information, quick access to the camera and more all without ever opening the case.
Flipping open the case instantly wakes up your device, but you can do everything mentioned above without even opening it. This case makes your phone durable, offers additional features, and protects the screen all in one. Last but certainly not least, there's also a second version of the Folio Case that enables wireless charging, making it more than worth the more expensive price point.
LG hasn't announced pricing for the G4 Folio case and it's still listed as coming soon on LG.com, but last year the G3 Folio case was $49, and the wireless charging enabled case was $59.99. We'll update once it actually goes on sale.

As an Amazon Associate I earn from qualifying purchases.