How to Download Facebook Messenger
Facebook Messenger is a terrific app that's available for both iPhone and Android devices, and it makes it possible for users to chat with their Facebook friends while on the go. Of course, if you're near a computer, you can still use Facebook's web chat interface and messaging platform, but we find the mobile app to be a lot more intuitive.
Facebook Messenger has been around for a couple of years now, but it wasn't until recently that it became even more useful with Windows Phone support, the addition of a dedicated Groups tab for group messaging, and even free audio calls for all Facebook users with the app. Plus, Facebook Messenger absolutely free, so you can't go wrong there.
The app is arguably a lot better than Facebook's web interface. There have been countless times where we've come across bugs when chatting with Facebook friends, and we've ultimately just switched to the Messenger app.
While you could only use Facebook Chat when on a computer in the past, Facebook Messenger extends that capability to mobile devices now, allowing you to chat with Facebook friends while you're away from a computer and on the go. This is especially helpful if you want to continue a conversation, but need to head out for some reason (or the other person needs to relocate).
Of course, typing is a lot easier on a full-size keyboard, so the web interface is perfect for those wanting a full keyboard for comfortable typing, but the ability to be mobile while still being able to chat with Facebook friends is a huge benefit to have.
If you're interested in using the Facebook Messenger app for either iPhone or Android, here's how to get it, as well as why you should get it in the first place.
Instructions
If you're familiar with downloading and installing apps on your iPhone or Android smartphone, then you'll have no problem downloading and installing Facebook Messenger.
Fire up the App Store or the Play Store on your phone and search for Facebook Messenger. It'll most likely be the first result that pops up, but if you're not sure if you're downloading the correct app, just make sure that Facebook is the name of the developer, which can usually be found right below the name of the app.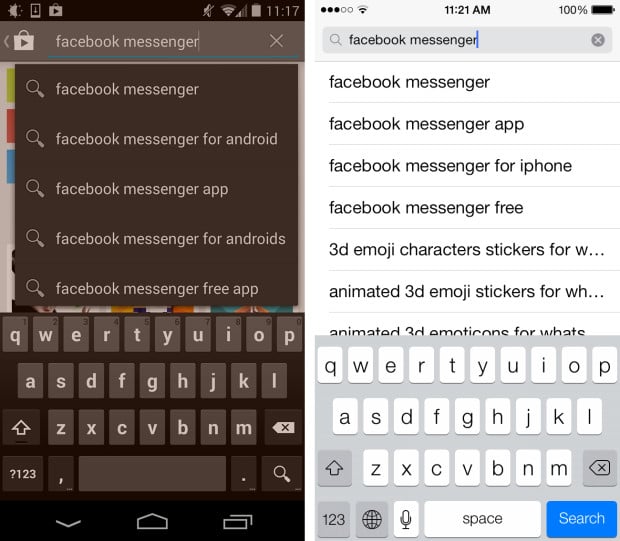 Tap on Install for Android or Free for iPhone users. The app will begin downloading and will install automatically. Once it's done, just go back to your home screen and Facebook Messenger should be waiting there for you.
To set up Facebook Messenger, all you have to do is sign in using your Facebook credentials and you'll be presented with all of the current chats that you've had recently, since the app syncs with the web chat interface.
Why You Should Use Facebook Messenger
It's nice to have Facebook chat right at your fingertips when you're playing around on your laptop, but I find the web interface to be a bit sloppy and buggy at times, which is why I tend to use the mobile app more often.
One thing I love about Facebook Messenger is the user interface; it's simple, clean and easy to use. The same really can't be said for the web interface. It seems like Facebook changes its web interface every few months, and consistency is hard to come by when using the Facebook website. Plus, the separation between Facebook Chat and the Messages platform can be confusing for a lot of users. Facebook Messenger simply combines both platforms to make it easier to use.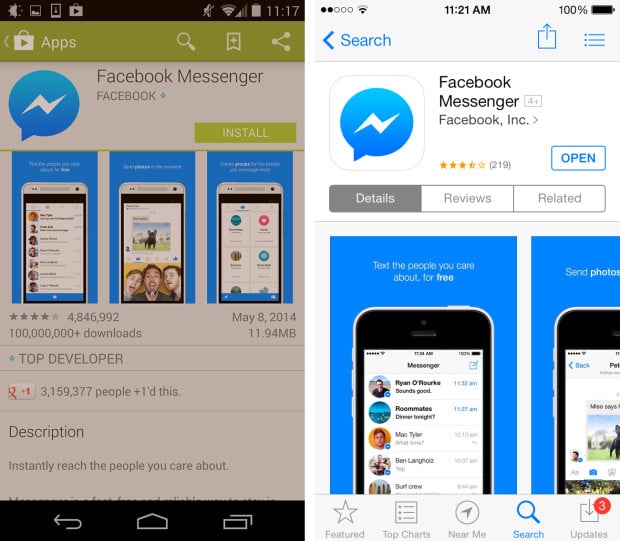 Furthermore, the bugs on the web interface can get out of hand. Plenty of times I'll mark a message as read, but it still shows up as unread whenever I come back to Facebook later on. I've never had this issue on the mobile app, and I've never come across any kind of bug on the app in the first place, making it a great app to use without a lot of aggravation.
However, one of the biggest reasons that Facebook Messenger is so popular is that it can be a worthwhile text messaging replacement. The app is a lot like other IM apps out on the market, like Google Hangouts, Yahoo Messenger, etc. The best part about these apps is that you can use them to replace traditional text messaging. If you have Facebook friends that you chat with constantly, it saves you from paying for extra text messaging from your carrier.
Of course, most cellular plans nowadays come with unlimited text messaging, so most users won't be nailed with overages if they text too much, but since Facebook Messenger sends chats and messages over WiFi or 3G/LTE, it's much faster at sending and receiving messages than traditional text messaging, and the addition of free audio and video calls make the app even more useful.

As an Amazon Associate I earn from qualifying purchases.