How to Edit Music Metadata in Windows 10
As a whole, Microsoft's Windows 10 operating system upgrade should make life easier. It's Cortana personal assistant makes it possible to set meetings and send messages without typing a single word. The Start Screen morphs into the Start Menu, complete with apps that work with mouse and touch. Even Microsoft's Groove Music is better in Windows 10. It easily has the best music playback experience Microsoft has offered since it last upgraded the Zune Software. Some problems remain though. You can't edit music metadata in Windows 10. At least, you can't edit music metadata in Windows 10 using the Groove Music app itself.
Why users can't edit music metadata in Windows 10 is up for some debate. Some believe that Microsoft, having redesigned Groove Music from the ground up, simply hasn't gotten around to adding the feature just yet. That reasoning seems a bit dubious, especially considering Microsoft updates Groove Music and other Windows 10 apps directly through the Windows Store regularly. Others believe that Microsoft hasn't added metadata editing in Groove Music because the app connects to the OneDrive cloud storage utility let users stream their content.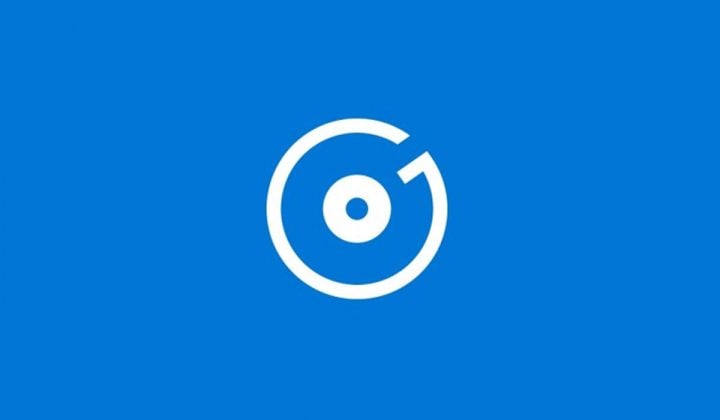 Read: 12 Microsoft Groove Music Tips & Tricks
Metadata is what tells your CD player, Windows PC or smartphone what song you're listening to. Information usually includes the artist name, album creator and even a cover. Without the proper information, music becomes hard to find in a huge collection of songs.
Here's how to edit music metadata in Windows 10.
Edit Music Metadata in Windows 10: Downloading & Using MP3Tag
The hard truth is that no one knows when Microsoft plans to add tag editing to its Groove Music app for Windows 10. For now, adding the right information requires users to venture outside of Microsoft's Windows Store and download a desktop program called MP3Tag.
The good news is that MP3Tag is completely free and available to anyone to download online. Users don't have to jump through any hopes to edit the data for the songs either.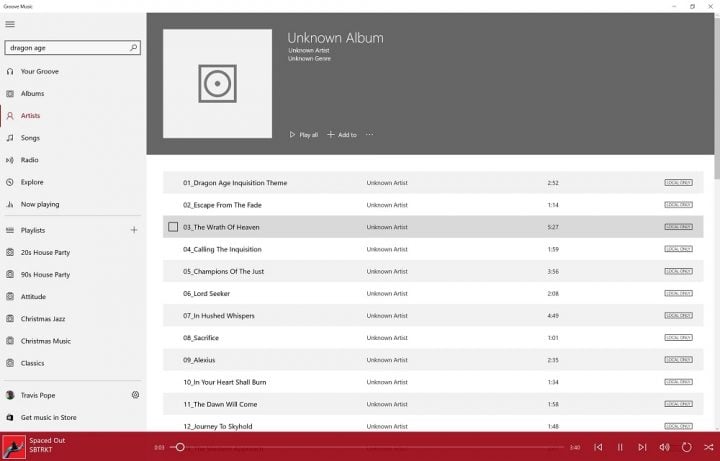 MP3Tag allows users to edit information for MP3, AAC, ALAC, AIF, AIFC, AIFF, DSF, Flac, Ape, MP4, M4A, M4B, M4V, MPC, OGG, Opus, OFR, OFS, SPX, TAK, TTA, WMA, WV and WAV audio files.
The first thing that you want to do is add the folder with your audio files to MP3Tag. Just click on the folder with a plus icon. MP3Tag will begin scanning your files.
To quickly find the MP3 files that you need to fix, scroll down to the bottom of your list of songs. You can also click on the Artist header in the table to have the surface at the top of the list so that they're available without any extra scrolling.
For the purposes of this how to, we've collected the soundtrack to Dragon Age Inquisition and downloaded a License to Kill. Select the song that you would like to edit from the list of songs available to you. Because it doesn't have any information associated with it, the songs show up in Unknown Artists in Groove Music.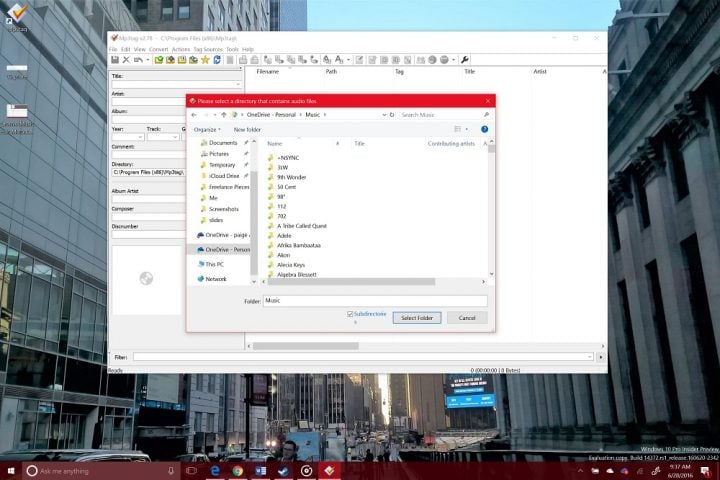 Use the panel on the left side of your screen to change the song information. You can manually type the song's title, artist and more. You can also download album covers to your PC to add to a track, or right-click on them in your web browser to copy them. You then right-click on the album cover area in MP3Tag to paste them. Be sure to click the blue Save icon in the toolbar after you've finished changing any song information.
There are more sophisticated options, depending on the information you have available. You can enter all song information manually, or convert the file name of a song into its title, by right-clicking and selecting that option from the menu. Even when you're using the app's more advanced options, remember to hit that Save button or your changes won't stick around.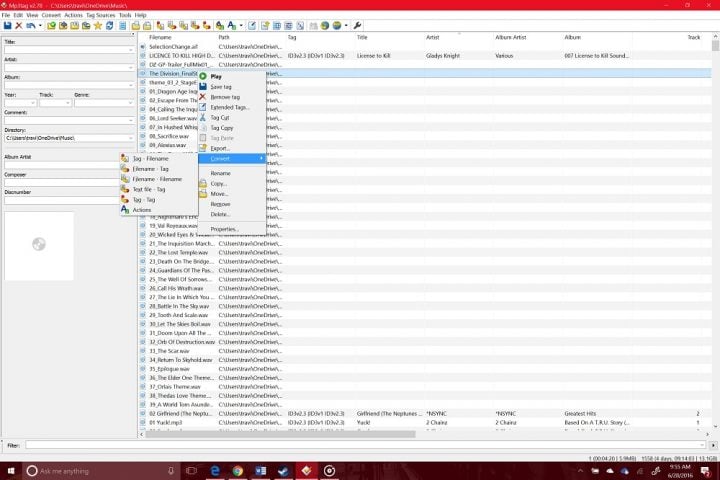 The globe icons in the MP3Tag toolbar allow users to quickly and easily search Amazon's database of music for song information, in the event that this information isn't wildly available. It's sometimes less reliable than just finding the information in a web browser and adding it manually.
MP3Tag is just a free, easily available way to edit your music metadata in Windows 10. It's far from the only option that you have available.
Anyone with iPhone or an iPod Touch already has a great way to edit music information on their Windows 10 PC already. iTunes, the companion software that Apple forces users to install before they can load music purchased from other places or on a CD, has metadata editing built-in. In fact, if you're copying a music CD, iTunes will automatically attempt to pull down the relevant information so that you don't end up with an extensive list of files sitting on your device that don't have proper names or information.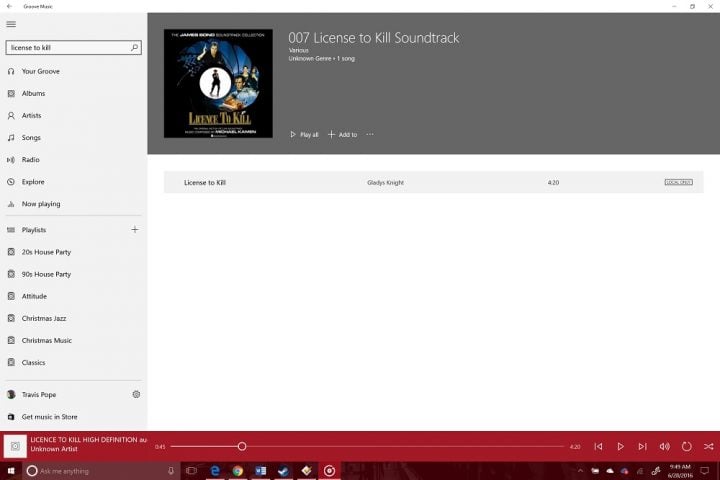 Read: Free Windows 10 Upgrade – What You Need to Know Now
Good luck editing music metadata in Windows 10. Here's to hoping that Microsoft makes it a bit easier with an update to Groove Music in the not too distant future.