How to Use the Galaxy Note 9 Night Mode Filter
The Samsung Galaxy Note 9 has a lot of cool features and the night mode filter is one of them. This guide will show you how to use the night mode on the Galaxy Note 9, and why you should. For iPhone converts, it's the same as Night Shift and helps put less strain on your eyes while using the phone.
Several studies suggest that the blue light from smartphone screens causes eye strain. It also keeps you awake at night as the blue light stimulates the brain and reduces melatonin. As a result, Samsung and other manufacturers have added blue light filters to their phones.
Read: 9 Best Galaxy Note 9 Screen Protectors 
In less than a minute you can easily turn on this filter, giving your eyes and brain a break. We'll also show you how to schedule night mode on the Galaxy Note 9 to automatically turn on, add customization, or adjust the filter strength to fit your personal needs.
How to Turn on the Galaxy Note 9 Blue Light Filter (Night Mode)
There are a few different ways to enable night mode on your phone. For one, pull down the notification bar, then pull it down a second time to the expanded view. You'll see a bunch of settings like WiFi or Bluetooth, these are your quick settings. Find the icon labeled "blue light filter" and tap it once. This quickly turns the filter on and off, without fumbling through settings.
However, we recommend going to your settings menu and customizing night mode first. This way you can choose how much light gets filtered out, or set a schedule so it turns on every night automatically.
Instructions
Pull down the notification bar and tap the gear-shaped settings button
Select Display from the list
Tap the 2nd option labeled Blue light filter
Click Turn On Now then adjust the filter levels to your preference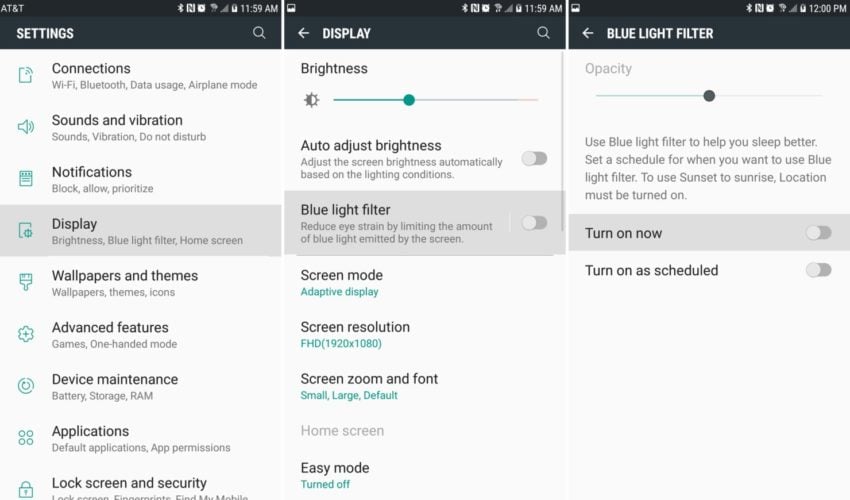 As soon as you flip the switch you'll notice a drastic change to your Galaxy Note 9 display. All the white or blue light disappears, and everything has a yellowish red tint. It's a big change, and it'll take a few days to get used to it, but we recommend pushing through until you do.
Adjusting the Opacity slider will add more or less of the filter, in case the change is too drastic for you. Find a good middle ground and what works best for your eyes. Keep in mind that Samsung's AMOLED screens run on the cool side already, so it might look overly blue when you turn the filter back off.
Set a Galaxy Note 9 Blue Light Filter Schedule
If you want the night filter to turn on automatically, simply set a schedule. You can choose for this to happen at sunrise or sunset, or choose a specific time yourself. At night it will turn on and reduce eye strain, which will let you peacefully fall asleep faster. Reverting back to normal in the morning before you even wake up.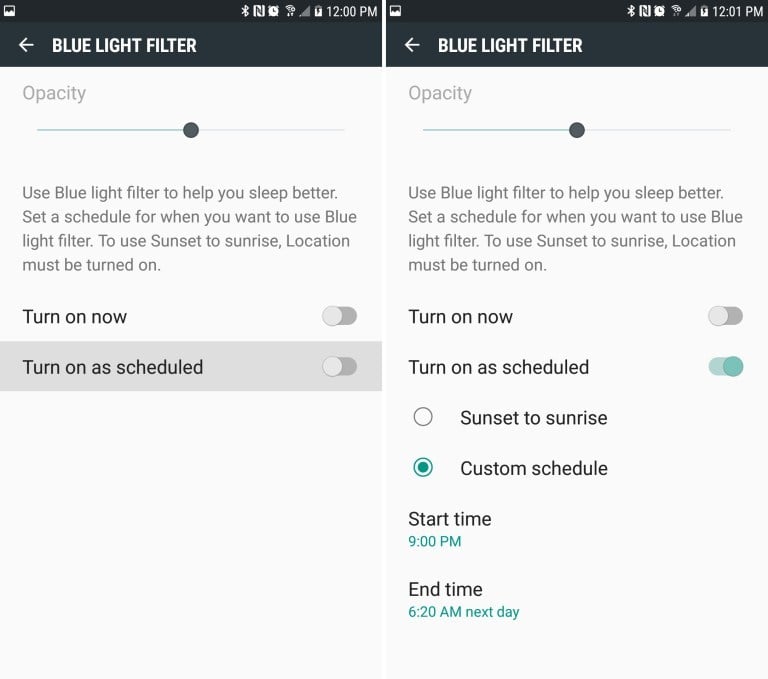 Go back to Settings > Display
Select Blue light filter
Choose Turn on as scheduled
Select Sunset to sunrise or Custom to set time intervals 
Choose your Start and End time
How strong the filter is and when it comes on is all up to you. From here, everything happens automatically and you can forget about this completely.
In the morning hours when the coffee is brewing and your alarm goes off, the phone will already be back to its normal self. We also recommend customizing or disabling the always on display and suggest every owner get a Galaxy Note 9 case. Give it a try today, and enjoy.