How To Find a Lost Android Smartphone
Smartphones are an expensive life accessory. Though they can empower everyday users to stay connected to their loved ones, and keep them informed on the latest weather and news stories, smartphones have become an essential part of everyone's lives. Because of this, users need to protect their device with more than just cases.
They need to be tracked and protected from people who might misuse the personal information that they hold. To their credit, Apple acknowledges the problem of carrying around so much user information early on and integrated Find My iPhone into its devices. Using it, Apple users can easily track the location of their device if it's lost. Users can even lock it down so that someone can't steal their data.
Unfortunately, Google hasn't seen fit to create that kind of feature for its mobile operating system. Instead, Android users have a wealth of applications that can give them the same experience. Here's how to get the same features as Find My iPhone on an Android device using the free Android Lost application.
In your web browser, head to the Google Play Store by typing Google.com/Play in your web browser's search bar. In this example, we are using Google Chrome, however Internet Explorer, Firefox and Apple's Safari web browser will work just fine.
Type in 'AndroidLost' in the search box at the top of the webpage.Then click the gray magnifying glass icon on the right of the search box.
AndroidLost will appear as the first search result on the left of your screen. Click 'Read More'.
Click 'Install' on the app's page in the store and then clicking the install button at the bottom of the pop up.
Open AndroidLost on your Android device. It'll appear as Personal Notes. Here's the application open on our HTC One.
In order to control your Android device from the AndroidLost website, the application will need to have administrative access. Press the 'Request Administrator rights' button. If you are comfortable with that, hit 'Activate' in the bottom right hand corner of your device's screen.
Go to AndroidLost.com and click on 'Sign In' on the top right hand corner of the website.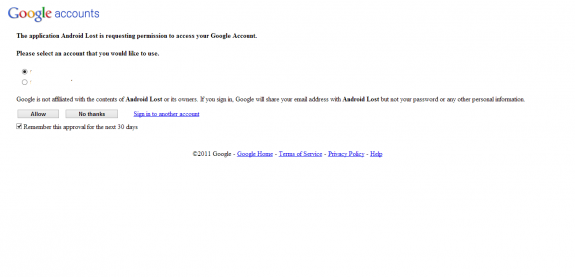 Enter the username and password for your Google Account. That password should be the same Google Account that was used on your Android device when you initially set it up.
You'll be asked if you'd like to authorize your Gmail account for use with the service one final time. Do so.
That's it. If you lose your Android device or misplace it, just head to AndroidLost website. From there you'll be able to trigger pop messages on your device in case it's lost and even lock out the device until you can physically get it back.
You can also remotely wipe your entire device if you're worried about your information getting into the wrong hands.

As an Amazon Associate I earn from qualifying purchases.