How to Find a Lost or Stolen Windows 10 Device
Since PCs first became portable, users have struggled through the same issues that plague other portable electronics. Battery life, portability and theft. With the first Windows 10 update, Microsoft addressed battery life and portability. A toggle lets users change their settings in an instant to kill battery hogging settings and apps. Better hardware allows Windows 10 devices to be thinner and lighter than they've ever been before. Even after Windows 10 launched we were all left wondering how to find lost devices with the operating system.
We expect to there to be a way to find our lost devices. Every user with an Android smartphone can install apps that allow their phone to be tracked if it's ever lost. Ever the pioneer, Apple was among the first smartphone makers to add some tracking for everyone. The stories about how the feature has come in handy are numerous. Microsoft mostly sat on its hands, leaving the device recovery features to its hardware partners and companies that specialized in that type of software, like LoJack.
Microsoft finally bowed to pressure with the Windows 10 November Update. It includes features that allow users to track their devices. This feature doesn't require that users pay any extra and there's no software that needs to be installed. Windows 10 users do have to turn the feature though, and Microsoft doesn't exactly highlight the feature in releases about the update. Here's how to turn on Find Your Device in Windows 10 and use it.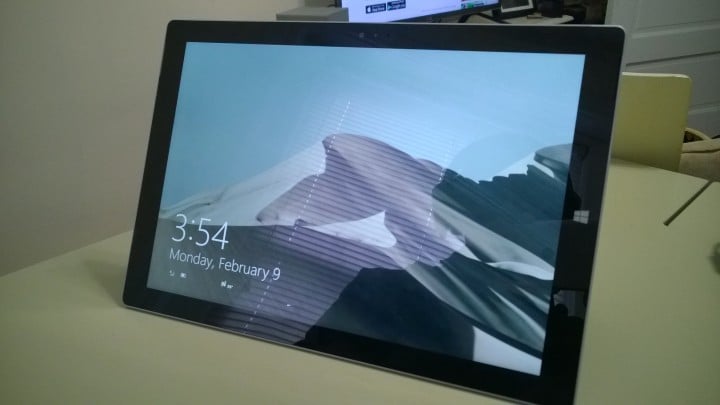 Note that the Before We Begin and Setting Up Find My Device portions of this Windows 10 how to are only for users that are setting up Find My Device on Windows 10. Users who have already lost their device should go to the last section of this tutorial if they previously turned the feature on.
Before We Begin
Before we begin, it's important that you have the Windows 10 November Update.
Microsoft released the update to devices that'd been upgraded from Windows 7 and Windows 8 earlier this month. If you have Windows 10 installed on your device, check which version of Windows 10 you have installed. You're looking for Windows 10 version 1511. If your version number is equal to or higher than that number you're fine.
The Windows 10 November Update is rolling out slowly to everyone overtime. Don't worry, Microsoft will get to your machine if it hasn't done so already. Users who've upgraded to Windows 10 after the update was announced should automatically have this version.
To get this feature working you'll need to be the administrator on your device. You'll also need to give Microsoft permission to log where your device is at regular intervals. The feature used internet location tracking to try and analyze where your device is.
Setting Up Find My Device
The problem with Find My Device is that Microsoft doesn't enable it by default. You actually have to hunt it down and activate the feature on your machine. Here's what to do.
Press the Windows key on your keyboard or tap on the Windows button in the bottom-left corner of your screen. Regardless of whether you're in or out of Tablet Mode, you should see Start. In this tutorial we have Tablet Mode turned off.
Tap or click on the Settings app.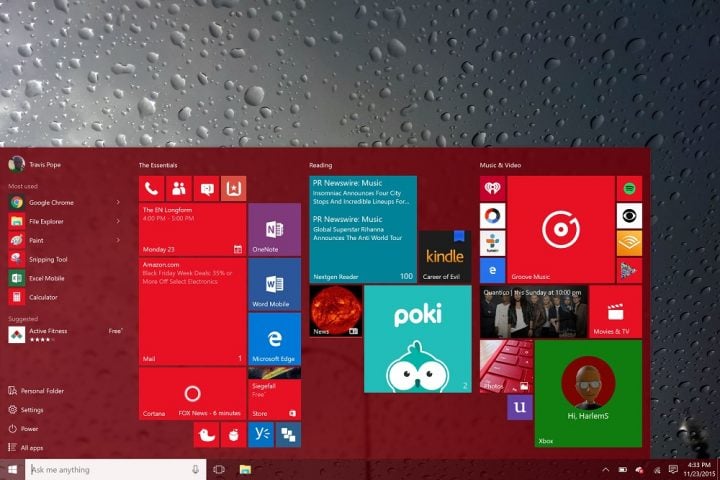 Tap or click on Updates & Security. It's on the second row of the settings categories inside the Settings app.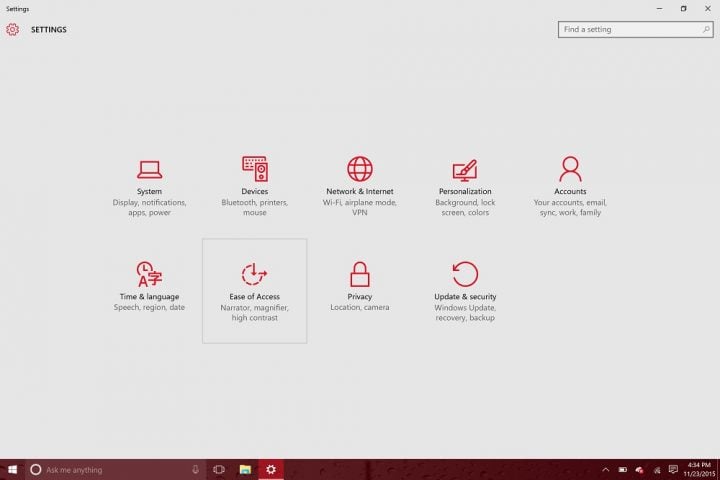 Tap or click on Find My Device in the menu on the left. It's the sixth entry in the menu.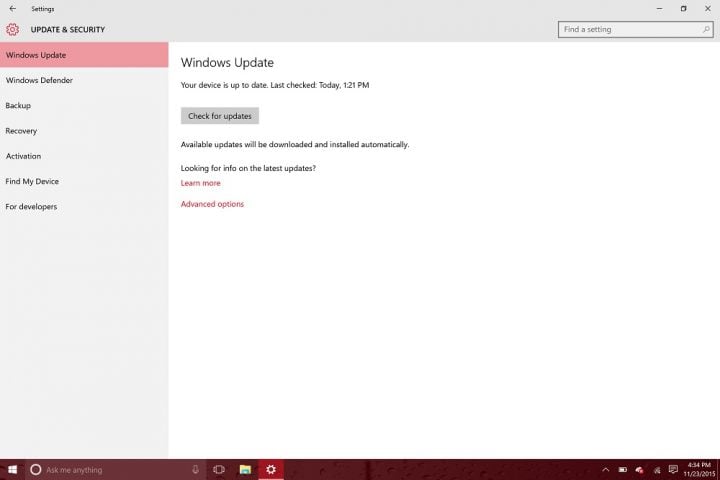 Tap or click on Change.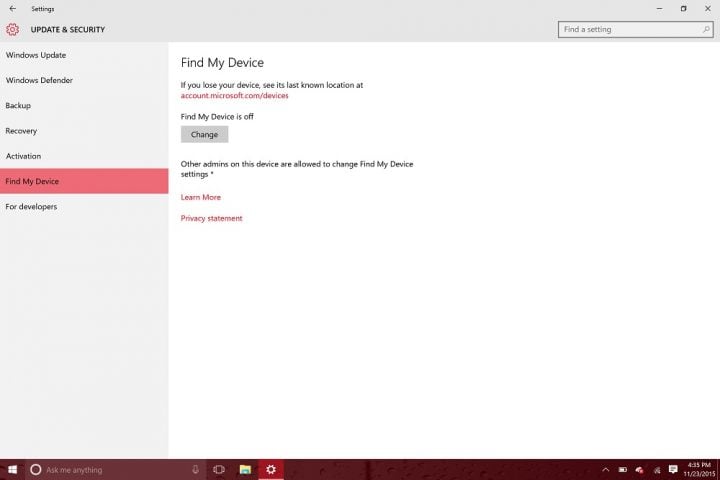 Now tap or click on the switch labeled Save my device's location periodically.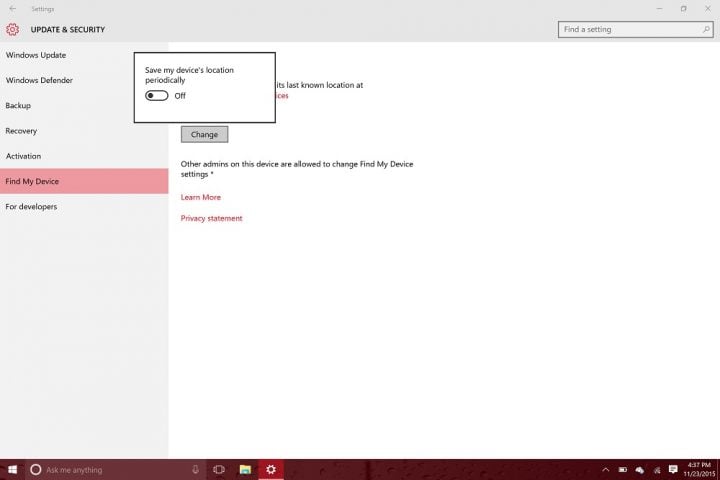 Finding Your Windows 10 Device
Tap or click here to track your device. This is a deep link to the Microsoft Accounts Dashboard. There you get a detailed look at what devices you have attached to your account. You can track everything from your Windows phone to your Windows tablet or notebook with this panel. Note that you'll need to provide your username and password at login and maybe a pin code if you turned on enhanced security.
Tap or click on Devices.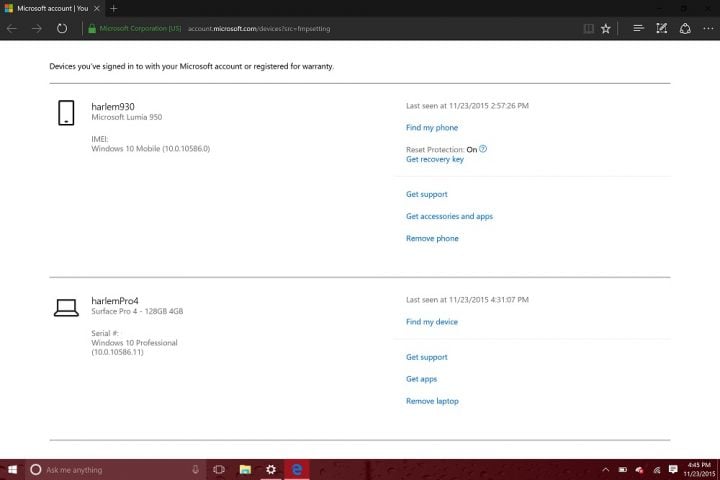 Now look for the device that you're trying to track. Tap or click on Find My Device.
That's it, your device's location should be visible to you in the event it's stolen or lost. Note that this may not always be accurate if your device doesn't have built-in GPS technology.
Hopefully, you'll never have to use this feature on your device, but you won't regret taking the time to turn it on if you do.

As an Amazon Associate I earn from qualifying purchases.