How to Fix Bad Galaxy Note 3 Battery Life After Lollipop
The new Samsung Galaxy Note 3 Android 5.0 Lollipop update brings a ton of new features to the company's former flagship. According to some Galaxy Note 3 users, it also brings battery life problems along with it. With that in mind, we want to take an in-depth look at how to potentially fix bad Galaxy Note 3 battery life before and after Android 5.0 Lollipop.
When Samsung first announced the Galaxy Note 3 back in the fall of 2013, the company confirmed that it would have Android 4.3 Jelly Bean on board. At the time, Android 4.3 Jelly Bean was Google's current version of Android. Shortly after the Galaxy Note 3 hit shelves, Google announced a brand new Android update in Android 4.4 KitKat and in January of last year, the Galaxy Note 3 got its first major Android upgrade.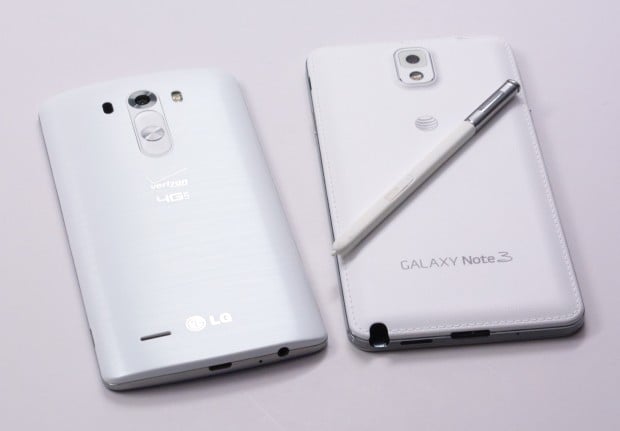 This year, the Galaxy Note 3 is getting something new. In late January, the Galaxy Note 3 became one of the first Galaxy smartphones to get Google's Android 5.0 Lollipop operating system. The Galaxy Note 3 Lollipop update delivers some big time features to Galaxy Note 3 users including the new Material Design. And while some Galaxy Note 3 users have already gotten a taste of the changes, others are still waiting for the update to start rolling out.
The new Galaxy Note 3 Android 5.0 update brings some huge changes to the device but it also brings Android 5.0 Lollipop problems including battery life issues. Complaints about bad Galaxy Note 3 battery life have started to pick up as the software's moved out to more variants and more regions around the world including the United States where it's now available on T-Mobile.
Battery life issues always seem to plague Galaxy users after a new Android update though most of the time, it's not the actual update that's causing the problems. Apps and other services are usually the culprit. For the moment, these Galaxy Note 3 battery life problems appear to be somewhat isolated though we do expect them to grow as more updates roll out.
How to Fix Bad Galaxy Note 3 Battery Life
With that in mind, we want to try and fix bad Samsung Galaxy Note 3 battery life for you. This guide delivers help to get better battery life on Samsung's former flagship. These fixes should work if you're on Android 4.4 KitKat or if you're on Android 5.0 Lollipop. We've geared this towards Android 5.0 Lollipop users but we know that plenty of people remain on the older version of Google's software.
Find Apps Eating Up Your Battery
The first recommendation that we always make to people suffering from bad battery life is to check out third-party applications. If you want to fix your bad Galaxy Note 3 battery life, you're going to want to keep an eye on applications for potential problems. Quite often, they are the culprit.
Third-party apps have a tendency to put a huge dent into the battery life on the Galaxy Note 3 or any other smartphone, regardless of the software that's running on board. If you use an application a lot, it's going to drain your battery. There are also times where bugs or issues might cause an app to go rogue and start abnormally draining the device's charge. And that could be happening here after Android 5.0 Lollipop.
First, head into your settings and start taking a look at the effect that applications are having on the device's battery life. If you notice anything out of the ordinary, it's time to start taking a closer look.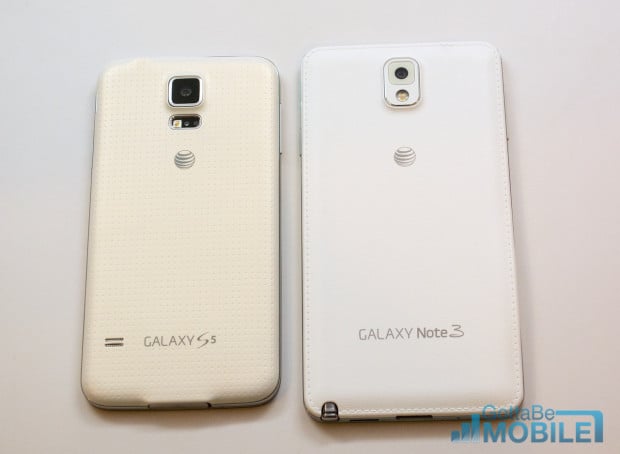 If you think an app is draining more battery life than it should be, try reinstalling it to see if that corrects the issue. If the problem persists, try uninstalling it to see if that has a positive effect. If you can't figure out which app might be causing trouble, you'll want to boot the Galaxy Note 3 into Safe Mode in an effort to single out potential troublemakers.
Booting the device into Safe Mode disables third-party apps and allows you to isolate apps that could be causing the problems. Here's how to boot the Galaxy Note 3 into Safe Mode:
Power down the device. Then, press & hold the Power button and volume down key.
Once it boots up, you can let go of the power button but keep the volume key held down.
When you have successfully entered into Safe Mode, you will notice the text 'Safe Mode' at the bottom left corner of the screen.
Restart the Galaxy Note 3
This is a really simply fix but it's worked for us and others in the past. Try restarting the Galaxy Note 3, especially if you haven't done so in awhile. This will clear the cache and it's possible that it will get rid of perceived battery life issues as well. Most of you know how to restart the Galaxy Note 3 but we'll remind you anyway. Hold down the power button, confirm that you want to turn it off, and then hold the power button down to turn it back on.
Disable Unnecessary Services
If apps aren't the issue, and a simple restart of the Galaxy Note 3 doesn't solve the problem, it's time to dig a little deeper. In our experience, disabling features when they aren't in use tends to have a positive impact on overall battery life.
If you think your battery is draining faster than normal, we recommend shutting off Wi-Fi connectivity when you don't need it, Bluetooth connectivity when you don't need it, NFC when you don't need it, GPS when you don't need it, and cellular data when you don't need it. You can turn all of those off from inside the Galaxy Note 3's settings and the device's quick menu makes them even easier to turn off.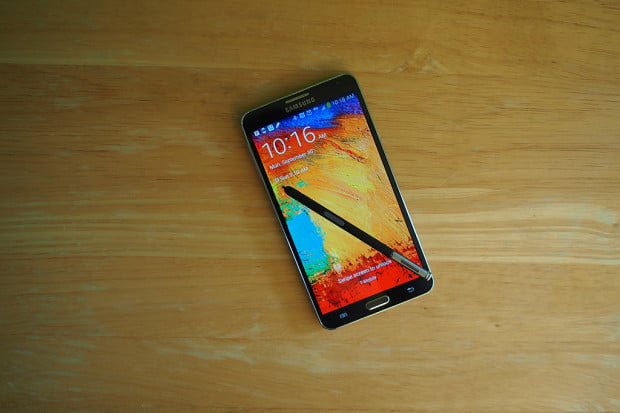 One thing that we've noticed is that poor cellular coverage is often to blame for bad Android battery life. When your Galaxy Note 3 needs to search hard for a signal, it runs the battery down faster, so keep that in mind when you're in spotty areas. You should consider turning Airplane Mode on when there isn't a strong 4G or LTE signal in the area.
Try Using a Black Wallpaper
Switching to a black wallpaper could help deliver better Galaxy Note 3 battery life thanks to the way Samsung's Super AMOLED displays consume power. The device does not come with a default black wallpaper but you can search online for one.
After you've downloaded one, go to Settings -> Wallpaper -> Home and Lock Screens -> More Images -> set your black Galaxy Note 3 wallpaper. It's a quick fix but it could help maintain a better charge.
Replace the Stock Launcher
You also might want to consider replacing the stock TouchWiz launcher on the Galaxy Note 3 with something new. The TouchWiz launcher has been known to hinder performance and it can be replaced. There are tons of different launches to choose from though the Nova Launcher is one of Android's most popular choices. Give that a try if these other simple fixes don't work out.
Downgrade to Android 4.4 KitKat
If you've already moved to Android 5.0 Lollipop, and some of you have, note that you can return to Android 4.4 KitKat in the event that Android 5.0 isn't on par with your Android 4.4 experience.
We recently put together a guide on how to accomplish this so that's going to be a great starting point for those of you that want to drop back down to Android 4.4. Follow those steps using the correct files and you should be able to get Android 4.4 KitKat up and running in no time at all.
Factory Reset the Galaxy Note 3
If you don't want to downgrade to Android 4.4 KitKat and you can't find any fixes for your battery problems, you can factory reset your Galaxy Note 3. This will wipe all of your files so you'll need to make a backup before going this route.
To factory reset the Samsung Galaxy Note 3, go into Settings, User & Backup, and select Backup and Reset. From there, select Factory Data Reset. From there, select Reset Device and then Delete All.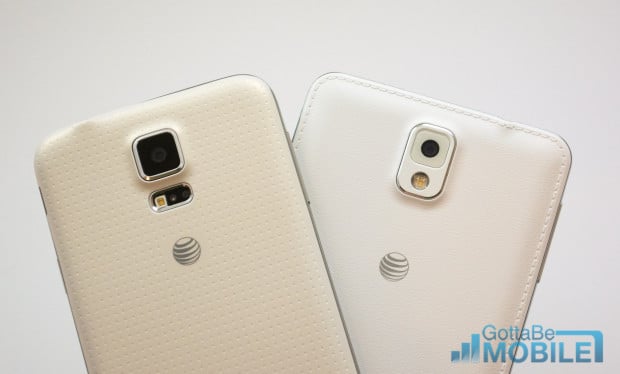 If for whatever reason that doesn't work, you can also factory reset using the hardware keys on the phone. Here's how to do that. It's a far more difficult process. We recommend the above route if possible.
First, you'll need to turn the Galaxy Note 3 off.
Once its off, press and hold the Volume up button, the Home button, and the Power buttons together until you see an Android appear on the screen.
Once you see this, use the Volume down key to highlight the Wipe Data/Factory Reset option. Use the Power button to select it.
Use the Volume down key to select Yes – delete all user data and then use the Power button again to select it.
When you see the Reboot System Now option, you'll know you're on track. Use the Power button to select that option.
This will erase everything on the Galaxy Note 3 bringing it back to the state it was in when you first bought it. It also might fix the problems you're having.
We've heard from several Galaxy smartphone users who say that a factory reset fixed bad battery life on Lollipop though it should be considered a last ditch effort. It's an extremely time consuming process but it's one that could potentially solve your problems once and for all.
If that doesn't help, it's probably time to look into your warranty. You'll want to contact Samsung or your carrier directly to see if they can be of any assistance. In some cases, they might be able to help.

As an Amazon Associate I earn from qualifying purchases.