How to Fix Samsung Galaxy S III GPS Problems
A free Android app called GPS Status and Toolkit saved me from getting lost on a recent trip by fixing my Samsung Galaxy S III GPS signal failure.
This weekend I went to visit my son at college. While returning home we stopped midway through the four-hour trip in an unfamiliar town looking for supper. I pulled out my Samsung Galaxy S III and did a voice search for a good Chinese restaurant and began to navigate to it using the excellent built-in Android Navigation app.
My phone's GPS signal kept dropping every few minutes leaving me somewhat lost.
In the past my Samsung Galaxy S III GPS worked fine. I've never experienced this. Thinking the GPS coverage in the area was the culprit I pulled out my wife's iPhone but it worked fine. After searching on-line I found that occasionally the Galaxy S III and other Android handsets will get out of whack. The problem comes when the compass in the device loses calibration.
GPS Status is a free app that fixes compass calibration and gets GPS working like it should.
The app includes a compass feature that lets the user calibrate the phone's built-in compass and gives the user the current status of their phone's GPS radio.
Below notice that the app's main screen shows the current heading in compass degrees (upper left number), the orientation in N-S-E-W directions (upper right of the compass), degree of accuracy of the GPS fix (lower left of compass) and the number of satellites fixed out of 20 possible (lower right of compass).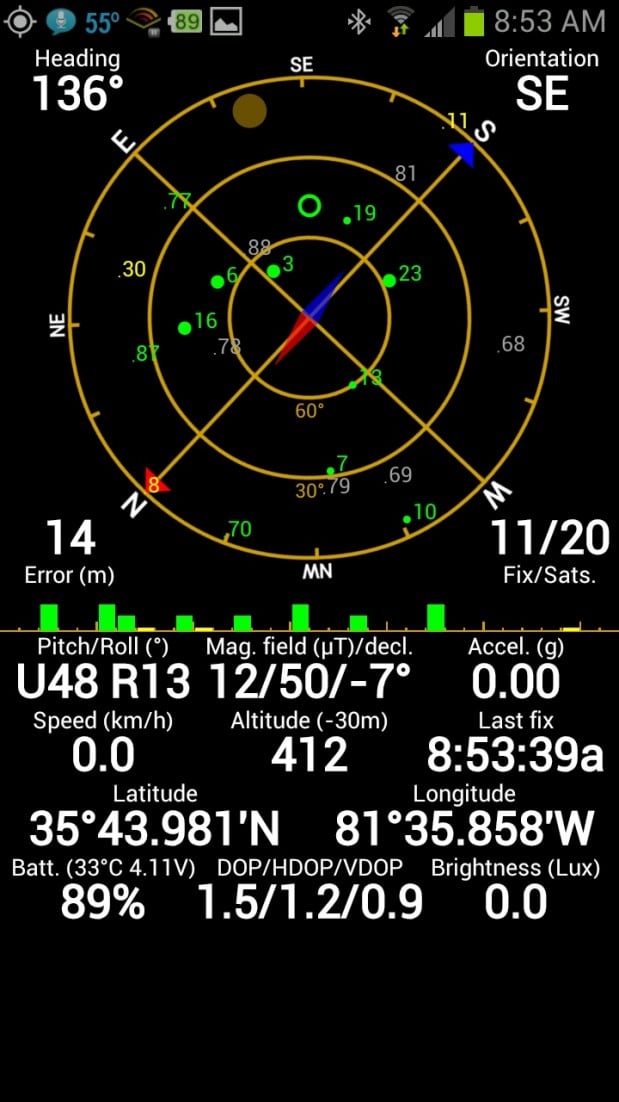 The other figures show various details about the phone's GPS fix. To calibrate the compass in the phone, tap the menu button and choose Tools and then Compass calibration. It gives instructions how to calibrate the phone.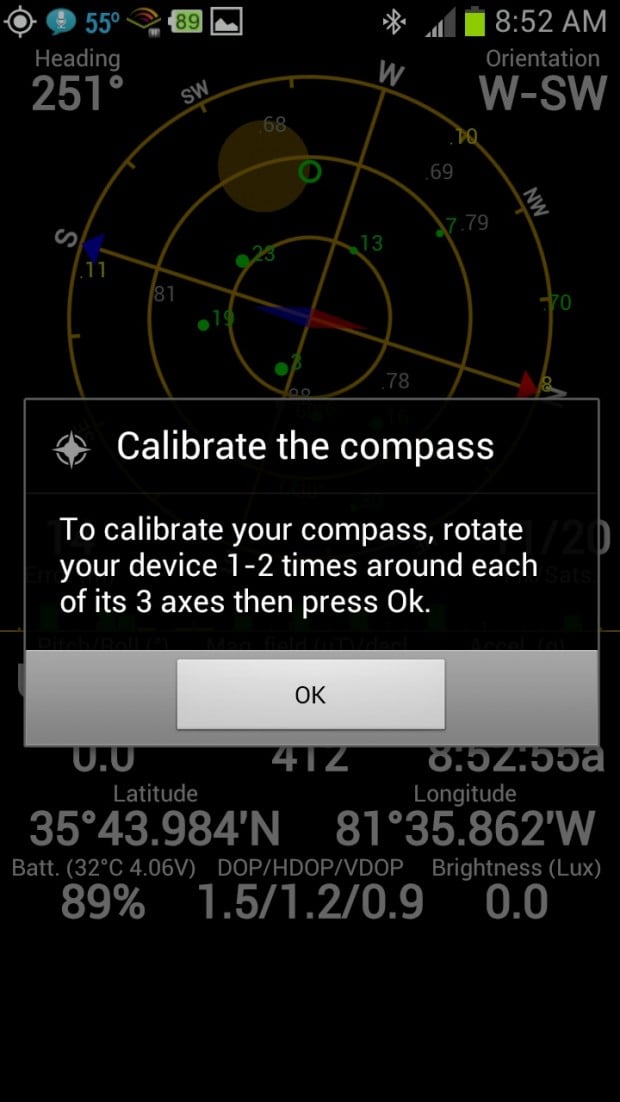 The instructions say to rotate the phone in the three axes and then tap OK.
The other two tools in the app let users calibrate their pitch and roll as well as the resetting the GPS state by clearing the cache of GPS signals. I performed all three of the fixes and things worked perfectly afterwards.
The app also lets users share their current location via the Android sharing menu.
The free app worked well on my Samsung Galaxy S III. For those experiencing GPS signal troubles, it's worth the time and effort to download the free app to see if calibrating the compass and/or resetting the GPS data on the phone will work.
If you really like the app, get the key to remove the ads, although I didn't find the ads noticeable and all the functions work in the free version.

As an Amazon Associate I earn from qualifying purchases.