How to Fix the Windows Store Not Working: 3 Tips & Tricks
What if there was a single place that PC gamers, casual app users, music lovers and video fanatics could purchase what they wanted on their Windows PC? What if that store front integrated with the apps and games that came installed on their PC, plus offered them new apps and programs? That's what Microsoft asked itself while planning Windows 8. Only with Windows 10 has the Windows Store finally managed to come close to answering those original questions. Unfortunately, the Windows Store not working is something that happens regularly.
Users report everything from store pages disappearing to updates not downloading at regular intervals for no reason whatsoever. Sometimes, the issues Windows 10 users run into aren't even technical in nature. Though it has a large assortment of apps and games, many of the better ones have a hard time getting downloads because they're hard to find. Developers are free to make their programs available in the Windows Store, but many of them don't.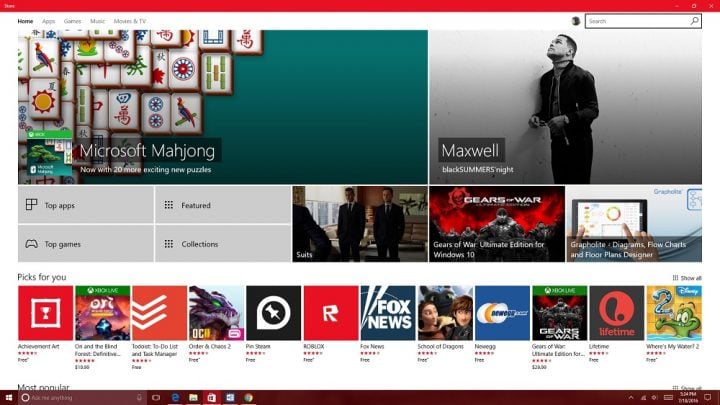 Read: 16 Windows 10 Apps: Alternatives for Gmail, YouTube & More
The Windows Store can be a great place to get the latest movies, find new Xbox Live games, and get that one productivity app you need to speed up your work flow and stay on schedule. Here are some tips and tricks to fix the Windows Store not working.
How to Fix the Windows Store Not Working: Check Your Microsoft Account
The first thing you should do when the Windows Store won't work for you is make sure that it's properly detecting your Microsoft Account. The Windows Store needs your Microsoft Account working properly to know which international version of the store to connect you with and what apps you already own.
Open the Store app and tap or click on the circular icon beside the search bar on the right side of the app. The dropdown menu should reveal which Microsoft Account your PC is connected to and pulling its apps from. Using the Add work or school account option, go ahead add the account that you use on your other devices, if the one listed isn't the one you expected.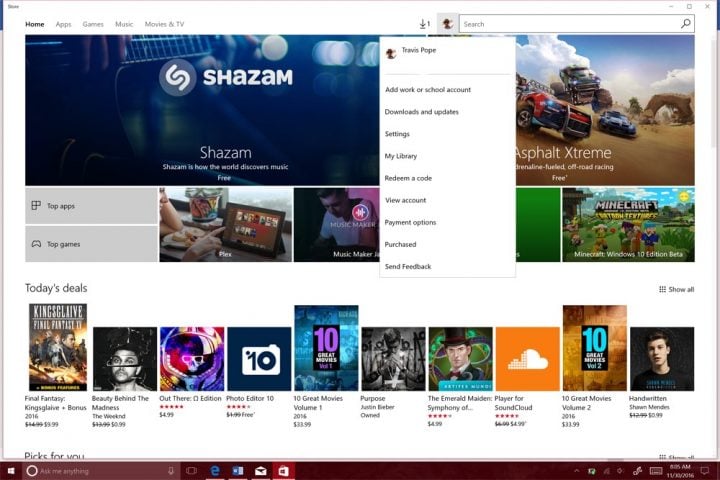 How to Fix the Windows Store Not Working: App Reset
Windows apps sometimes get into a state where they just won't work correctly. For example, they'll open to a logo, only to crash and close themselves. When this happens with the Store, you need to use a feature called App Reset.
Open the Settings app from the Start Menu.
Tap or click on System.
Tap or click on Apps & Features.
Search for the Store app in the list and tap or click on it. Then select Advanced Options.
Now tap or click on the Reset button. Windows 10 will attempt to clean up the app itself. After it finishes, try opening the Windows Store again.
How to Fix the Windows Store Not Working: Error Code 0x80070490
Usually, when the Windows Store fails to download an app or an app update, it gives you an error code that you can use to learn more about the issue. Take Error Code 0x80070490 for example. It's caused by an issue with the storage volume ID that Windows tracks when you decide to install apps or games somewhere else besides your main hard drive.
To fix Error Code 0x80070490, according to this Microsoft Answers Community post, you have to open the Registry Editor.
You can do that by typing Run into the search bar on your Taskbar at the bottom of your screen. Type Regedit then hit Ok. Click Yes when you're prompted to confirm whether you intentionally opened the Registry Editor.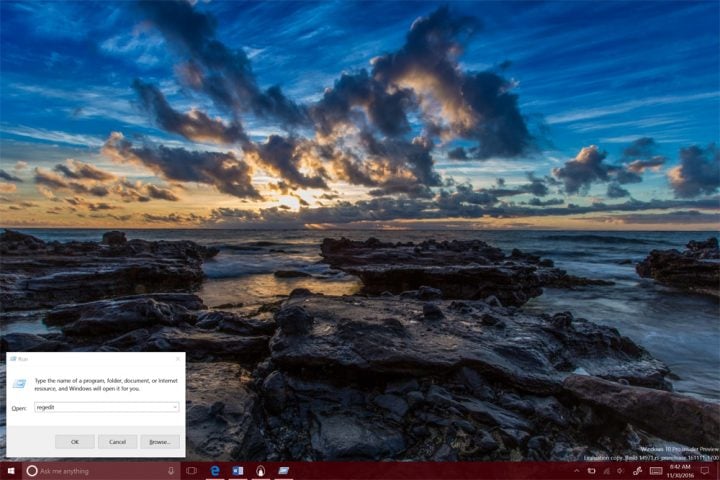 Copy and paste this line into the Registry Editor and press enter: HKEY_LOCAL_MACHINE\SOFTWARE\Microsoft\Windows\CurrentVersion\Appx\PackageVolumes\x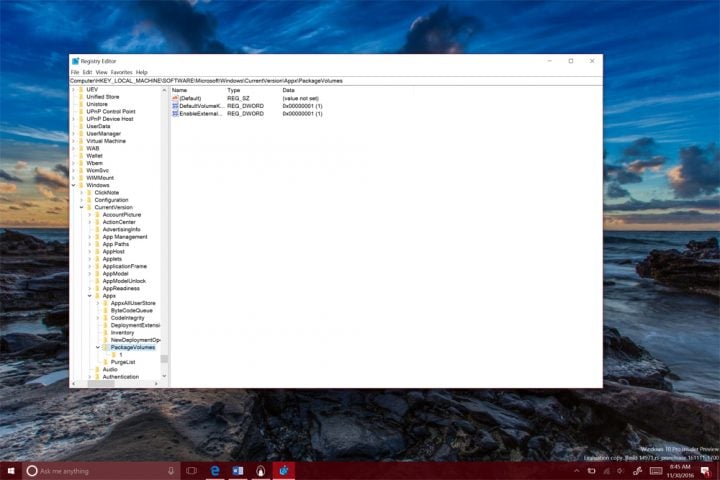 You'll need to look through the entry and delete the drive letter and restart your computer.
Read: How to Fix Stuck Windows Store Updates in Windows 10
As this is a community workaround, you want to be very careful when using it. If you've never changed values in the Registry Editor before, it's a better idea to track down someone who has. Let them handle this for you. There's a much simpler, but time-consuming way to address the Windows Store not working if you're a casual user: Reset.
How to Fix the Windows Store Not Working: Reset Your PC
Scattered across the internet or hacks and changes that you can make in the Registry Editor to fix the Windows Store not working. You can try these workarounds, but they're complicated and not for novice users. When an App Reset won't fix your issue, it's probably time to try the next most user-friendly option. You'll need to Reset your PC to fix the Windows Store not working.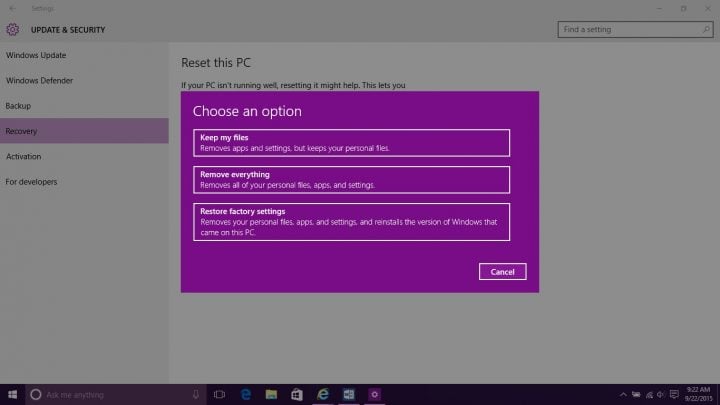 Read: How to Reset Windows 10 Notebooks, Desktops and Tablets
The Windows 10 reset tool saves your data, then reinstalls Windows and moves your data back when you tell it to. That means you get the benefits of a freshly installed Windows 10, without having to copy all of your music, pictures and more all over again. The only downside is that you'll need to reinstall any programs that you have, like Microsoft Office or iTunes.
In the Settings app, tap or click on Update & Recovery.
Then select Recovery from the menu on the left.
Tap Get Started under Reset This PC
Good luck with the Windows 10 and getting the Windows Store working properly. Gotta Be Mobile will continue to add new fixes for the Windows Store here.