How to Get Better Windows 10 Battery Life
Microsoft's Windows 10 upgrade is terrific for those looking to get the most out of any device that they already own. Available since last July, it has some great apps and options built-in for notebooks, desktops, tablets and Windows 2-in-1s.
For notebooks and tablets, the demands are even more specific. When users put a new operating system on their mobile device, their primary concerns are storage space and battery life. Problems with storage can at least be overcome with the help of external media, battery life is paramount though. It's not fun carrying around an external battery or charger with your notebook, tablet or Windows 2-in-1.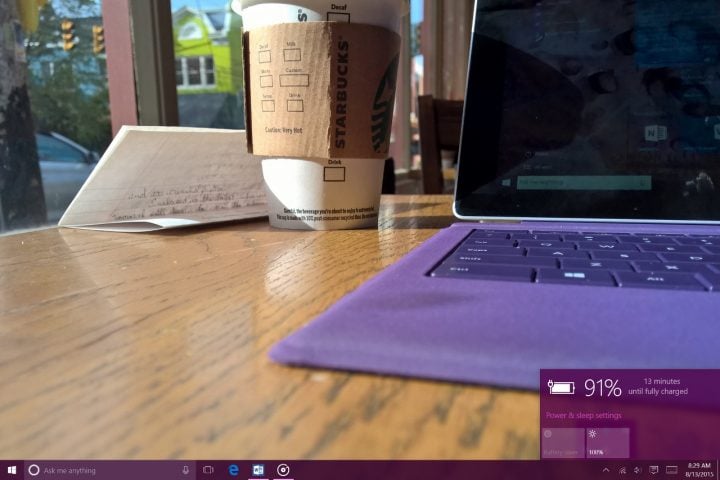 Read: Windows 10 Review – A Love Affair
The free Windows 10 upgrade includes some changes and features to help users get the best battery life they possibly can. If all else fails, there are measures Windows 10 users can take to eek out every minute of productivity and entertainment they can possibly get.
How to Get Better Windows 10 Battery Life: Battery Saver
Making its debut with the free Windows 10 upgrade is the Battery Saver. Battery Saver isn't an add-on or a separate download. Microsoft built the utility directly into Windows 10, replacing the battery profile and power management tools that users relied on for years.
Battery Saver is intended to take the guess-work out of power settings. There's only one interface for it, and it activates itself manually depending on the settings you set.
Look for the battery icon in the right corner of your Taskbar. Click on it.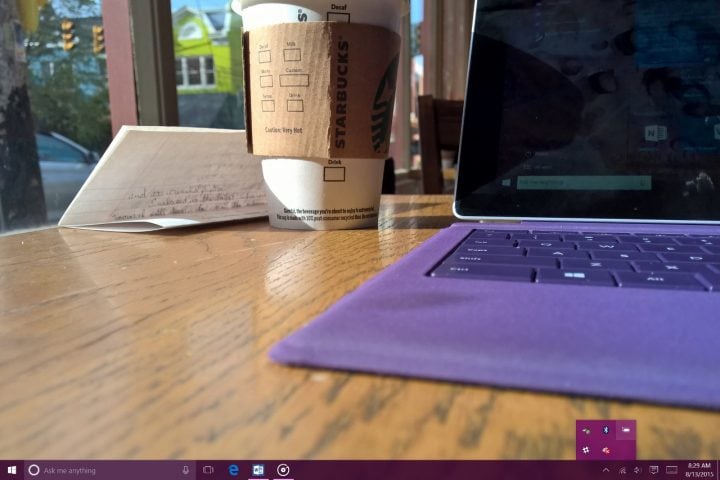 When in Tablet Mode, the battery meter is always visible, but outside of Tablet Mode it disappears, forcing you to click or tap on the arrow on the Taskbar.
What you see in the Battery menu depends on what your device's power state is. If it's charging, you'll see a nice countdown clock, letting you know how long it's going to take before you have a full battery. You can use the toggle on the left to change how bright your screen is.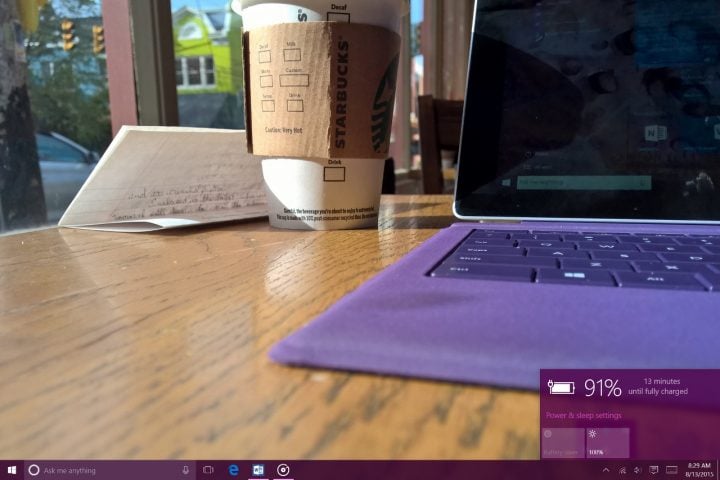 When your device isn't plugged into an internet connection you get a clickable icon for Battery Saver and in severe cases, an estimate of how long you have until your battery dies. Tap or click on Battery Saver to turn it on. Right-click with your mouse or tap and hold on the toggle to open the Battery Saver menu.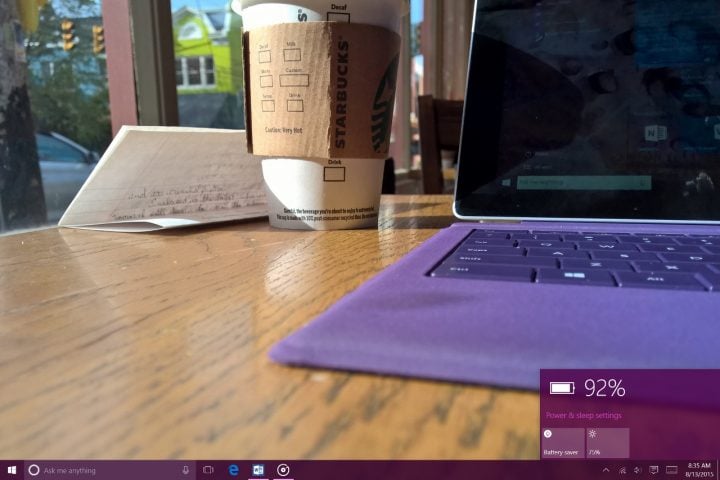 Tap and click on Battery Saver Settings.
Battery Saver dims your screen and tries to help you save battery life by prevent apps from doing work in the background. From the Battery Saver Settings Menu you can decide which apps bypass Batter Saver and check for updates anyway. You can also decide when you want your device to go into Battery Saver mode with the toggle at the top of the screen.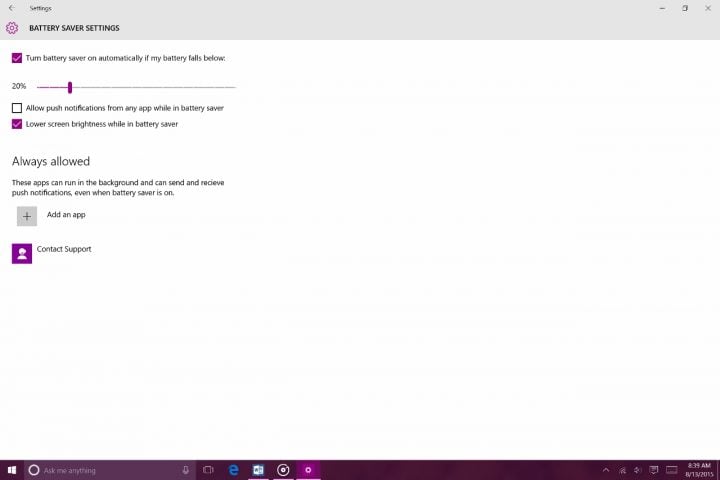 How to Get Better Windows 10 Battery Life: Unplug Your Accessories
We often connect our smartphones and other gadgets to our PCs, hoping to give them a quick charge or transfer a bit of information. Smartphones, mobile internet modems and more feed off the power that your USB port provides, helping to deplete your battery faster. If you need a bit more power to get through the day, try unplugging all nonessential accessories.
How to Get Better Windows 10 Battery Life: Manually Dim Your Screen
Every device has two big draws on power: its processor and its display. This is why Battery Saver goes after apps running in the background and your screen brightness when it's turned on. If you'd like to get better battery life in Windows 10 start by dimming your display when mobile.
With the mouse pointer, click on the Action Center bubble on the right of the Taskbar. Tablet users should place their finger on the right edge of their screen and slowly slide it to the left. Tap or click on Expand.
Now tap or click on the screen brightness toggle to decide on a lower brightness setting. You can also adjust screen brightness in the battery menu. The device used in this example is a Surface Pro 3. As such, your brightness options will be different. Every device maker sets their own default values for brightness, not Microsoft.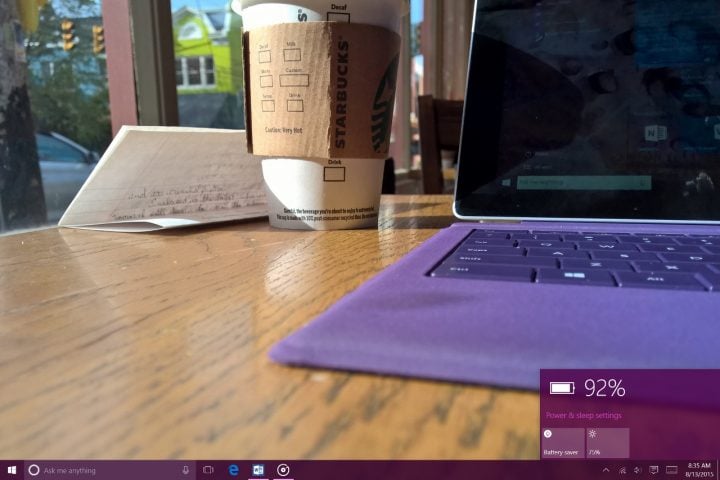 How to Get Better Windows 10 Battery Life: Turn Off Wi-Fi
If you're really feeling like you need to eek out every bit of battery you can, you can turn off Wi-Fi from the Action Center or from the Wi-Fi menu. Tap or click on the Wi-Fi icon in the taskbar then tap or click on the toggle on the left in the Wi-Fi menu.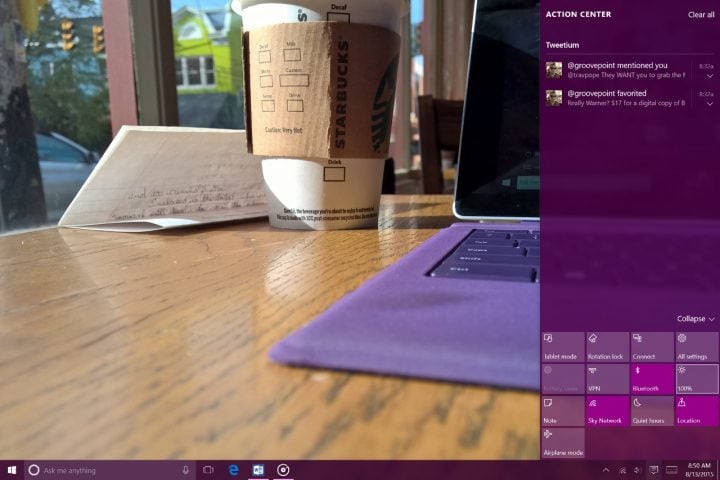 How to Get Better Windows 10 Battery Life: Close Programs
Windows Store apps are designed in a way that helps limit their battery drain. Windows 10 manages them, restricting their processes so that they don't harm your experience. Programs aren't designed with battery concerns in mind. If programs are running in the background they are taxing your processor since Windows basically lets them do whatever they want.
Programs that'll harm your battery life include photo editors, video editors, video games and even some browsers. (Chrome for Windows is said to be a huge drain on battery life.)
Close them once you're done with them.
How to Get Better Windows 10 Battery Life: Quick Tips
The Windows 10 battery icon shows how much power you have in real-time. You don't have to leave what you're working on to find out how much time you have left.
For a battery life estimate, place the mouse cursor over the battery icon in the Taskbar. Note that this changes in real-time depending on what programs you have open and how bright your screen is.
If you hover over the battery icon when charging you'll get an estimate of how long you to stay plugged up until your battery reaches full capacity.
Most notebooks feature ambient light sensors that will adjust your screen brightness depending on how much light there is in the room. It's why notebooks always tend to get better battery in low-light and not in bright-light. These sensors tend to boost screen brightness so that text and images are easier to see.
Good luck with the free Windows 10 upgrade. Microsoft is rolling the update out to Windows 7 and Windows 8.1 users gradually. It's not free to Windows Vista and Windows XP users.