How to Get Black Friday Deal Text Notifications
This guide will show users how to quickly and easily subscribe to instant text message notifications for the best Black Friday, Cyber Monday and other deals this holiday season. There are countless tools that do it, and this month Google rolled out the easiest one yet.
The holiday season full of excellent deals, and Black Friday shopping is almost here. Many shoppers use certain tools, services, or sites like Slickdeals to find the best savings, but we have a different option. Let Google do the work and send you a text message instantly. Read on to find out how.
Read: How to Get iPhone Notifications for Almost Anything
Google is making the holiday shopping season extremely easy, especially for Black Friday 2015. The company added holiday hours to Google Maps listings, improved the Google Shopping experience, and now will send text message alerts and notifications for some of the best and most exciting Black Friday deals this year.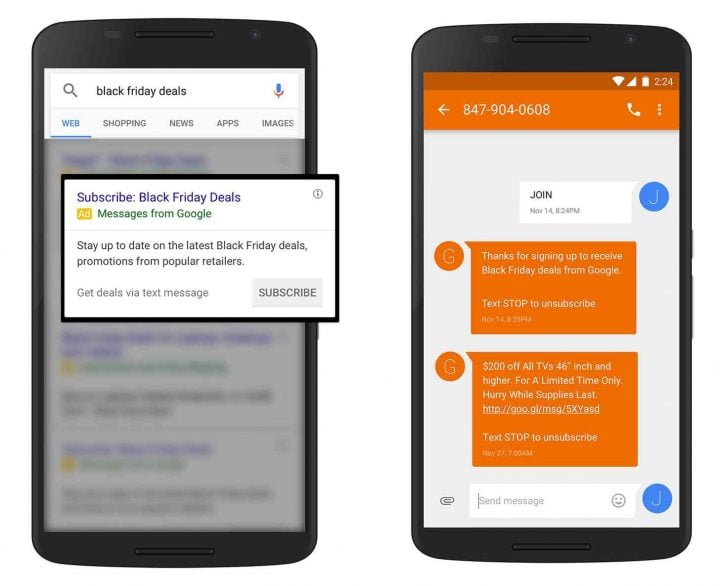 If you're looking for some of the best Black Friday deals, Cyber Monday deals, or general holiday season shopping, Google has you covered. In fact, users can subscribe to any of those three, or even very specific notifications on any device that can receive text messages.
A new tool part of Google AdWords is doing exactly that. Letting users subscribe to text message alerts for their favorite deals, or even specific deals like "iPhone Deals" or "Android Deals" to name a few. Lets get started on how.
Instructions
Google's new service will send deals from an array of different retailers, although at this time the list of partners or retailers remains a secret. That said, users will still receive tons of notifications to help make their shopping season as successful as possible.
To give this a try, just text "JOIN" to one of the following phone numbers to check out the best and coolest holiday deals when they are released, and all Christmas season long.
For Black Friday – 847-904-0608
For Cyber Monday – 847-906-8958
For Holiday deals – 847-904-0596
All users need to do is text "JOIN" to any of the above numbers, and they'll start to receive text message notifications and reminders on some of the best deals for TVs, electronics, computers, game consoles, smartphones, tablets and much more for this weekend full of Black Friday and Cyber Monday deals, and more throughout December to help with Christmas shopping.
Alternatively, as shown in the image above, users can subscribe right inside Google search for similar deals that are more precise. Search for something like "Xbox One Game deals" or "iPhone deals" in Google search, and at the top are Google's main ads. Below is a simple subscribe button, to get notifications just for those deals, rather than everything mentioned above.
Google claims this text message notification service is currently being tested, but still readily available for users this Black Friday shopping season. Phone numbers will be kept 100% private, and users can opt-out at any moment by replying with "STOP" in the text message field.
While some may not be comfortable with giving Google their phone number, others will love the option to know about all the latest deals as they happen. Give it a try today with the instructions above, or just stay tuned to our Black Friday Portal for all the latest deals of 2015.

As an Amazon Associate I earn from qualifying purchases.