How to Get the Start Screen Back in Windows 10
There were two core things that Windows users reacted to negatively whenever they got to try Microsoft's Windows 8 and Windows 8.1 operating systems for the first time. First up were full screen apps and how isolating the felt — even though Microsoft did allow some form of limited multitasking. Second, was the Windows 8 Start Screen. The Start Screen is gone in Windows 10 by default, but there is a way to get the Start Screen back in Windows 10 if you're savvy enough.
It's absolutely understandable that someone would want the Start Screen if they upgraded from Windows 8.1.The Start in Windows 8 looms large, every time you hit a Windows button or press the Windows key on your keyboard, it pops to life with its flipping tiles, built-in search and up-front power button. Really, the Start Screen was never more than a super-sized version of the Start Menus that came before it. It put the focus on the content of your apps and let you use your entire screen to pin your favorite apps. Since the launch of Windows 8, a large part of users have adapted to the way the start Screen works.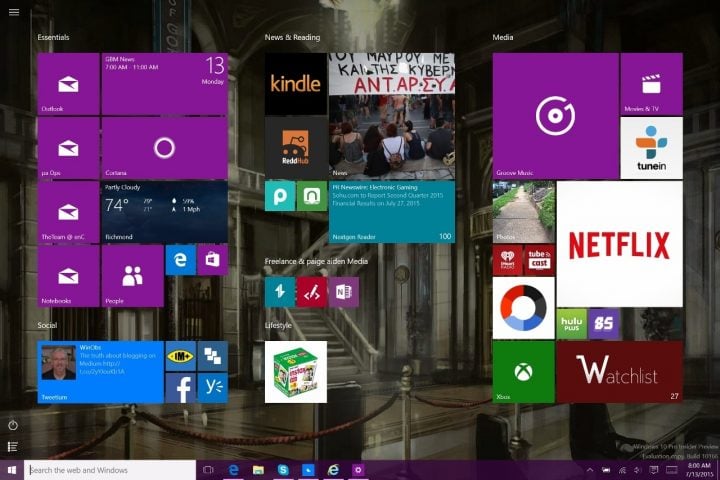 Read: Final Windows 10 Release Details Revealed
Here's how to Get the Start Screen Back in Windows 10: Tablet Mode
The Start Screen is gone from Windows 10 because it's no longer something Microsoft feels that every Windows 10 users needs to stay productive. Windows 10 has a feature called Continuum that knows whether you have a mouse and keyboard connected to your device. If you have a device with touch running Windows 10 and Continuum detects a keyboard it'll, ask you if you'd like to turn off Tablet Mode. Turning off Tablet Mode shrinks the Windows 10 Start Screen into the Start Menu you likely have on your PC.
You can Turn on Tablet Mode  to get the Start Screen back if you preferred the way the Start Screen in Windows 8 looks. Be aware that doing so also turns all of your apps back into fullscreen apps too.
Look for the Action Center button in the system tray of the taskbar on the right-bottom of your screen. When you find it, tap or click on it. It'll look like a full or empty mini message. If you're using a device with a touch screen, place your finger on the right edge of the display and swipe to the left.
Now tap or click on the Tablet Mode button that sits on the bottom-left end of the Action Center.
Again, turning on Tablet Mode does more things than just super-size the Start Screen. As such, it's not a good way to directly address your Start Screen issue.
Bring Just the Start Screen back in Windows 10: Settings
Luckily, Microsoft was smart to include a more direct way of bringing the Start Screen back and it comes by way of a simple toggle located in the new Settings app.
Press the Windows button on your keyboard or at the bottom of your screen in the left to open the Start Menu.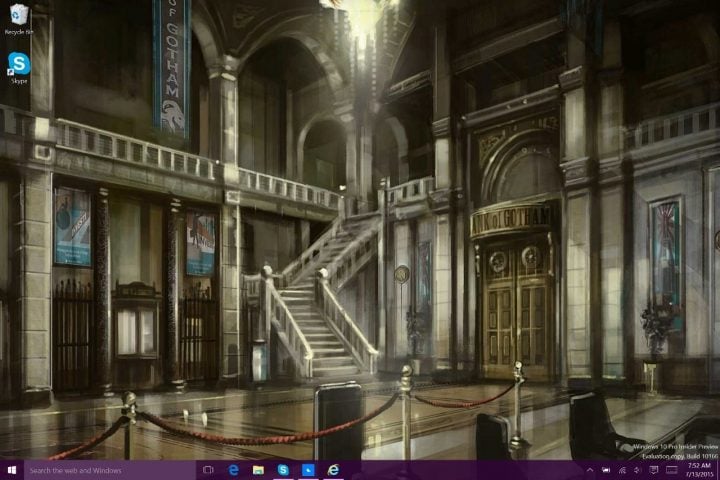 Now tap or click on the Settings icon in the bottom-left corner of the Start Menu.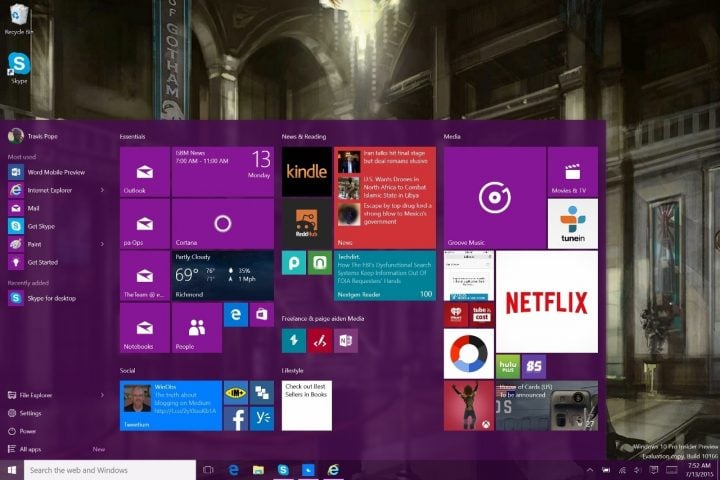 Welcome to the new Settings app. This app is one of the big changes Microsoft introduced for Windows 10. Many of the settings and features that were in the Control Panel have been moved here and reorganized in categories that'll make more sense to users. The category we're looking for is Personalization. Tap or click on the Personalization icon; it's on the middle-right.
The first thing you'll see in the Personalization screen is the option to customize how your Desktop looks with a picture. We're not looking for background options, but for Start options. Click or tap Start on the right side of your screen.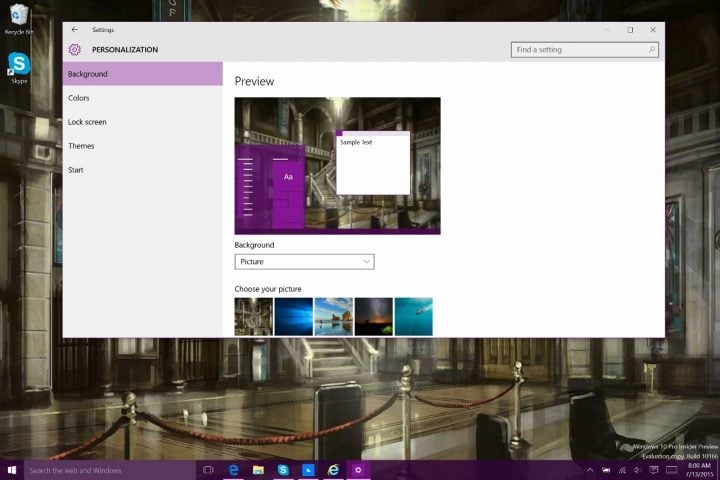 Now tap or click on the button labeled Use Start full screen. It is this button that will supersize the Start Screen in Windows 10, giving you an experience very similar to what you got with Windows 8. This switch doesn't yield to you being in tablet mode or not. This means that you can keep the Start Screen even when you aren't in Tablet Mode.
This gives you the best of both worlds, you can run tons of different apps in a familiar way, without having to give up the Start Screen and it's easy to real Live Tiles. Don't forget that you can use a mouse and keyboard to resize the Start Menu and make it bigger too. Just hover your mouse cursor over its edges.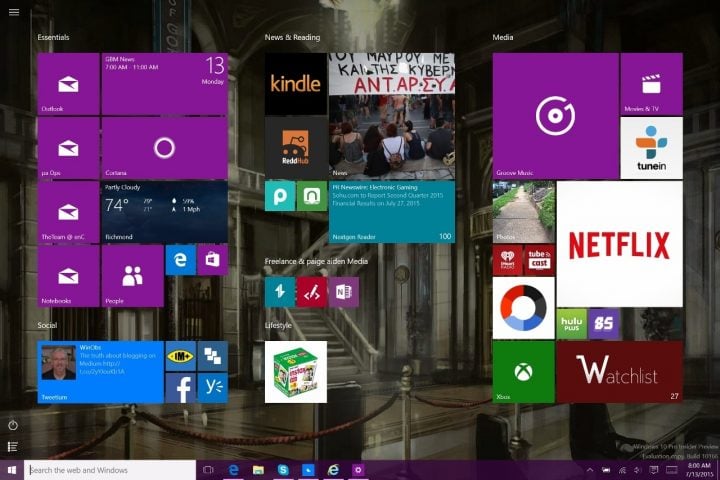 Read: How to Get the Free Windows 10 Update
Windows 10 is a free update rolling out to devices running Windows 7 and Windows 8. Microsoft

This article may contain affiliate links. Click here for more details.