How to Get Windows 10 Right Now
Microsoft's Windows 10 operating system is just as ambitious as leaks indicated. There are quality of life changes through Windows 10. Multiple Desktops let users organize their tasks. There's a new Start Menu complete with Live Tiles and a power button. Windows 10 allows users to run Windows Store apps from the Desktop too, and those who have a 2-in-1 or a tablet can decide which interface is more comfortable for them to use. All told, there are a lot of people wondering when Windows 10 will be available for them. Many more are problem wondering how to get Windows 10 on their device right now.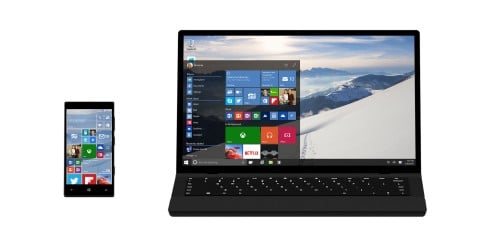 Read: Windows 10 Pricing & Features Revealed
Join the Windows Insider Program
To be clear, Microsoft didn't announce Windows 10 today. It's been working on Windows 10 in the public for months. This past September Microsoft made early builds of Windows 10 available through the Windows Insider Program. The Windows Insider Program lets users download the latest copies of Windows 10 in exchange for feedback about what's going on. For example, early on most actions you take will prompt a small pop-up that asks how you liked a particular feature or how easy it was to use. In past versions large-scale operating system tests Microsoft only made one or two versions available to users before release. With the Windows Insider Program, Microsoft is updating Windows 10 on an ongoing basis.
You'll have to join the Windows Insider Program and agree to its Terms of Service before you're allowed to get Windows 10 Right Now. Sign up here.
What To Do Before You Get Windows 10
Before you even download Windows 10, there are some precautions you should take. Some of them are pretty basic. It is crucial that you understand all of them.
First, absolutely back up every file, picture and document on your notebook, desktop or tablet before installing Windows 10. You want a way to get that stuff back if the upgrade goes wrong.
Read: Windows 10 – 3 Things to Back Up Before the Preview 
Second, previous versions of the Windows 10 Technical Preview break Windows 10's restore functions. It is very important that you back up the operating system your PC is running right now. Most device makers include a utility for this. Microsoft Surface Pro users can download a copy of their operating system from the company's support website. All Windows Previews have an expiration date. At some point, you'll either need to upgrade to the final version of Windows 10 or go back to the operating system you had before. This operating system backup is how you do that without having to pay for a brad new copy of Windows.
There Are Two Ways to Get Windows 10 Now
Once you've successfully signed up for the Windows Insider Program, it's time for you to install Windows 10. Microsoft allows users to do this two different ways. First, there's a download tool that'll alert you when there's a new version for you to install. It's available here.
If you don't want to wait, you can download Windows 10 directly to a flash drive or USB hard drive by getting what is called an ISO file. ISO files are essentially disc images that you can store on external media or burn to a disc. If you've never made bootable media before, I wouldn't suggest using this option. Be sure to only download the ISO file that matches your device. If you have a computer with a 64-bit processor, you'll need the 64-bit download and so forth. Also, make sure you're download the version with your language. You can download the Windows 10 ISO file here. Once you've moved over the ISO file to a flash drive double-click on the setup file.
Why You Shouldn't Get Windows 10 Now
Remember, what you're testing in Windows 10 is prerelease, unfinished software. It's entirely possible that you'll love Windows 10 and it'll be bug free. That isn't likely. There are going to be bugs and they will aggravate you if you don't know what you're getting into.
Don't install the Windows 10 Technical Preview on your only personal PC. If you do, know that it could be a bit buggy and remember to back up your files. Under no circumstances should you install Windows 10 on a notebook, desktop or tablet that you use at work or for your small business. Again, this isn't the final version and bugs could make staying productive with it over the long haul difficult.
Microsoft says  Windows 10 will arrive on store shelves later this year. Windows 7 and Windows 8 users will be able to upgrade to Windows 10 for free during for one year. The features shown off during today's press event will roll out over the next few months to testers.