How to Get Windows 10 Updates Early with Windows Insider 
After Windows 8's launch, Microsoft's executives must have known that user's patience was wearing thin. The company had spent roughly three years developing a new operating system that some users simply didn't like. The one major update that Microsoft had released for Windows 8 only included small steps toward addressing complaints. For the next major release of Windows, it'd have to rethink how it got new features and upgrades into user's hands. Updates had to come to normal users faster too. The Windows Insider Program was born. Through the program anyone can get Windows 10 updates early.
The program works by giving power users and the brave direct access to Windows upgrades that haven't rolled out to everyone. Users get new features and software upgrades on a regular basis – sometimes a few instances a week. Over time, Microsoft takes all the new features and fixes that users are testing through the Windows Insider Program and packages them up. It sends them out to normal users who just want a PC that's stable and works correctly. Everyone gets something out of the arrangement. Enthusiasts get access to new stuff before anyone else and Microsoft gets invaluable data about how new changes are effecting users.
Read: 17 Windows 10 Anniversary Update Features
Here's how to get Windows 10 updates early with the Windows Insider program.
How to Get Windows 10 Updates Early with Windows Insider: Understanding the Program
The Windows Insider Program is Microsoft's way of getting real-world information about feature changes. It's because of the program that the company is able to make changes to Windows quickly enough for these new yearly releases.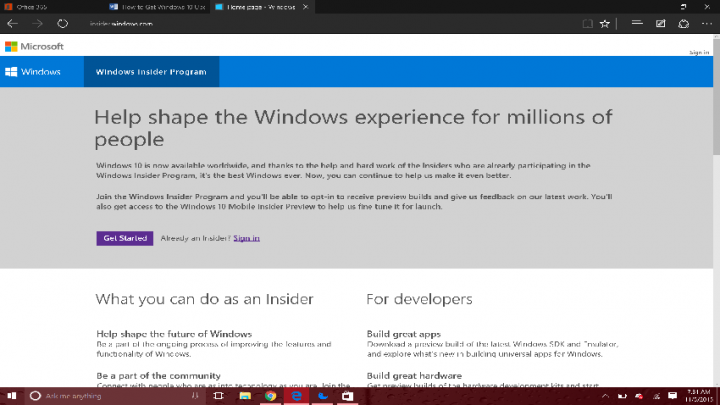 Microsoft's teams add new features, then test them internally. When they determine that there's nothing seriously broken with them, they send it out to Windows Insider Program participants to test and evaluate. Insider Program builds collect crash data and information about your system. When you do have feedback for Microsoft its teams can narrow down your hardware configuration. "Testing" can mean anything you want it to. Microsoft doesn't require that users submit feedback or suggest features to continue to get new downloads from the Windows Insider Program.
New features come in three forms. The teams working on apps within Microsoft sometimes make newer versions of their apps available to Windows Insider Program members before rolling them out to everyone else. Users get access to smaller cumulative updates that pack fixes before users outside of the program get their hands on them.
Read: 20 Windows 10 Tips from a Fanatic
Finally there are entire operating system updates or what Microsoft calls "builds." New Windows 10 Builds are what you can expect to receive the most of. They act as a full operating system upgrade. Your apps, programs and files stay installed, but Windows 10 is reinstalled. New Builds take time to install, require large file downloads and can break basic features.
How to Get Windows 10 Updates Early with Windows Insider: Joining the Program
To join the program, read the details and sign up for the program here. You'll need your Microsoft Account user name and password. Both need to be the same Microsoft Account that you use on your Windows 10 notebook, desktop or tablet.
Just because you've signed up for the program doesn't mean you'll immediately start receiving builds. You have to enroll your PC into the program specifically.
How to Get Windows 10 Updates Early with Windows Insider: Getting The Updates
Press the Windows key on your keyboard or click on the Windows logo on the left of your Taskbar.
Now tap or click on the Settings cog in the bottom-left corner of the Start Menu/Start Screen.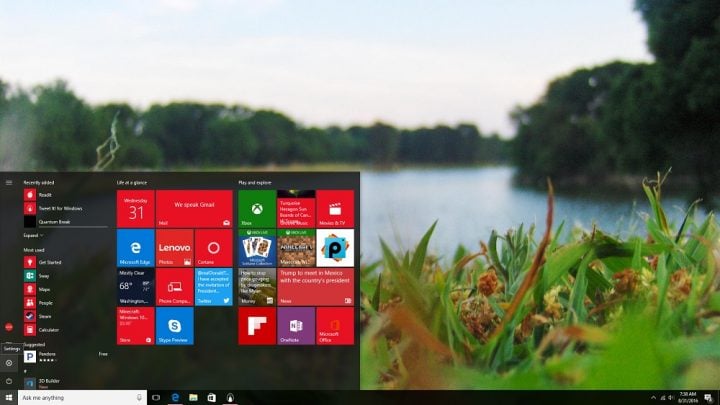 Inside Settings, tap or click on Update & Security.
Now tap or click on the Windows Insider Program option in the left menu.
Here you should see the Microsoft Account username that you joined the Windows Insider Program with. If you do, tap or click on Get Started.
Click or tap on Next.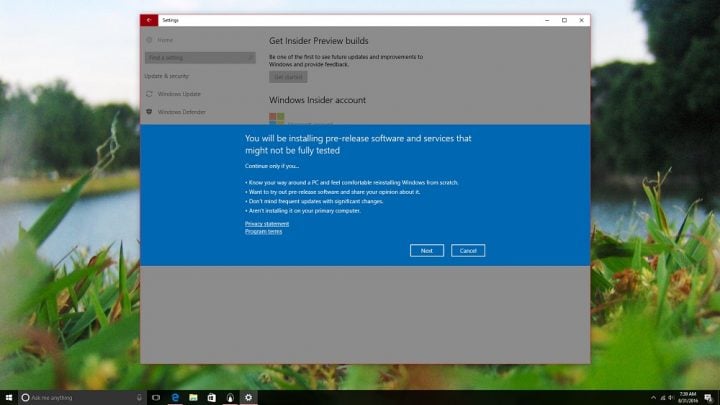 Click or tap on Confirm if you're sure you want to get Windows 10 updates early on your PC. Your computer will update and you'll need to restart.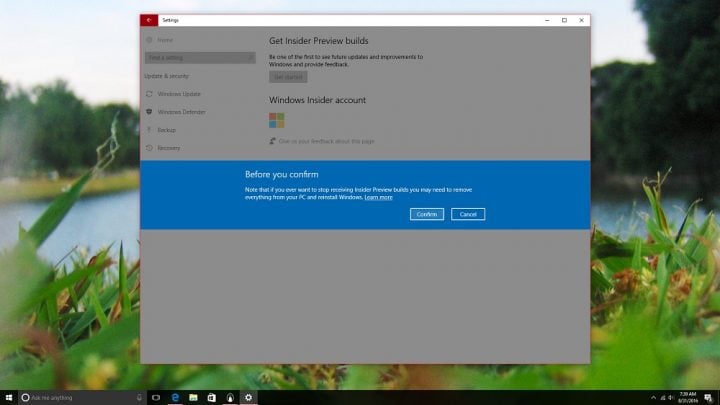 Changing Rings
Within a few days you'll get your first Windows 10 updates early. You do have some control over which upgrades you get and how they impact your PC. Go back to the Windows Insiders area in your Settings app for program options.
How early and often you get new features depends on which "Ring" you've put your PC in. Everyone that joins the Windows Insider Program gets dumped into what Microsoft calls its Release Preview Ring. This ring has updates that Microsoft believes are ready for general release. They have the least amount of bugs and features that aren't broken.
Slow Ring gets you updates more often than the Release Preview Ring, but that update frequency comes with more risk. Features that you care about could be broken.
Fast Ring is the quickest that Windows Insider Program members can get Windows 10 updates early. This ring can be brutal. There's always a list of running bugs for builds released to the Fast Ring; some of the builds that users in this ring get break fundamental parts of Windows. It's basically Microsoft's Work In Progress ring. The trade-offs are great though, users get new app updates and features at regular intervals.
You can stop receiving Windows 10 updates early by tapping or clicking on the Stop Insider Preview Builds button in the Windows Insider Program settings area. Transitioning back to the version of Windows 10 that should be installed on your PC could be a bit of a hassle. You'll need to restore it from a backup disk or System Image that you created.
Read: Windows 10 Anniversary Update Review
Have fun with early Windows 10 updates.