How to Get Windows Media Center Back in Windows 10
Windows Media Center and the hardware devices that it powered were supposed to usher in a new age in computing. Last decade Microsoft had this idea that the living room could also be dominated by a Windows PC, that users would want to connect something to the inputs on their television for when broadcast television just wasn't interesting. Windows Media Center PCs would allow us to listen to stream music, play recorded video and effortlessly browse through the dizzying array of cable channels and programs made available by Comcast, Time Warner and Cox. Microsoft officially put that idea out to pasture to Windows 10. Windows Media Center isn't available in Microsoft's latest operating system. Instead, you have to use a sort-of workaround to get Windows Media Center back in Windows 10.
Reasons for Microsoft removing Windows Media Center are all around us. Only now is the Windows operating system getting to a point where it doesn't need a lot of handholding. Updates in Windows 10 happen in the background and the operating system pretty much manages itself. When Windows Media Center was the new thing to have, Windows XP was an unruly mess of updates and restarts. Finding a compatible cable card for your Windows Media Center PC was difficult. Maintaining the machine could be cumbersome. Features added to the Xbox 360 made it significantly less dependent on Windows Media Center.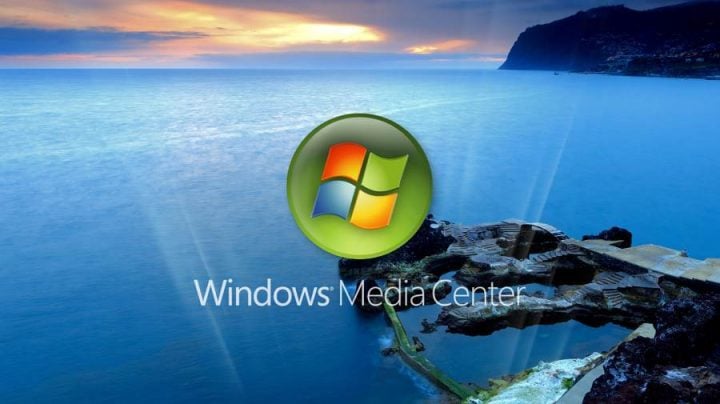 Microsoft has killed Windows Media Center. It has no plans to enhance the app any further or to partner with hardware makers to produce new Windows Media Center PCs. Don't fret, here's how to get Windows Media Center back in Windows 10 if it's sorely needed in your home.
Before We Begin
Before be begin, know that what you're downloading is software from a third-party website. Installing Windows Media Center on your Windows 10 PC this way could have unintended consequences. Glitches and issues aren't likely, but always possible with any changes to Windows not authorized by Microsoft. Windows Blog Italia managed to track down an installation file.
Also note that GottaBeMobile has only tried this with Windows 10, not earlier versions of Windows. To be on the safe side, make sure your Windows 10 PC has the latest updates from Microsoft by going to the Settings app and tapping or clicking on Update & Security. Let's begin.
Open Microsoft Edge or Internet Explorer and download the Windows Media Player installation file here. Click or tap on Download Through Your Browser.
Click or tap on Save As and save the file you download to your computer.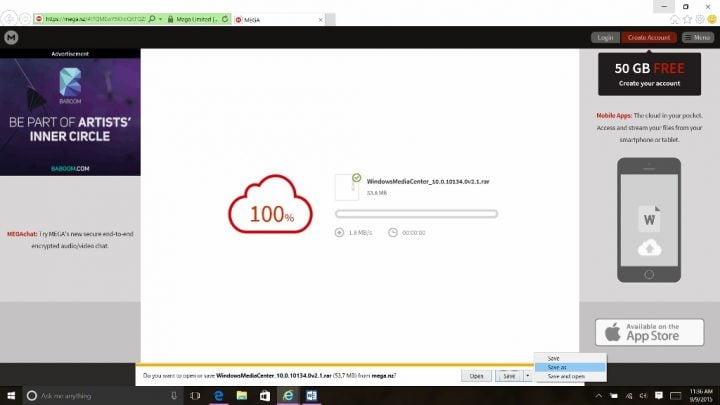 What you're downloading is a RAR, a kind of archive file in the same way that a Zip file holds other files. You'll need to download a program to your PC to open this RAR file. Download and install WinRAR from here to open the file. Choose the 32-bit version of whatever language you need.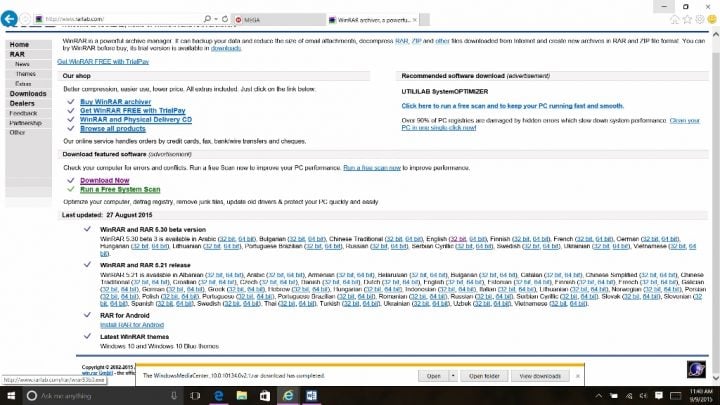 With WinRAR installed, right-click the Windows Media Player installation file that you saved and select. Extract Here.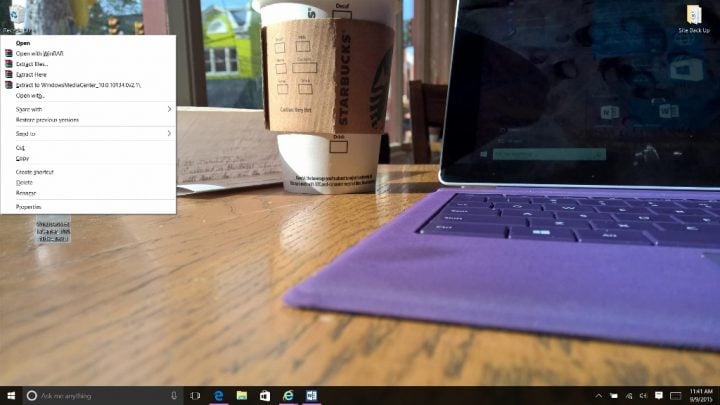 Now open the new folder that you extracted the files to.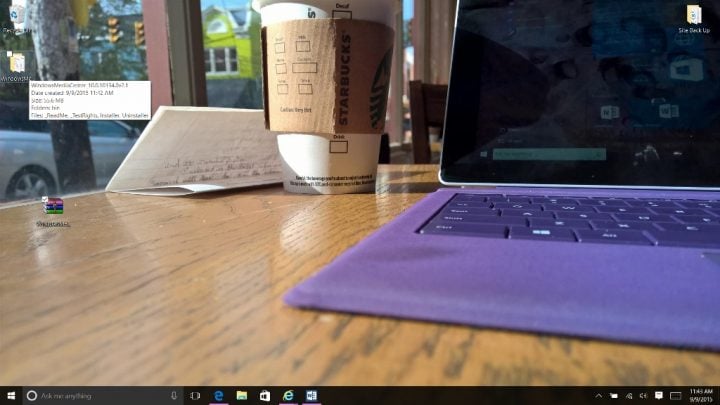 Right-click on the TestRights file and select Run As Administrator. Close the Administrator Windows once its finished running checks.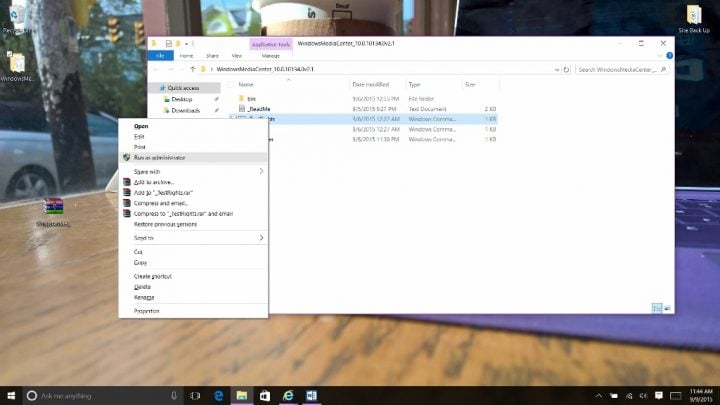 Right-click on Installer and select Run As Administrator. Press the space bar on your PC once the installation is done.
Use the Search bar on the left side of your Taskbar and search for "Windows Media Center" tap or click on the app to open it. Now you should have Windows Media Center installed on your Windows 10 PC.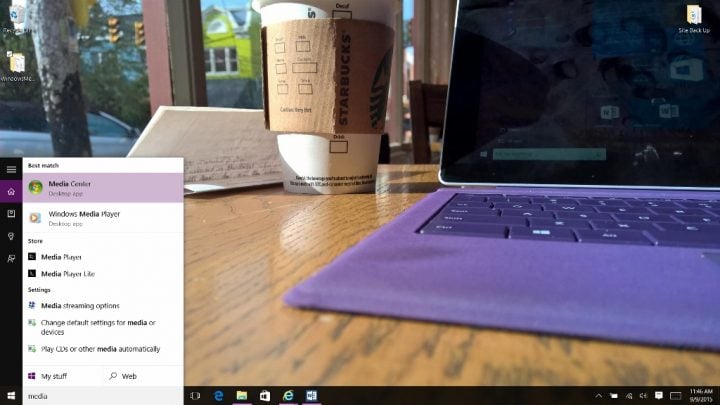 With Media Center open, right-click on its icon in the Taskbar to Pin it for quick access.
Good luck with running Windows Media Center in Windows. You shouldn't need to through the Windows Media Center setup process again until the next major update for Windows 10 arrives. Whether this trick will continue to work as Microsoft distances itself even further from Windows Media Center isn't clear.
Alternatives
There are alternatives for users looking for a better TV, Music and Video watching experience in their living room. You should definitely consider distancing yourself from Windows Media Center and looking into these alternatives.
The Xbox One is Microsoft's all-in-one entertainment console. Besides video games, the console has a pass-through port and a sensor that lets it send commands to cable boxes. Users can switch between its many apps whenever they want with a media remote that is sold separately or a voice command. The Xbox Store has dozens of entertainment apps for Netflix, Hulu Plus, Verizon and Time Warner too. Users who are already thinking about leaving cable behind can purchase a separate broadcast TV tuner.
Software and service Plex also provides a decent alternative to Windows Media Center. It focuses on storing the content you already own.
Good luck with Windows 10 and getting Windows Media Center working again.